"I was choosing as if I was buying it for my personal use" – Tranio client Olga, about her properties in Bad Gleichenberg
Tranio client Olga's second property purchase abroad is an apartment in the town of Styria, located in the municipality of Bad Gleichenberg, Austria. She considered properties in Miami and Berlin but eventually settled on Austria, where she already owns an apartment. "At some point I wanted to own two apartments: this one for renting out, and another little flat for myself", Olga said. How did a small Austrian resort town captivate her?
— Olga, we know that this is not your first purchase of real estate abroad. 
— That's right. I also have an apartment in Vienna.
— Did you buy that property as an investment?
— I have an Austrian residence permit, so under Austrian law, I am obliged to rent an apartment here. I decided that instead of paying rent on strange apartments I did not like, it would be better if I bought a place of my own.
— Why did you buy a second apartment?
— It was an investment.
— How did Tranio help you with the purchase?
— I found Tranio while browsing the Web. I submitted a request for more information and from then, the company checked in with me every few months to see how my search was going. Tranio also invited me to several events, which helped me make my decision. I went to presentations on real estate in Germany, which showcased the options available not only in Berlin, but also in small towns. Sofia Bulanova, an investment consultant at Tranio, said that while yields in Germany were higher, liquidity is a problem because the higher the rental income, the more likely the liquidity of the apartment is lower. You need to find a balance between profitability and liquidity.
"I studied the market for a long time, took a break, and thought a lot. I was told that it takes a year from the moment one starts thinking of buying a property and the actual purchase. I wasn't quite sure if I would buy anything".
— How did you end up choosing another property in Austria?
— I considered different continents and countries, even the United States. Someone told me that it's not bad in Miami; that there are more interesting offers over there. But then I thought, "Where am I, and where is Miami?" It's too far away and not very convenient, and the conditions, after a closer look, were, in fact, the same. In the end, I was choosing between Berlin and Austria.
I liked Berlin because there was a lot of information about its investment attractiveness. But its lustre was already fading. I should have invested there a few years earlier.
Sofia advised me to consider Austria. In particular, Graz, because a person with an Austrian residence permit cannot own a second property in Vienna. But buyers, regardless of their nationality and residence, may own any number of apartments in Graz, which is the second-largest Austrian city after Vienna and the only one open to all foreign buyers. I had never been to Graz before, and only passed by on the way to Croatia, and became interested.
— What criteria did you initially have for the apartment?
— My budget was €250,000. And, quite naturally, I wanted a flat that would bring me high returns. But, as it turned out, the return is more or less the same whether in Berlin or in Austria. of course, commercial property brings a higher yield, but it requires a larger investment. I understood that this was an investment purchase, but I wanted the apartment to appeal to me too. People say that investors should think rationally and that emotions are needed only when buying property for one's personal use. But I didn't want to invest in an asset I didn't like.
I had a chat with Sofia and Tranio's Austrian partner via Skype, during which I asked many questions about taxes because I, as an economist, wanted to know why the VAT was refunded. I must have annoyed everybody with all those questions. In the end, I decided to take a closer look and get to know the place better.
"If a buyer confirms that an apartment will be purchased for investment purposes, the Austrian tax authorities, depending on the type of investment, will return the VAT (20%) in full, or in part. Unlike other countries, this rule applies to both legal entities and individuals in Austria. VAT on real estate purchased personal use is not refundable, but sellers can offer discounts to such buyers".
— How did the property viewings go?
— Everything was very well organised and I was briefed comprehensively and taken around with sincere, genuine enthusiasm. I received a huge booklet with a bunch of materials and all the information I needed was highlighted, and all addresses were indicated clearly.
On the first day, we visited six properties in Graz. Some places I liked more, some less. I did not make any decisions because I knew that we would be visiting properties in the countryside near thermal springs on the second day. Two of them were part of hotel complexes and one apartment, which I eventually purchased, was in Bad Gleichenberg.
— How did you make your final decision?
— I just fell in love with this place. My apartment is on the city's main square of the city, a building from the 19th century with an old façade, though its interior is completely renovated. There is a beautiful fountain next to the house, and a wonderful restaurant at the end of the square. There is a great view of the church and a huge park from the square.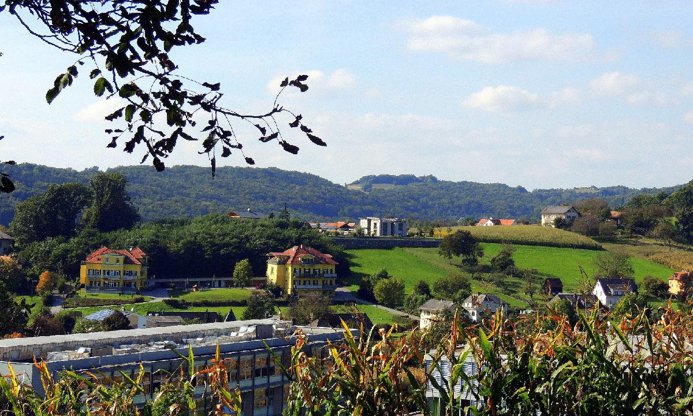 I really liked this place and everything there, from the scenery to gastronomic delights. There is local wine, a stunning ham that is like Spanish jamon, amazing chocolate, cheese with berries, and pesto and schnapps are served everywhere. Everything is done with such love and taste. The town does not look like the stereotypical boring Austrian village. It's a creative, classy place hidden from everyone.
"I was amazed at the beauty of this region, which Russians would not even consider as a holiday destination. I decided to buy it as I thought that since I liked it, people who stay there would like it too."
— So you decided on your purchase on the second day?
— No, I took two weeks to think about it. The apartment was reserved for this period, after which I had to make a decision. If I said no, then I would have to start the process all over. A friend of mine said to me: "You will spend more if you view more houses, rather than start earning if you agree to buy this apartment", which helped me make up my mind.
At one point, I even considered buying two apartments – this one to rent out and another little flat for myself. And I could get a mortgage for it. But if I took a loan in Austria, where it is cheaper, then I would have to pay a 35% income tax in Russia. So I decided against it.
"From January 1, 2018, Russian law stipulates that loans from foreign banks are exempt from the tax on material benefit. It now applies only to those who take loans from their employer, or if the loan is a form of payment for services rendered".
— On what terms did you buy the apartment?
— The management company takes care of renting out my apartment. The contract stipulates that a rental income is guaranteed for 10 years. I do not have to worry whether someone stays there or not – all rental issues are handled by the management company. I hand over my apartment to the management company, and it rents the apartment to tourists on a daily basis, as hotels do. I can stay in the apartment for free for one week every year, so I take a vacation in Austria for a week, and after that go to Croatia, Italy, to the sea, or anywhere else I want to go.
— And for this service you have to share your rental income with the management company?
— Yes. I have no idea what my income would be without this arrangement. With this, I get a guaranteed 3.5% income out of the purchase price of the apartment and furniture. At the same time, I have absolutely no trouble with getting the income and I do not care whether my apartment is rented out or not, or whether the walls are scratched by a tenant, because the management company will cover all expenses and handle issues relating to the tenants.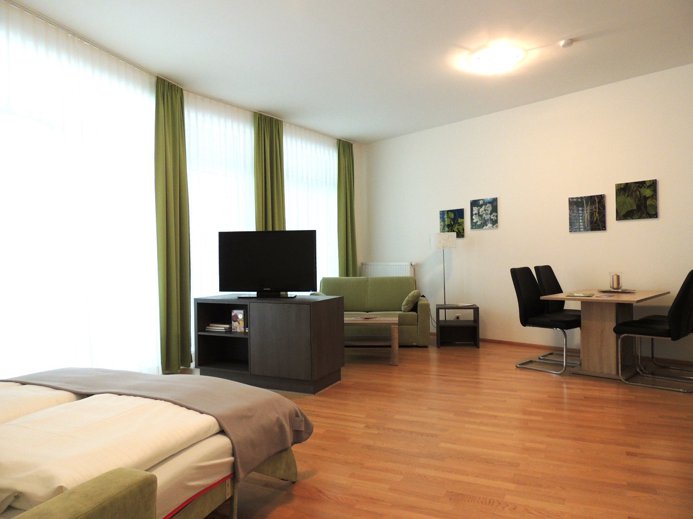 — When did you officially finalise the deal?
— It was done in less than two months. During this time, I had to wait for a permit from the Land Commission.
— What is the permit?
— In Austria, foreigners who buy property in the country must get an approval from the Land Commission. The contract has to be signed and the money has to be transferred to the trust account of the lawyer, but the deal will not be finalised until the Land Commission permit is issued. It takes two months, but it sometimes takes three or four. It usually takes longer in big cities, where there are more deals to be registered. It might also take longer in small towns, where it might happen for the first time, and the Commission itself needs to make many requests and receive permits. The process may also be delayed during the summer holidays.
— Do you already have a plan for what you will do with your apartment in 10 years? Do you want to sell the apartment or keep it?
— I am planning to keep it. I have lived all my life in Moscow, a big city, but I always enjoy being in small towns or visiting the countryside for relaxation. I have never lived there for a long time, but I think I can live in such a small town, almost like the countryside, but with all the amenities I need. An important factor is that the Czech Republic, Slovenia, Hungary and Italy are nearby, so I can visit places in these countries with ease.
I see myself living over there in 10 years. I'd rather sell my apartment in Vienna. Alternatively, I might rent out all the property I own and use the money to live in the countryside, where I can enjoy nature, something I really miss right now.
Subscribe not to miss new articles
We will send you a content digest not more than once a week
Subscribe
Done!