Owning property in Spain: a British perspective
Steve, an English expat in Moscow, Russia, bought a flat in Spain. Two years on, we asked him for the British perspective on Spain's real estate, buyer's remorse and bureaucracy.
— Steve, you are a property owner in Spain. Can you tell us a bit about your home?
— I have a wonderful flat (around 65 sq. m) near Alicante. I bought it in 2012. It is 25 minutes drive from Alicante Airport in an urbanization called Bon Alba. The complex is not brand new, but only about 10 years old. It is set high up on a hill, so it has wonderful views of the sea. At the back, it is equally picturesque, looking out on an impressive landscape of rolling hills.
My flat is on the ground floor and has a huge terrace, rather like a small garden actually. Amenities include an international standard golf course, a spa and sauna complex. Within 100 m of my front door, I have two pools and a tennis court. It is just perfect!
The weather is always great too, with on average about 320 days of sunshine a year. Of course, it never gets cold. Even in the winter, it is warm enough to sit out on the terrace in a t-shirt.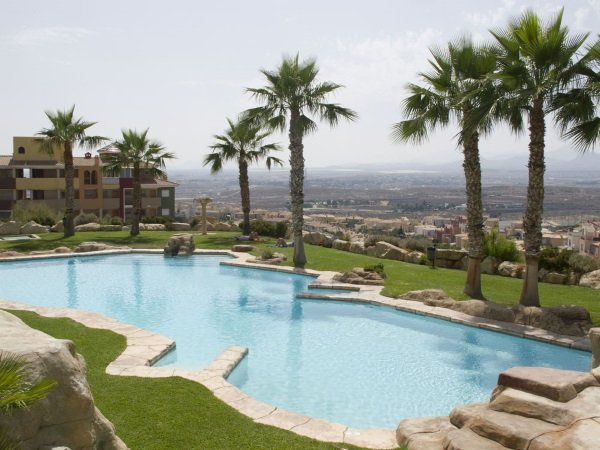 Steve's flat in Alicante is the perfect holiday destination with 320 days of sunshine a year
— How do you get there from the airport?
— I have a car down there and the parking prices are very reasonable – just €275 a year. So when I arrive, I pick up my car and when I depart I just leave it at the airport. Very convenient!
— How much time do you spend there?
— I try to get down there about five times a year.
— With the market only showing signs of recovery this year, did you ever think you could have got a better deal if you had waited?
— I don't worry too much about these things. I think about quality of life instead. But actually I was very fortunate when I bought the flat. The owner was desperate to sell and I paid around €25,000 less than similar flats in the complex were costing at the time.
— Why Spain and this particular location?
— I have always loved Spain. Living and working in Moscow, I appreciate the Spanish weather! I am British, so it's also very convenient for my relatives in England to get there. Typically just a 2-hour flight from most airports in the UK. Also I have a cousin who lives very nearby who speaks fluent Spanish, so that was and is very helpful.
— Have you ever considered any other European options, like Portugal or Italy?
— No, I did not. I considered Bulgaria, but although it is cheap, I wanted to be in "real" Europe. Italy was too expensive for me and on the whole I prefer the Spanish way of life.
"The Costa Blanca and particularly Alicante are in high and steady demand with Tranio clients. In 2014, 18% of the total amount of Tranio's deals in Spain were closed in Alicante and 53% on the Costa Blanca in general. This is not surprising as the Costa Blanca is famous for its gorgeous sandy 'blue flag' beaches and well-developed infrastructure which attract a constant inflow of foreign property buyers and renters. Prices here are more affordable than those in other regions of Spain and there are properties for all budgets from cozy flats in apartment complexes to luxurious villas. There is a great range of properties for sale in Alicante in the Tranio catalogue."
— Tell us more about buying in Spain. Was it difficult to find the right property or complete the paperwork?
— When buying property for sale in Spain it is important to ensure that you are getting a legal sale and there won't be any problems. I know there have been some big scandals over this in recent years. There is a national register of properties and so it is not difficult to ensure you buy a safe property. If you have a good lawyer on the spot or a reliable realtor, there should be no problems. The procedure is pretty straightforward and quick. However, if you need interpreting services, you will have to budget for this. Regarding choice, there was and is so much for sale, that you are spoilt for choice! There are so many "se vende" ("for sale") signs everywhere.
— How did you overcome the language barrier in a country renowned for its lack of English?
— I speak a tiny amount of Spanish, but yes this can be a problem for non-speakers. However, there are plenty of interpreters working with major European languages down there who will help you for a fee. I personally had no such problem because my cousin speaks fluent Spanish and she helped me with everything.
— "Buyer's remorse" is quite common among foreign property buyers, did you succumb to it?
— I have no regrets whatsoever! And I never for a second thought I had made the wrong decision.
— Were there any unexpected 'surprises' after the sale had been completed?
— No, none! The only thing I don't like is that it is a relatively long flight from Moscow – nearly 5 hours (I don't like flying much). In the summer air tickets can get a bit pricy. And sometimes you can't get a direct flight to Alicante, although this has improved greatly recently with more carriers offering direct routes. Otherwise, you have to get a connecting flight from Madrid or Barcelona.
— How much does it cost to maintain the property (including repairs, taxes, utility bills)?
— The monthly maintenance is around €70. This is quite high, but the reason is that they keep the territory looking beautiful: it is very green, with flowers and plants everywhere and pools and tennis courts to maintain. Bon Alba where I bought my flat is an oasis of green in a very dry, arid area. Other costs include local taxes bills to the local council for taking away rubbish, for electricity, etc. For example, I pay around €30 a month for electricity. My annual costs for everything don't exceed €1,500. Compared to other countries these are not too high.
— Are you going to sell this property or maybe invest in another one?
— At present, I am not considering selling, but eventually I will. When I leave Moscow, I plan to live in Spain permanently and at that stage, I will buy a villa.
Artyom Milovanov, Tranio
Subscribe not to miss new articles
We will send you a content digest not more than once a week
Subscribe
Done!
Top 5 Articles of the Month