Spain's real estate recovery hinges on 5 local markets

The revival of Spain's property market has been confirmed by continued transaction and price growth. However, local property markets are not all equal: 70% of all transactions were made in five major destinations and over 75% of all sales were for existing property. Experts largely agree that the country's real estate is back on track but there are still obstacles to be overcome. Geographical disparities on a regional level, the lack of new-builds in popular destinations and foreign buyer activity are some determining factors that will shape the market this year.
Prices are growing
The average price per square metre in Spain was €1,619 in December 2015 according to fotocasa.es, a major property portal. At the same time, prices grew 6.62% by Q3 2015 year-on-year according to the Colegio de Registradores (Association of Registrars).
Data by Eurostat, the statistics office of the European Union, confirms the positive trend. According to their most recent report, prices grew 4.5% in Q3 2015 year-on-year (EU average 3.1%), but only 0.7% quarter-on-quarter (EU average 1.3%).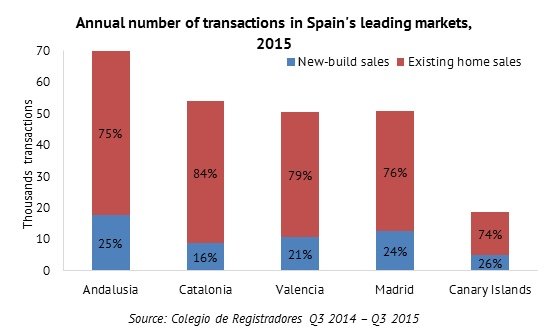 The general consensus on market growth is a positive sign for stakeholders and property owners, even if 2016 forecasts diverge.
Apartments show the most promise for Spain's residential property market. Prices for new flats gained 5.9% year-on-year by November 2015, according to the Spanish General Council of Notaries (Consejo General del Notariado), reaching an average of €1,666 per square metre.
-> Spain's real estate market recovery has experts divided
Price growth for new-builds is no doubt stimulated by the lack of supply on local markets that are in high demand. For example, in Catalonia they only made up 12.5% of all transactions during the year.
Existing home sales hit record high
Transactions are also on the rise, mainly to the benefit of secondary market property. The proportion of existing homes in the annual sales total hit a record high according to the Colegio de Registradores, thus marking an inevitable historical low for the sale of new-build property.
Existing homes composed 76.39% of all transactions over the year while new-builds attracted less than one in four buyers (21.17%).
Apartment sales grew by 6.2% year-on-year (mainly because secondary market flat sales grew 12.2%) while individual home purchases rose 11.4% according to the General Council of Notaries.
More hope than growth for most markets
Spain has a two-speed housing market that has left many regions in the dust and profited but a small few.
Andalusia, Catalonia, Valencia, Madrid and the Canary Islands attracted the most buyers last year: 70% of all transactions happened there between Q3 2014 and Q3 2015.
However, market segregation runs even deeper. Take Andalusia for example. This autonomous community attracted the most buyers, selling one-fifth (19.99%) of all properties during year ending in October 2015. However, there are clear disparities between its regional subdivisions. 35.01% of sales were located in the Malaga region and another 16.75% in Seville. The weakest markets, Jaen and Cordoba, only captured 4.58% and 6.07% of buyers respectively.
Some regions are bigger than others
The breakdown of sales by region sheds better light on the major differences between regions: only a handful of real estate markets are rallying but peripheral regions are not on the same trajectory.
Regional markets capture most buyers
Rank
Region
Number
of transactions
Average price
December 2015,
EUR/sq m
01
Madrid
50,635
2,198
02
Barcelona
36,368
2,335
03
Alicante
26,155
1,284
04
Malaga
24,432
1,663
05
Valencia
18,488
1,300
06
Seville
11,544
1,522
07
Murcia
10,660
1,146
08
Balearic Islands
10,222
1,853
09
Las Palmas (Canary Islands)
10,184
1,319
10
Cadiz
8,788
1,292
N/A
Spain
92,786
1,619
Source: Colegio de Registradores, fotocasa.es
For example, Soria (region north-east of Madrid) is sandwiched between growing markets, yet it had the lowest number of annual transactions nationwide (615 in total). Prices there also declined by 2.9% last year.
All this points to a simple fact: the most expensive regions have the highest prices, suggesting that their dominant position in the market place is particularly important for Spain's positive growth trend. In fact, only four regions have prices above the national average: Madrid, Barcelona, Malaga and the Balearic Islands.
Where is the money going?
The overwhelming reality is that, with the exception of landlocked Madrid and Seville, most growth is concentrated along the Mediterranean coast and the Atlantic regions of Asturias and A Coruña.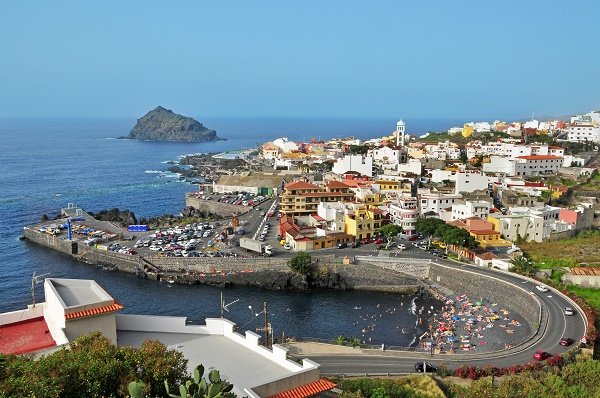 The country's top two local markets in terms of prices and transactions are real estate in Madrid and property for sale in Barcelona. With nationwide joblessness still hovering around 20% and economic growth still well under pre-crisis levels, these major cities are beacons for employment and business.
Foreign buyers, tourism and popular markets
Tourism has left a distinct imprint on the distribution of growth in Spain. It is one of the country's biggest industries, attracting over 60.8 million visitors between January and October 2015. One quarter of them were British.
The hottest real estate markets in Spain are also home to the country's biggest airports in terms of tourist traffic. According to AENA, the Spanish Aviation Authority, 14 tourist airports received 95.1 million passengers in 2014 — ten of them were located in the country's 5 dominant real estate markets (Andalusia, Catalonia, Valencia and the Canary Islands), the remaining four on the Balearic Islands. Hub airports, Madrid and Barcelona, received 79.4 million passengers between them.
Top foreign buyer nationalities
Rank
Nationality
Share of foreign
transactions, %
Share of total
transactions, %
1
United Kingdom
20,02
2,61
2
France
9,05
1,18
3
Germany
7,20
0,94
4
Belgium
6,57
0,86
5
Sweden
5,82
0,76
Source: Colegio de Registradores (Q3 2014–Q3 2015)
British buyers in particular are important to price dynamics because they are the biggest foreign buyer group, but also because they have higher income, a good exchange rate against the euro and strong price growth at home is forcing many second home buyers to explore foreign alternatives that are better value for money.
Britons bought one in every five Spanish homes sold to foreign nationals between Q3 2014 and Q3 2015.
The capital Madrid, one of the most expensive destinations per square metre, is particularly popular with Chinese investors looking to benefit from the country's "golden visa" programme.
-> The Golden Visa Club: profile of the world's most affluent buyers
At the same time, Russian investors are moving in on Spain's commercial property amid economic turmoil at home. In 2015, they spent 40% more than the average budget on income-generating property there.
-> Russian and CIS Overseas Commercial Property Buyer Report 2015
What next?
Real estate experts are not worried: the pick up in house prices and transactions has stimulated the country's much-weakened construction market and building permits are on the rise. There is confidence that the property market will continue to improve thanks to consumer-friendly lending terms in Spain and throughout the Eurozone. It is also possible that foreign transactions will grow further, and British activity in particular amid favourable currency exchange rates and rising violence in more recent tourist hotspots like Turkey.
Leigh Stewart
Subscribe not to miss new articles
We will send you a content digest not more than once a week
Subscribe
Done!