«Thank you so much, dear team!»: a career at Tranio
Ekaterina Raznikova, Tranio Partner Relations Manager in 2017-2019, describes her career path.
At Tranio, any employee can send an e-mail to the team: to get acquainted, share the news, impressions and ideas. In June 2019, we received a message titled: "Thank you so much, dear Team!" Ekaterina Raznikova, Tranio's project manager for Germany wrote it. Kate came to the company in 2017 and worked in its Moscow office.
Greetings to all, guys!
Today is my last day of work at Tranio. I'm leaving to try hand in a different field. I want to say goodbye to you: to all of you whom I met in person and online. A big thanks to the team for these two and a half years of fascinating collaboration. A special and the most important thank you to George for hiring me with my strange CV at that moment and giving me an opportunity to show worth! I want to wish good luck to all of you. Each of you, regardless of your age, expertise and the place where you live in, can find all the opportunities for professional growth at Tranio. The most important is to have a wish to move forward, not being afraid of difficulties. <...> Here you will always find support if you need it.
Hugging you tightly!
28.06.2019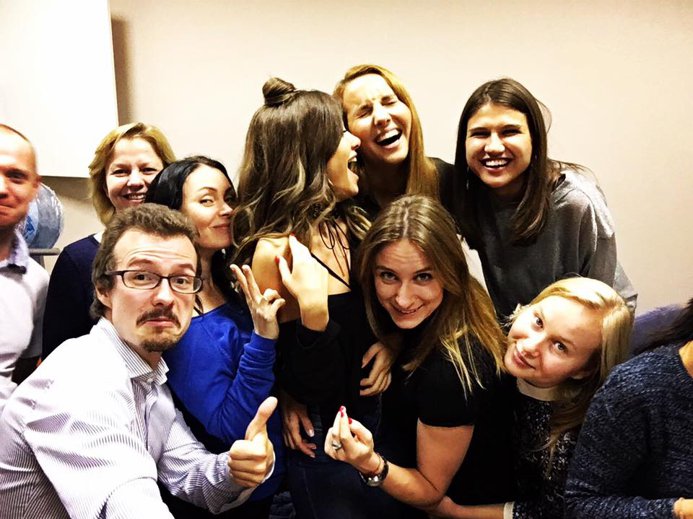 We've asked Kate to tell us about her path in the company.
---
Kate, tell us how did you come to Tranio.
I came to the company in early 2017. I had not worked for about two years before that. I had a gap in my CV and no experience in real estate. I had earlier had my own business in a different field. I was hired thanks to the employment approach that exists in the company.
People without experience and students often come to work at Tranio. For career beginners, it is a stroke of luck to start here, especially if we talk of sales positions. You get trained when you come. Many employees with experience of working at major companies come too. They also have an opportunity to realise their potential.
We often hire professionals from other business fields and graduates if they have a command of English and are eager to grow rapidly. We believe that we can train anyone if they understand what they want to achieve. Many heads of departments in our company have advanced like this.

Ask Olga a question
What was you first impression of Tranio? How would you describe the team?
It was fantastically interesting from the very beginning: lots of new information you need to explore. My boss showed me the working scheme, the outline, but he also provided enough freedom. Nobody can establish a partnership for you: you do it yourself, sometimes the situation requires creativity encouraged in the company. This is great because it helps you understand how you want to develop in the future.
Your colleagues are disposed to help you. It is very important. In many companies, it happens that when you come you need to fit into the staff. Here, everything is different. You are cordially welcome and taken on board. This message comes from the top, from the executives, this is what the corporate culture is like. If you are in already, then, as early as during the selection of candidates you have been noticed as a person who belongs here.
Tranio team is young and energetic. For those who want to plunge into work, Tranio is the place sought for, a great ecosystem they can live in. The guys are awesome, we have become great friends. We had many events aside from work.
Tell about your professional growth within the company. Why did you decide to leave?
I was hired as a Partner Relations Manager and worked with residential property. A few months later I started working with commercial property, then, quickly enough I became  Project Manager for Germany and Client Relations Manager for Development. My last position was the Development Manager for Germany. In this position I often went to Germany and spent most time of the year there.
My positions were changing so quickly because the scope of my duties did. Sometimes, a certain position was vacant: some employees were leaving, getting promoted or transferred to a different department. Sometimes, the company had an idea to grow in a new direction, as was the case of development projects. As I was doing well in project coordination, I was appointed to work in that area.
The company is growing and developing and so are you. If you have a predisposition towards doing something different from what you are doing now, it doesn't remain unnoticed and you are offered different positions that are more suitable for you.
My decision to leave was associated with how I want to grow further. I want to try hand not only in real estate but also in other fields of business. Working at Tranio has helped me to learn more about myself.
What would you wish to the new people coming to the company?
I wish the newcomers to be able to see that the company offers many opportunities for growth. There is an opportunity to communicate with clients and partners from different countries, practise languages. You can improve your sales, communication and partnership skills. It's like the entire world opening in front of you.
I wish them not to be afraid of expressing themselves. Not everywhere it is as easy to speak of your ideas, suggest something new, being listened to and allowed to act on your own, as it is here. Not in every company it is possible to quickly change the scope of responsibilities. It often happens that hired for a position a person stays there, occupying it for several years in a row without any change. This may be because of this person being spiritless and because the company's structure is so sluggish. Tranio has a flexible structure.
Subscribe not to miss new articles
We will send you a content digest not more than once a week
Subscribe
Done!