The top 10 most popular countries among Russian property buyers
Where do Russians look for property abroad? Tranio analysed data from Russian search engine Yandex relating to search queries for residential real estate from Q2 2016 to Q1 2018 to find out the 10 most popular countries among its users.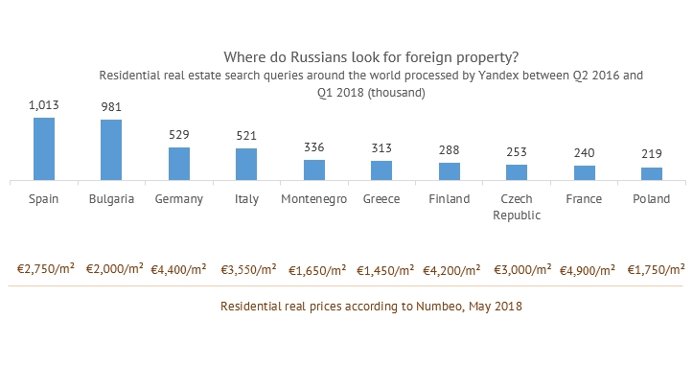 10. Poland
Poland is the 10th most popular country for foreign property purchases among Yandex users. Between the middle of 2016 and Q1 2018, the web search engine processed almost 220,000 correspondent queries. While in 2016, Polish real estate attracted significantly more Russians than the Czech or the French, in H1 2017 there was a significant fall in interest among Russian nationals. Despite the country beginning to regain its popularity, the number of queries processed by Yandex in Q1 2018 is 30% lower than the same period in 2017, and it is the only country to lose popularity in 2018.
According to Ernst & Young, the Polish real estate market is growing: for instance, in 2017, a record 90,000 new-builds were constructed. Prices are rising in large cities. In 2017, the price per square metre in Tricity went up by 15%, by 8.5% in Łódź and by 8.4% in Warsaw. Demand is exceeding supply, which is stimulating price growth.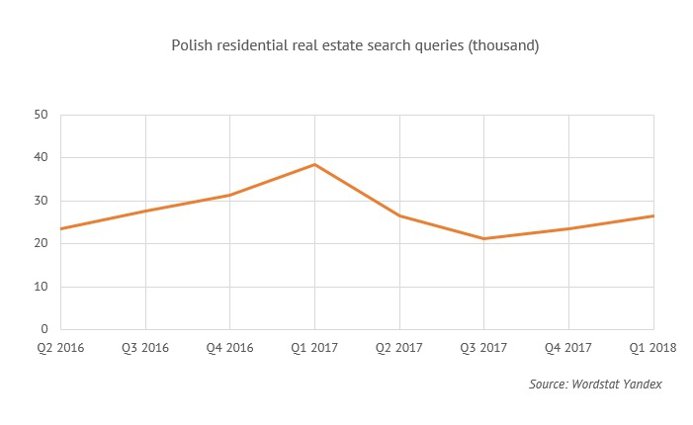 9. France
Yandex processed 240,000 search queries relating to apartments and detached homes in France over the past two years. Interest in French property began growing rapidly in Q2 2017, and the number of queries has risen by 60% over the past year, which is the highest growth rate among the countries analysed.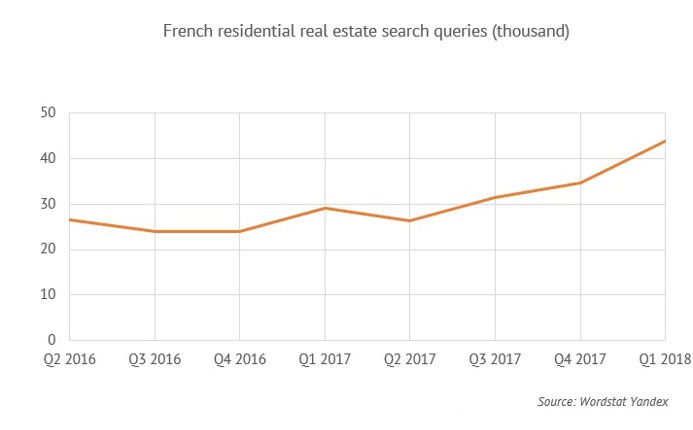 According to Elena Chernysheva, Tranio sales manager for France and Italy, in France, Russian nationals typically look for summer holiday homes and apartments or property for longer-term personal use (up to 6 months in a year).
"The most popular regions are the Côte d'Azur, the Alps, and Parisian real estate. There are also buyers who lease their properties to tourists. Such investors usually choose real estate in large cities with no business seasonality, such as Nice or Paris", Ms Chernysheva said. According to her, buyers of holiday or rental apartments usually limit their budgets to €500,000, while buyers of prime apartments and villas typically spend between €1.5 million and €5 million. 
8. Czech Republic
The Czech Republic is slightly more popular than France among the Russian-speaking users of Yandex. The search engine processed 253,000 search queries regarding residential property in this country between the middle of 2016 and the first four months of 2018. The Czech Republic is becoming increasingly popular: the number of queries has grown 2.5 times over the past two years.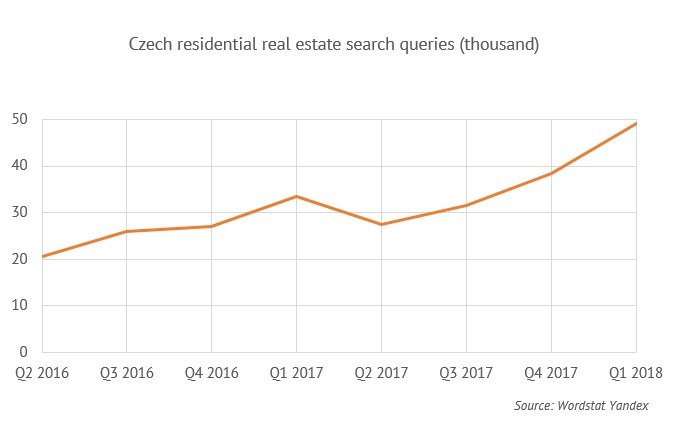 According to Inna Opalyuk, Tranio sales manager for the Czech Republic, the country's real estate is expensive due to cheap mortgages and the scarcity of offers in the market. "Real estate in Prague has been growing in price by 5–7% annually for the past three years, as it is very difficult for developers to obtain construction permits – it takes years", she explained.
As such, many Russians prefer buying off-plan property, which is about 20% cheaper, Ms Opalyuk said. Most Russian nationals buying real estate in the Czech Republic either send their children to study at Czech universities or plan on relocating there themselves. The cities most popular with Russian-speaking buyers are Prague, Karlovy Vary and Mariánské Lázně.
7. Finland
Yandex has processed 288,000 search queries on Finnish real estate in the past two years. The country's popularity is growing intermittently, but in general, the number of queries in Q1 2018 almost doubled from mid-2016.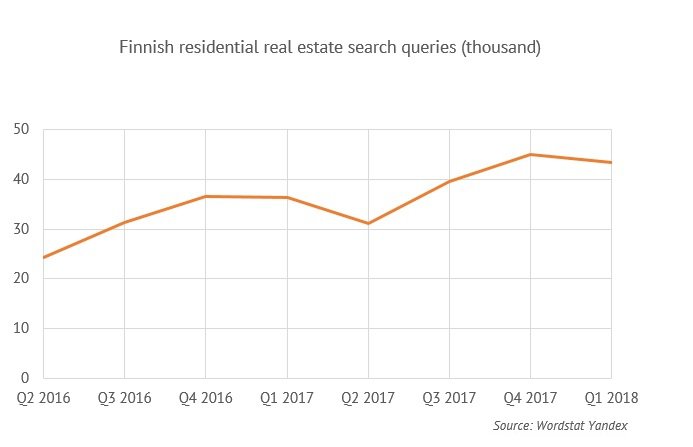 The number of Russian tourists visiting Finland is also increasing. In 2017, it grew by 9% compared to 2016, and the length of their stays rose by 37%. At the same time, according to the Russian central bank, the volume of capital transfers from Russia to Finland shrank by 14% between 2015 and 2017.
6. Greece
Interest towards property in Greece began rising about a year ago. In Q4 2016, Yandex processed only 28,000 search queries, but this figure almost doubled in the first quarter of 2018. In total, Russian nationals searched for Greek property 313,000 times in the past two years.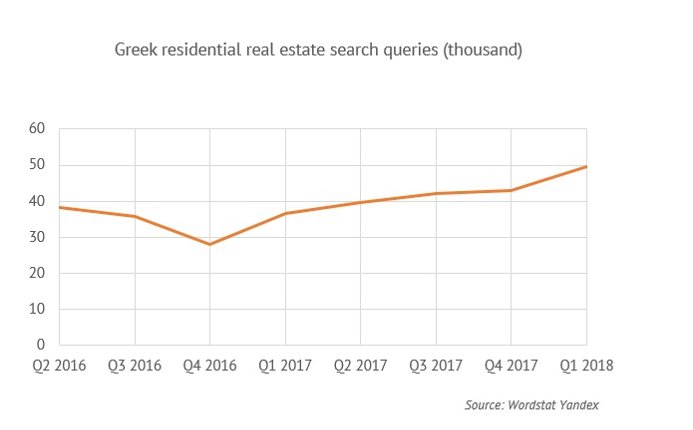 One of the main incentives for Russian nationals to buy Greek property is the country's "golden visa" programme under which foreign investors who buy one or more properties totalling €250,000 or more is entitled to residency in Greece. According to Greece's official investment agency Enterprise Greece, about 400 Russian investors have received Greek golden visas between the launch of the programme and late 2017. This is one of the cheapest golden visa programmes in Europe, and in view of Greece's economic recovery and the rapid development of its tourism industry, many foreign buyers believe that Greek property is a profitable investment. According to the Bank of Greece, the total value of transactions involving foreign nationals in the Greek property market in 2017 exceeded the 2016 figure by 87%.
5. Montenegro
Interest in residential property in Montenegro has remained persistently high among Russians over the past two years. From the middle of 2016 to Q1 2017, Russian nationals searched for information on property in Montenegro on Yandex a total of 336,000 times.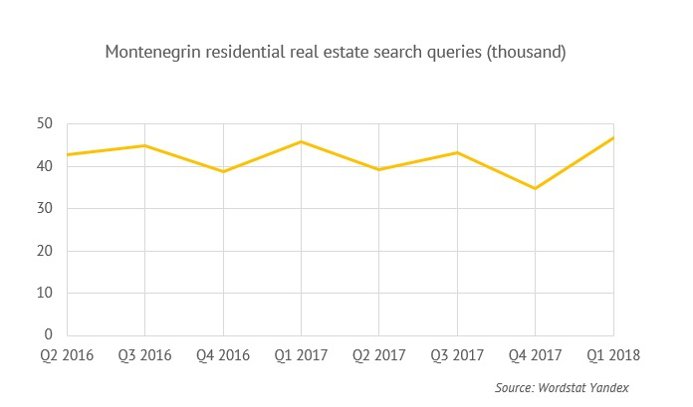 There are two types of Russian-speaking property buyers in Montenegro — those buying holiday homes and those planning on leasing their investment properties to tourists. According to Svetlana Larionova, Tranio sales manager for Montenegro, Russian nationals are more interested in buying property on the Budva and the Bar rivieras than in the Bay of Kotor, and usually have budgets above €100,000.
4. Italy
The number of Russian nationals interested in buying residential properties in Italy is growing. The number of queries grew by 60% over the past two years, totalling 520,000. Italy is also one of the top 10 countries by the volume of cross-border individual transfers from Russia. According to the Russian central bank, $900 million was transferred from Russia to Italy between 2015 and 2017.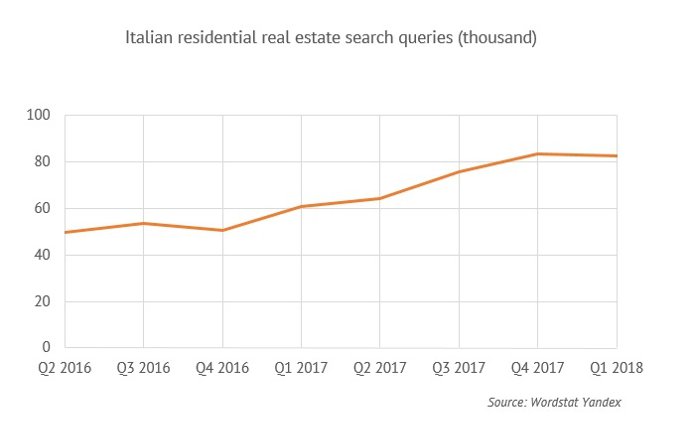 Russian nationals are most interested in summer homes near the coast in Italy, which explains the popularity of resort regions. "Russian buyers are most often interested in Tuscany, Liguria, Lake Como and Lake Garda, although many also consider Rome and Milan", Tranio's Elena Chernysheva said. According to her, the budgets of Russian-speaking buyers rarely exceed €2.5 million.
3. Germany
There were slightly more property searches for Germany than Italy among Russians over the past two years. Russian nationals searched for information on residential property in Germany 530,000 times between mid-2016 and Q1 2018. The country's popularity has been growing despite high prices and competition for attractive offers in the market. Germany also outpaced Italy in the volume of individual transfers. Between 2015 and 2017 it received $1.2 billion in transfers.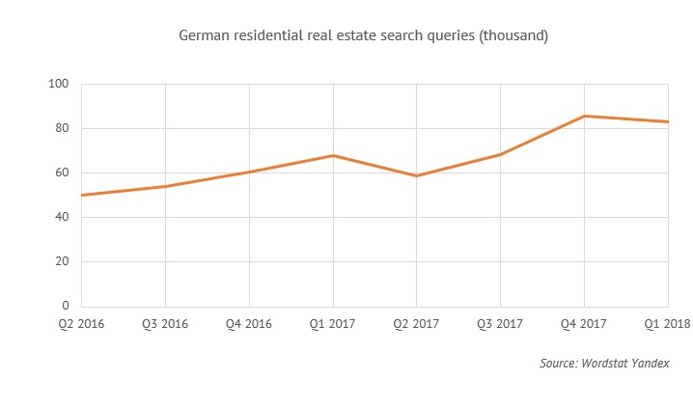 Cheap mortgages, at 1.5–2%, are fuelling the property demand, and, as a result, property prices. According to Deutsche Bank, from 2009 to 2017, residential property prices in Germany grew by 80% in large cities and by 60% in small towns. As such, Sofia Bulanova, Tranio investment advisor, believes properties in growing mid-sized and large cities in East Germany have more potential for buyers who plan on leasing their properties or reselling them in the long-term. "Relatively low prices for German real estate ensure higher rental yields, while the continuing economic growth ensures investors will be able to sell their property at a profit in 7 to 8 years", Ms Bulanova explained.
2. Bulgaria
Bulgaria was the most popular country among Russian nationals considering property abroad in 2016. In total, Russians made 980,000 searches for information on Bulgarian residential property over two years. The country remains highly attractive, typically losing popularity slightly at the end of the year and regaining ground in Q1.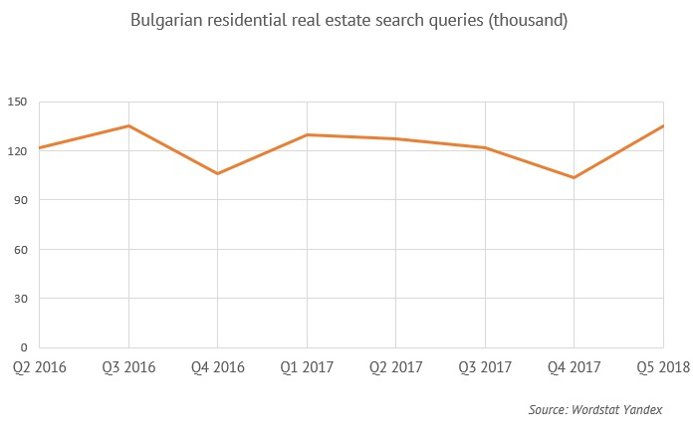 Bulgaria is one of the most popular tourist destinations among Russians, who visited the country over 500,000 times in 2017. Bulgarian Tourism Minister Nikolina Angelkova said that over 400,000 Russian nationals own property in Bulgaria, media outlet Bulgarian Residency reported. At the same time, it reported that according to official statistics, the figure is significantly lower – only 74,000. At any rate, the growth in the Bulgarian coastal property market is largely attributed to the Russian buyers.
1. Spain
Spain is the most popular country among Russian foreign property buyers. There were over 1 million searches relating to Spanish residential property on Yandex over the past two years.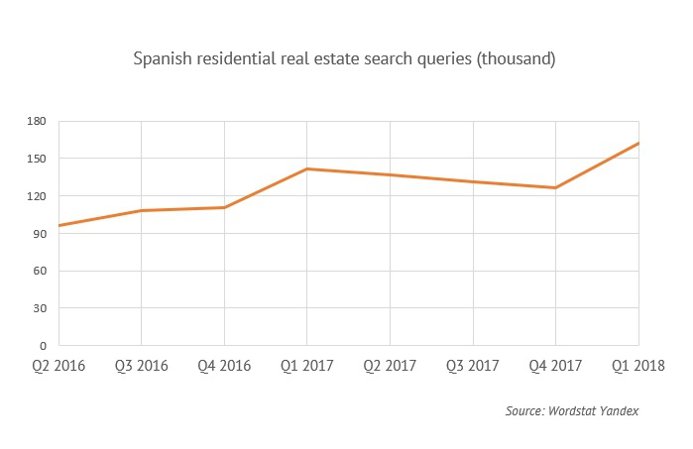 Russian nationals find Spain attractive for a number of reasons: affordability, proximity to the sea, transport accessibility, and high-quality education for children. Spanish banks issue mortgages to foreign nationals, and the acquired property can be rented out.
"One of the most popular locations is Tenerife, where the high season lasts all year round. As for the purposes of property buying, the province of Alicante is often chosen by those who purchase real estate for personal own use during holidays and lease for the rest of time. The Costa del Sol is ideal for Russians who plan on relocating to Spain in the future. People who want to send their children to local schools choose Valencia and Catalonia", Anna Boyarchukova, Tranio sales manager for Spain, said.
The budgets of Russian buyers range from €80,000 to several million euros. On average, apartments in Alicante start from €350,000, apartments and villas on Tenerife start from €200,000 and €1 million respectively, and apartments on the Costa del Sol start from €200,000.
Subscribe not to miss new articles
We will send you a content digest not more than once a week
Subscribe
Done!
Top 5 Articles of the Month