Tranio's client case: Investing 4 million US dollars in real estate and starting a business in Dubai

In early 2022, Tranio was approached by Denis, an entrepreneur from Moscow, who wanted to invest in real estate in Dubai. Denis made a decision fast and closed the deal remotely in the shortest possible time. Now he is applying for a residence permit in the UAE.
Denis has purchased several properties worth about 4 million US dollars. He has invested in apartments for rent and plans to buy a penthouse for himself and his family.
Why Denis chose Dubai
Denis has worked with Tranio before. Six months ago he consulted with Tranio's manager about investments in Europe and considered buying real estate in France. However, later he turned his attention to Dubai.
Denis wanted to protect his capital by investing in real estate in a reliable market and make money from rental contracts. The opportunity to obtain a long-term residence permit was also an important factor for him. In early 2022, Denis narrowed down the choice of investment destinations to Dubai: he was attracted by the low taxes, high level security and tropical climate.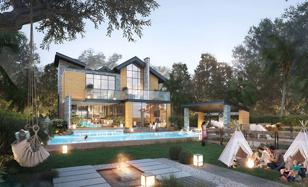 From $3,021,000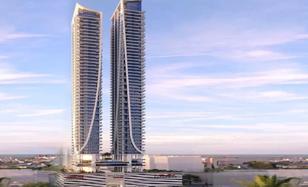 From $433,000
On top of that, the investor has been to Dubai more than once and knows the city well. He made the decision to purchase apartments online without visiting Dubai and to choose properties by assessing the current offers from developers along with market reports. Here Tranio's consultants stepped in to assist the client in his search.
Denis plans to internationalise his business and has chosen Dubai because of its growing market and attractive conditions for foreign entrepreneurs. Obtaining a UAE residence permit by property investment, he can now open a bank account and register a company in Dubai. After moving to the UAE, Denis will become a tax resident of the country.
The cost of apartments increased by 10% during the first weeks after the purchase
Denis bought several apartments in Dubai: three studios in an under construction building and one apartment that had already been commissioned. The latter was purchased because Denis wanted to apply for a residence permit straight away. The Emirati residency is granted to foreigners investing in ready properties or, in the case of off-plan properties, after the construction project is completed.
Some investors prefer to buy off-plan and apply for a residency later as they prepare for relocation in the meanwhile. Our client was planning to move to Dubai soon, so he chose one of the ready properties along with off-plan apartments.
The investor plans to resell the off-plan apartments at the stage of putting the building into operation, thus making money on the price difference. Since all properties are small and located in a new area in the city centre, they have high liquidity.
Two weeks after the payment, the developer raised prices in this residential complex by 10%. Given that the property purchase tax amounted to 4%, Denis has already earned 6% on the increase in apartments' prices during the first weeks.
The investor also considered the option of renting out the apartments on a long-term basis. When the developer delivers Denis' studios, they will be all set for renting out from the start as they come with high-quality interior finishes, kitchen furniture and plumbing. Therefore, the investor can expect stable demand from tenants. The predicted yield of apartments can reach 10% for short-term rentals and 3–5% for long-term rentals.
After obtaining a residence permit, Denis plans to move to Dubai with his family and is now choosing the district for buying a family penthouse.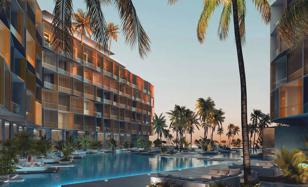 $477,000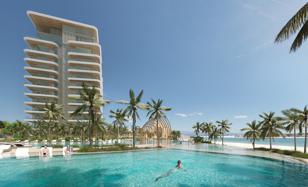 $7,631,000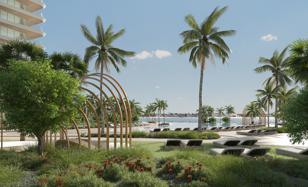 $4,455,000
Denis closed the property deals online
The investor paid for the apartments by transferring money from his bank account. When buying a primary property in Dubai, a booking fee has to be paid first, after that the developer reserves the property. This deposit is paid via a link from the developer, which is associated with the client's ID in the emirate's land department system.
Almost all bureaucratic procedures in Dubai are digitised: both payments and submission for rights registration are usually made online. Moreover, there are various payment methods — from cash to cryptocurrency — that are common in Dubai. A variety of payment options depends on the developer's policy, but online banking transfers are available in all cases.
Tranio's lawyer helped Denis to prepare the documents and close the deal. Since registering ownership rights in the emirate had always been a seller's responsibility, this was done by the real estate developer in the Denis' case. Thus, the client did not have to spend his time on all the proceedings.
Business relocation to Dubai
Denis owns a business in Russia, and he plans to take it to the international level and move the company to Dubai.
Foreigners can conduct business activities in the UAE. They have a choice of two options: either open a local company in any city in the country or register a company in a free economic zone, of which there are more than 20 in Dubai now.
Expatriates make up almost 89% of the country's population and the UAE relies heavily on foreign investors and entrepreneurs for its economic development. Therefore, the country favours the free and safe conduct of business by expats.
Tranio is currently advising Denis on opening a company in Dubai. He has business consultants and our lawyer working with him.
No taxes for homeowners and foreign entrepreneurs 
After moving to Dubai, Denis will become a tax resident of the UAE, which is known for its comfortable tax regime.
Denis will not have to pay income tax when renting out apartments; he will also be exempt from the annual apartment tax. If he ever wishes to gift an apartment to his children or leave them a property as an inheritance, his family will not be obliged to pay gift or inheritance taxes, only the transfer fee.
Dubai has very favourable conditions for doing business. For example, there are no taxes, except for the license fee, for companies opened in free economic zones.
Denis will not pay income and corporate taxes; the latter is levied only on oil companies and foreign banks. Companies in the free economic zone are also exempt from taxes on imports and exports.
It is worth mentioning that the UAE government is planning to revise its tax regime. Starting from June 2023, the country will introduce a 9% corporate tax for the first time in history, which will be levied on profits exceeding 102,000 US dollars per year. However, this rate still differs favorably from European countries, where the average corporate tax is 21.7%.
Family life in Dubai: safety and quality of life
Denis is married and has three adult daughters. They will also receive a residence permit with him. The whole family is excited about the move: they see Dubai as an ideal city for a quiet and safe life with children and future grandchildren. The crime rate in the UAE is one of the lowest in the world.
Denis' grandchildren will be able to study at international schools in Dubai. There are many private schools in the emirate where education is conducted in English and according to British educational standards.
After obtaining a residence permit, Denis and his family will have access to the Dubai healthcare system. Expats can use local medical facilities if they have a medical card, which costs about 50 US dollars per year and can be issued online within 7 minutes, as noted on the Ministry of Health website.
The investor also praises the high quality of life in Dubai. For example, it is quite normal for residential complexes in the city to have a swimming pool and a fitness room that residents can use.
Dennis has recommended us to his friends. Now we are working with another investor who reached us on Denis' recommendation.
Subscribe not to miss new articles
We will send you a content digest not more than once a week
Subscribe
Top 5 Articles of the Month