Commercial property investments soar in Germany's "Big Seven" cities
Investments in commercial property for sale in Germany have soared in 2015, beating last year's figures by 50% already. By October 2015, €38.1 billion had already been invested compared to €39.8 billion for the whole of 2014 according to CBRE. Property in the country is particularly popular with foreign buyers who made up 53% of all transactions between January and September while portfolio investments represented 37% of the total investment volume.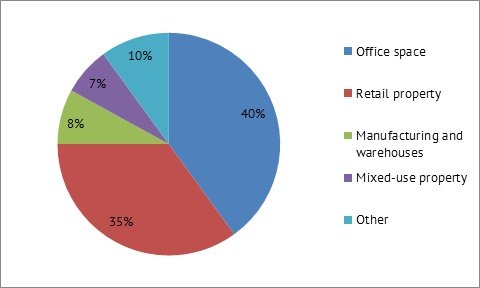 The most popular commercial property types are offices (40% of all commercial investments), retail space (35%) and manufacturing/warehouse facilities (8%). These premises have maintained their ranking since 2014. However, the attraction of offices is waning as more buyers invest in retail property. Last year, 45% of investments went to office space while retail only made up 21% according to Savills, an international real estate group.
The most popular destinations are Germany's "Big Seven": Berlin, Hamburg, Düsseldorf, Cologne, Munich, Frankfurt am Main and Stuttgart. Together, they generate more than half of all transactions on the market. These large cities are recognised as established markets where property has higher liquidity and demand is strong.
City
Population, mln
Unemployment, %
Purchasing
capacity index
Per capita
income, EUR
Berlin
03.5
10.5
102.6
19,796
Cologne
01.0
09.3
106.6
23,774
Düsseldorf
00.6
08.5
116.3
26,563
Frankfurt am Main
00.7
06.7
110.5
24,897
Hamburg
01.7
07.3
104.8
23,609
Munich
01.5
04.8
118.0
28,252
Stuttgart
00.6
05.4
111.7
25,125
Nationwide
81.1
06.2
100.0
19,901
The Era of Office Space
Germany's offices are the most popular target for investors, composing 40% of all commercial transactions, thanks to the positive economic situation. It is the strongest economy in Europe and has the lowest unemployment rate in the EU. As of September 2015, unemployment was only 6.4% nationwide and experts forecast that it will continue to decline — bringing the active German population to 31.33M in 2016 from 30.8M in 2015 according to the Institute for Employment Research (Institut für Arbeitsmarkt und Berufsforschung).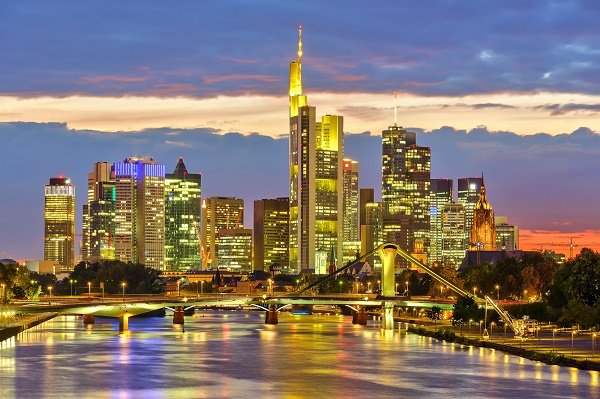 Rental demand: Frankfurt am Main is the country's largest office market and the city is already home to the European Central Bank headquarters, the German Federal Bank (Deutsche Bundesbank) and the country's largest stock exchange: Frankfurter Wertpapierbörse (FWD). Here, rental demand comes from banks and financial institutions, while Berlin attracts the IT sector, trade and the F&B (food and beverage) industry go to Düsseldorf and commercial production is more likely to set up shop in Munich or Stuttgart. Cologne, on the other hand, attracts NGOs, including charities.
Budget: €2–5 million is enough to buy several offices or a small office block). Munich is the most expensive city (€10,442/sq m on average), followed by Frankfurt (€9,793/sq m). Office space in Berlin, Hamburg, Düsseldorf, Cologne and Stuttgart sells for €5,000–7,000 per square metre on average.
Price dynamics: office property prices have grown in all of the "Big Seven" except Düsseldorf between Q2 2014 and Q2 2015. The strongest growth has been witnessed in Munich (15%), Berlin (12%) and Frankfurt (10%).
Rent dynamics: rental rates have remained relatively stable over the last decade: premium office property in Germany is let for €24–27/sq m per month on average while midrange offices go for €13–15. The highest rates for midrange office space are found in Frankfurt: €20/sq m per month.
Yields in Germany have been falling over recent years because rental rates have remained stable while property prices are increasing. Currently office property in the "Big Seven" earns about 4% per annum, and up to 10% in the case of subprime investments.
Returns: taking into account the price growth per square metre, total returns can reach 10–25% per annum in Germany's largest office markets.
Occupancy in the "Big Seven" is traditionally high at approximately 90% on average. Vacancy rates in office property are declining annually and dropped from 8.9% in 2011 to 6.1% in the first half of 2015 according to Colliers. In Berlin, occupancy has risen from 91.1% to 95.7% over the same period.
Lease contracts. Typical lease periods extend from five to ten years and are commonly ruled by the Dach & Fach contract under which the lessee is responsible for the roof and supporting structures of the building. Despite the broad range of maintenance obligations imposed on the lessee, the owner is still liable in part for repairs.
Vacancy rate,
%
H1 2015
Yields, %
Rental rates
Selling price
Prime property
Q3 2015
Spread
2014
Prime property,
EUR/sq m
Q3 2015
Average value,
EUR/sq m
Q3 2015
Annual average
value dynamics,
%
Q3 2015
EUR/sq m
Q2 2015
Annual dynamics,
%
Q2 2015
Berlin
06.9
4.0
4.6–10.2
24.00
13.75
01.9
06,419
12.0
Cologne
06.5
4.4
4.7–10.3
19.90
11.70
−1.7
06,069
06.0
Düsseldorf
09.8
4.1
4.7–10.4
26.00
14.40
02.1
07,091
−1.0
Frankfurt
10.0
4.1
4.6–10.3
38.50
20.00
05.3
09,793
10.0
Hamburg
06.7
4.1
4.6–10.1
24.00
14.50
00.0
06,837
07.0
Munich
06.5
3.8
04.2–9.2
33.50
15.60
00.0
10,442
15.0
Stuttgart
05.0
4.3
4.5–10.9
21.00
12.30
−2.4
05,143
06.0
Retail Property forges ahead
Investments into retail property reached €14 billion between Q1 and Q3 2015, almost twice as much compared to the same period last year, according to CBRE. Foreign investors were responsible for about half of these transactions. Approximately €8.6 billion of all investments were directed towards retail portfolios, of which seven deals at approximately €250 million each and a €2.8 billion deal for 40 Kaufhof stores according to the Germany Market Report: Retail Q3 2015 by Colliers.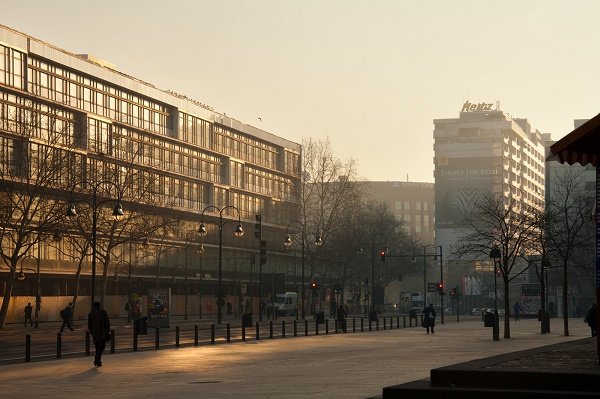 Rental demand: retail property is in demand in cities with high levels of tourist activity throughout the year like Berlin, Munich, Düsseldorf and other large cities. In Q3 2015, shopping centres constituted the highest number of retail property transactions (44%), retail parks and high-street shops came second and third with 29% and 27% of investments respectively according to Colliers. Major retail property lessees are textile companies (42%) and the catering industry (20%) according to JLL.
|   | Street |
| --- | --- |
| Berlin | Tauentzienstraße |
| Hamburg | Spitalerstraße |
| Düsseldorf | Königsallee |
| Cologne | Schildergasse |
| Munich | Kaufingerstraße / Marienplatz |
| Frankfurt | Zeil |
| Stuttgart | Königstraße |
Budget: premium segment lettings in city centres (high-street retail property) start at €1 million. Shopping centres start at about €5 million.
Rent dynamics: in Q2 2015 rental rates in the "Big Seven" were relatively stable, showing a slight increase in some cities. Average rates for premium segment lettings range from €250 to €360 per square metre per month. The highest rates in the retail segment are found on Munich's Kaufingerstraße and Marienplatz.
Yields: average yields for premium high-street property are 3.5–4.0%, and up to 9.5–10,0% for subprime investment property. Profitability also depends on the property type: retail parks earn 5.2% per annum on average, shopping centres bring in about 4.2% and, at just 3.7%, high-street premises have some of the lowest yields in the commercial property segment.
Lease contracts. Rental contracts are usually made for 10–15 years and rental payments are made in advance on a monthly basis. Shopping centres and retail complexes often pay a turnover percentage fee rather than a rental rate: lessees pay a minimum rental rate followed by an end-of-year turnover percentage fee. The rental rate indexation is conducted annually for contracts of ten years and more in compliance with the Consumer Price Index (Verbraucherpreisindex).
Premium segment yield, %
Q3 2015
Yield spread, %
2014
Premium segment rental rate,
EUR/sq m per month
Q2 2015
Rent dynamics, %
Q2 2015
Berlin
3.6
4.16–9.53
320
7.0
Cologne
4.1
4.20–9.58
255
2.0
Düsseldorf
3.8
4.17–9.52
290
2.0
Frankfurt
3.5
4.20–9.50
310
3.0
Hamburg
3.7
4.20–9.55
280
2.0
Munich
3.5
3.90–8.92
360
0.0
Stuttgart
4.0
4.23–9.58
250
0.0
Industrial and warehousing property
The logistics industry is growing constantly and demand for industrial warehousing property is the highest in Europe thanks to Germany's position as a European crossroads and its export-oriented economy. According to the Federal Statistical Office of Germany (Statistische Bundesamt), cargo carriage volume increased by 2.9% in 2014, climbing to an all-time high of 4.5 billion tonnes. The same year, Germany exported goods totaling €1,133.6 billion, which is 3.7% more than in 2013. Imports grew by 2.0% to €916.5 billion, according to data by CBRE.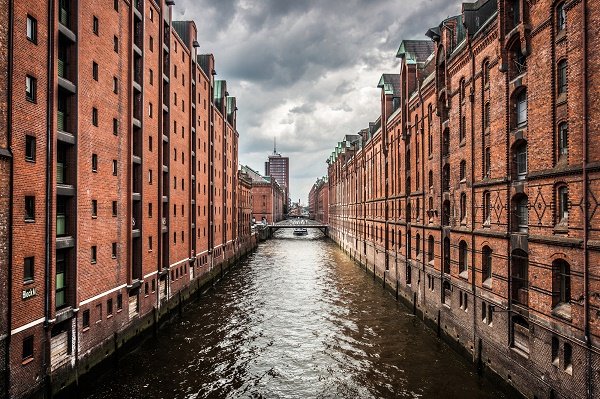 Budget: warehouse prices vary from €25,000 to tens of millions of euros.
Rental demand: the most popular markets are Berlin, Hamburg, Düsseldorf, Munich and Frankfurt. The Rhine-Neckar and Ruhr regions as well as the cities of Leipzig, Mönchengladbach and Stuttgart are also important. Low risk investments are directed into Class A property over 30,000 sq m — with starting prices of €3 million. According to Colliers, existing warehouses occupy 87% of market demand, with new-builds at 11% and 2% under construction.
Minimum area,
sq m
Minimum ceiling height,
metres
Construction date
8,000
6.5
Before 1985
Due to the particular role of Germany in the logistics industry, Tranio has noted stronger demand for buildings meeting specific requirements in terms of surface area and amenities. It is also crucial for this property to have strong transport infrastructure nearby such as rail freight transport facilities and major roads.
Floors
Ceiling height,
metres
Minimum capacity,
tonnes/sq m
Vehicle access
Heating
1
10–12 m
5
Two-way
Gas
Yields of 6% on average make this segment a higher earner than other property types.
Price dynamics: prices are stable in most cities. Prices per square metre vary from €20 in Erfurt to €350 near the Munich international airport according to JLL.
Rent dynamics: in line with market trends, rental rates remained stable during Q2 2015 ranging from €4.7 to €6.5 per square metre per month.
Lease contracts. Rental contracts are established for 3–5 years for existing premises and 7–10 years for the new-builds. JLL research shows that three-year contracts are the most popular (37%), followed by five-year contracts (27%). Agreements for a period of ten years or more are far less common (12%).
Yields, %
June 2015
Rental rates,
EUR/sq m per month
Q2 2015
Annual rent dynamics, %
Q2 2015
Selling price,
EUR/sq m
2014
From
To
Berlin
6.25
4.70
0.0
025
120
Cologne
6.30
5.00
5.3
080
150
Düsseldorf
6.25
5.40
0.0
085
200
Frankfurt
6.05
4.65
0.0
070
250
Hamburg
6.20
5.60
0.0
080
150
Munich
6.00
6.50
1.6
170
350
Stuttgart
6.65
6.00
0.0
090
250
What to expect in 2016
Germany's GDP is expected to grow until 2020 as unemployment rates continue to decrease and household incomes rise. These parameters are good indicators of positive market conditions for investing into commercial property. However, growing property prices and stagnant rental rates are having an adverse affect on commercial yields, which are currently declining. Nevertheless, the stability and economic efficiency of the EU's leading nation has kept investors interested despite lower yields and occupancy rates remain optimal.
Yulia Kozhevnikova, Tranio
Read more:
Subscribe not to miss new articles
We will send you a content digest not more than once a week
Subscribe
Done!