Dresden's commercial property market: what investors needs to know
In recent years, Dresden has emerged as one of Germany's most promising cities with respect to commercial property investment.
The Saxon capital ranked fourth of 402 German cities in 2016 with respect to projected population dynamics, according to analytics firm Prognos. The city's population grew by 2.1% between 2012 and 2014, and is expected to increase by 8.4% by 2030, according to German real estate company TAG and consulting firm Wüest Partner.
Meanwhile, between 2010 and 2015, the purchasing power of Dresden residents surged by 14.6%, while the city's unemployment rate fell by 24.1% to 7.4%, compared to a regional average of 10-11%, according to TAG and Wüest Partner.
The favourable demographic forecast and Dresden's burgeoning prosperity are expected to bring about further growth of the local property market. Simultaneously, the prices for various properties in the city are soaring while yields dwindle, a trend observed throughout Germany.
Retail property
Between 2006 and 2016, retail property price growth (+40.6%) in Dresden surged beyond the national average (19.8%), according to a 2016 retail property report by professional services firm JLL. Across Germany, commercial investors can typically acquire a small shop for upwards of EUR 250,000, a supermarket for upwards of EUR 1 million and a shopping center for several million euros. Investors can expect similar prices in Dresden.
However, the rental prices for prime retail facilities have experienced relatively slow growth, having increased by as little a meager 15% since 2006, compared to a nationwide average growth rate of 19.7%, JLL reported.
According to the BNP Paribas banking group, in H1 2016 the rental rates in the main shopping streets of Dresden amounted to about EUR 75 per sq m per month around Prager Straße and Schloßstraße, and to EUR 100 per sq m on Seestraße.
| | Space, sq m | Rental rate, EUR per sq mper month |
| --- | --- | --- |
| Facilities in poor-to-averagecondition on the outskirts | from 150up to 100 | 11.525.0 |
| Facilities in good condition in the centre | from 150up to 100 | 55.080.0 |
| Highest rental price | from 150up to 100 | 80.0110.0 |
The average yield rate for Dresden retail facilities is 5.6%, according to financial analysts at real estate finance firm Deutsche Hypo. According to TLG Immobilien, this figure ranges between 5% in the central districts to 6.8% on the outskirts.
Office property
In 2014-2015, rental rates for offices in Dresden increased only slightly (+1.7%, according to TLG Immobilien). In 2015, local office facilities were rented out at an average rate of EUR 6 per sq m per month on the outskirts and at an average rate of EUR 10 per sq m in the city centre, while the highest rental rates typically rose to EUR 12 per sq m.
The volume of vacant space in Dresden is decreasing with each passing year. According to BNP Paribas, vacant space fell from 350,000 sq m in 2005 to approximately 240,000 sq m in 2014. Due to the falling vacancy rate and the low construction volume, the city's supply deficit is increasing in top locations including Prager Straße, Altmarkt and Postplatz.
At the same time, many companies are expanding their presence in the city, having already pushed Dresden's office space market into the position of third largest in Eastern Germany after Berlin and Leipzig.
Office space yield rates typically amount to 5.4% in the central districts of Dresden, and 7.6% on the outskirts.
Residential property
The average price of property for sale in Germany is experiencing more sluggish growth than that of flats in Dresden. Between 2011 and 2016, flat prices in the city grew by an average of 83%, while the national average price growth amounted to 58%. (See table below.)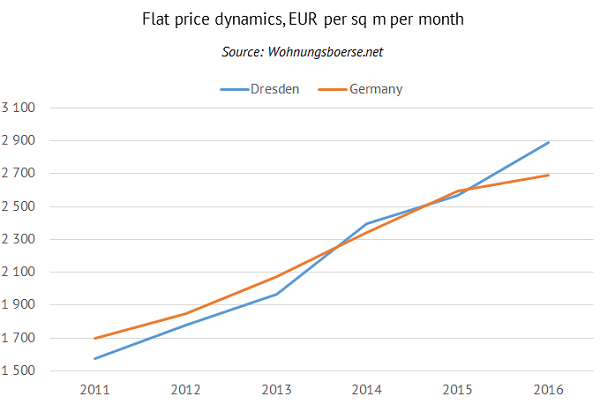 As of autumn 2016, a square metre cost an average of EUR 2,683, EUR 2,470, and EUR 3,189 in 30, 60 and 100 sq m flats respectively.
During the same period, residential property rental rate dynamics lagged behind the national average: between 2011 and 2016 they grew by 32% in Dresden and by 37% in Germany. In the Saxon capital, 30 and 100 sq m flats typically rent out for EUR 8.8 per sq m per month, while the 60 sq m ones typically rent for EUR 7.3 per sq m. This indicates that rent in Dresden is more affordable than the national average.
Residential property yield rates are declining in Dresden, just as they are all over Germany.
Data obtained from Wohnungsboerse.net reveals that in 2016, apartments in Dresden yielded an average of 3.3% per annum, while in 2011 the average apartment yield rate in the city was 4.5%. However, TAG and Wüest Partner gave differing figures — a yield range of 4.3-6.3% — in their surveys.
Hotel property
The number of overnight stays in Dresden hotels doubled between 2002 and 2015, and in 2014 a record was achieved when visitors to the city spent a total of 4.4 million nights there (+7.6% compared to 2013). According to Deloitte, in 2015 the number of overnight stays in the city decreased by 3% to 4.3 million, but this figure is still higher than prior to 2014, and according to a forecast by real estate investment firm Dr. Lübke & Kelber, may reach five million by 2020.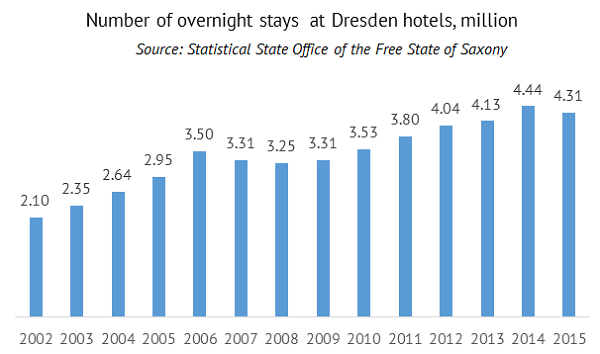 As of 2013, business travelers accounted for 33% of the overnight stays, while tourists accounted for 67%, according to Dresden.de. Most guests of the hotels in Dresden at the time (81.4%) were German citizens, and only one fifth of them (18.6%) came from abroad.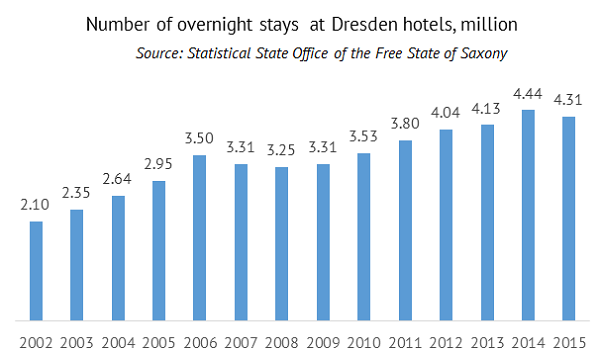 Between 2002 and 2015, the average hotel occupancy rate in Dresden ranged from 42% to 59%. This average is expected to increase in the long term. In 2015, revenue per available room in the city increased by 1.7% as compared to 2014, reaching EUR 49.1 on average, while the average daily rate increased by 3.2% during the same period, reaching EUR 74.5, according to TLG Immobilien.
What to expect from Dresden's real estate market in 2017
The German Institute for Economic Research (Institut für Wirtschaftsforschung) expects Saxony's GDP to grow by 1.5% in 2017 – faster than Eastern Germany's average (including Berlin). The city's employment rate is likewise poised to continue to flourish. The economic upturn together with the improving labor market situation will favor commercial property growth and prosperity. However, further price increases, a moderate rental rate growth and a declining yield rates can also be expected in other Dresden property market segments.
Yulia Kozhevnikova, Tranio.com
Subscribe not to miss new articles
We will send you a content digest not more than once a week
Subscribe
Done!