Foreign investor's guide to commercial property in Miami 2016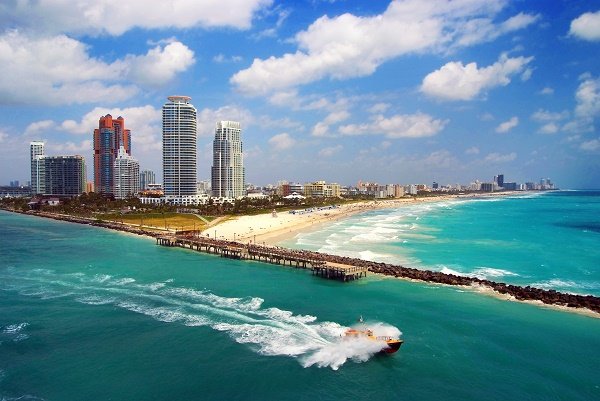 Miami, Florida, is a renowned destination among foreign investors thanks to its many positive attributes. It has an educated and multicultural population as well as many tourists, which all contribute to excellent retail sales results. Its power of attraction may also be attributed to the international financial district, Brickell, and the state's favourable tax regime for businesses.
-> Investing in commercial property: 9 essential tips
Retail property reaps benefits of consumer sales
Direct vacancies down 3.4%
Average lease rate $45.47
The retail market in Miami has some of the lowest vacancy rates (3.4%) in the country. Thanks to strong demand and solid annual sales revenue generated by tenants, rental rates have grown 30.3% since 2012. The areas with the highest retail sales revenue are Lincoln Mall Road and the Design District. The average asking rate is $45.47 per sq ft.
| Area | Average rental rate per sq ft | Max rental rate |
| --- | --- | --- |
| Lincoln Mall Road | 206.86 | 340.00 |
| Design District | 098.92 | 175.00 |
Miami retail construction has reached its highest level since the 2007 crisis. 2.4 million square feet (almost 223,000 sq m) are under construction and will be delivered between 2016 and 2018. These new premises have the potential to generate $500M to $1B in new retail sales.
Office property rates grow with demand
Direct vacancies down 12.7%
Average lease rate Class A $40.23
Job growth in Miami has put pressure on the office market, especially since hardly any construction was going on to create additional space, which in turn has led to lower vacancy rates. In Q4 2015 alone, vacancy declined 12.7% quarter-over-quarter. Law firms and business services are the biggest clients looking for office property in Miami.
Lease rates have also been growing: the average rate per square foot is $40.40 on average for Class A & B in the central business district (CBD) and $30.50 in the suburbs according to CBRE. The average lease rate for Class A property in the central business district increased 5% to $46.98 per square foot by the end of 2015, with suburban rates (all classes) at $29.39.
During Q4 2015, nearly two-thirds of all leases (59%) were executed in suburban markets. Overall demand has seen businesses move into smaller offices but the dense development of the city means that there is not enough parking space. $289M were invested into Miami office assets during Q4 2015.
Three of the biggest new leases were closed in the Airport/Doral area for a total surface of 206,771 square feet. Downtown came in second with two new leases signed for 80,000 square feet. Coral Gables distinguished itself in terms of large sales after three transactions, totalling $236 million, were closed in Q4 2015.
Area
Total vacancy,
%
Total inventory,
millions sq ft
Price per sq ft, USD
Under construction, sq ft
CBD
Total
15.5
14.9
37.84
544,228
Brickell
11.9
07.2
41.52
264,228
Downtown
18.4
07.6
35.84
280,000
Surburbs
Total
11.4
32.5
29.39
225,311
Airport/Doral
11.8
11.9
26.09
000,000
Coral Gables
09.2
07.1
36.44
116,576
Prices for office premises have been increasing. This is partly due to higher foreign investors activity on the market. European and South American investors have been particularly drawn to Miami thanks to the international financial district, Brickell.
Office construction is rising after a strong decline in completions between 2013 and 2015. Currently, Miami has 770,000 sq ft under construction with another 3.3 million planned (completion planned for 2017–2019).
Growth in demand and lease rates reflect local tax laws. Miami has one of America's most business-friendly regimes in the US after South Dakota, Alaska and Wyoming according to the Tax Foundation. It is therefore no surprise that more companies are choosing this state, with its pleasant weather, great views, educated and multicultural population. Experts expect trends in the office segment to continue throughout 2016.
Industrial real estate attracts major foreign investment
Vacancy rate only 3.4%
Average lease rate $8.30
Despite strong results in both completions and on-going construction projects since 2013, Miami still has an appetite for the industrial property segment. In Q4 2015, the market absorbed 1.1 million sq ft of industrial premises while only 500,000 sq ft of new completions were put on the market.
The average sale price was $69.00/sq ft during the last quarter. At the same time, falling vacancy rates has put upward pressure on lease rates as experienced in the other segments across Miami.
Overall, manufacturing premises have the lowest vacancy rate (1.8%) and average lease rate ($7.09). Warehousing and distribution is the most popular type and occupies the largest surface area. It is also the only sub-segment where construction is planned.
| Type | Total vacancy, % | Total inventory, sq ft millions | Under construction, sq ft | Lease rate per sq ft, USD |
| --- | --- | --- | --- | --- |
| Flex/R&D | 3.8 | 010.6 | 000,000 | 11.46 |
| Manufacturing | 1.8 | 019.5 | 000,000 | 07.09 |
| Warehouse/Dist | 3.7 | 171.5 | 505,493 | 08.20 |
| Other | 1.5 | 006.9 | 000,000 | 10.82 |
Over $50 million was transacted between October and December 2015, which is largely attributed to private and institutional investments as well as cross-border transactions according to Real Capital Analytics. Foreign investments had the strongest year-on-year growth.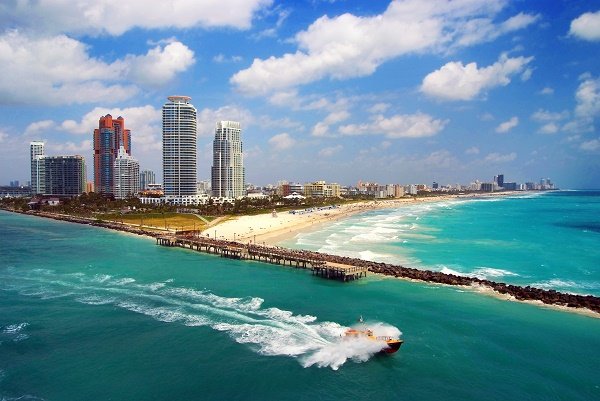 The most active submarket was Airport/Doval area, which enjoyed demand from the aviation industry. In the last quarter of 2015, this location saw leases executed for over 677,000 sq ft. Currently, only Airport/Doral and Medley have further construction projects going on.
The future for this market is also positive according to experts. With the highest vacancy rate at just 5% (Miami Lakes) and the lowest at 1% (Kendall), demand is expected maintain pressure on the segment. Foreign investments should also continue to flow towards industrial property over the next year as many international investors seek to hedge their capital against economic turmoil at home.
Recommendations for investors
The EB-5 programme, America's world-favourite investor visa, is under scrutiny this year. It is highly likely that, by the close of 2016, investors will no longer enjoy the same freedoms or ease of access to American residency and citizenship. Currently, foreign buyers with $500,000 or more can get an American EB-5 visa for both them and their families.
-> EB-5: How to get an American investor visa
At the same time, in light of mass interest in America's commercial real estate market, authorities are now paying closer attention to what, where and how people are buying.
-> Sayonara shell companies: US cracks down on "dirty money" property sales
As China's economy continues to slow and commodity market prices lag behind, cities like Miami are attracting more and more foreign funds. However, international investors should prioritise capitalisation over high yields, as the latter comes with exponentially higher risk. Tranio research shows that over a ten-year period, capital gains actually balance out the smaller revenue from yields over that time.
-> Yields and profit strategies for investors
Only investors that have extensive experience and a lot of time to dedicate to the project should consider taking on more risk than necessary. In all other cases, it is better to bet on good capitalisation by choosing quality property in a popular location that will always be in demand.
Leigh Stewart, Tranio
Subscribe not to miss new articles
We will send you a content digest not more than once a week
Subscribe
Done!
Top 5 Articles of the Month