Property sales in Spain reach new high since 2010

Spain's real estate market continues to impress industry experts after officials released excellent annual results for 2015.
Key figures for 2015
Nearly 10% more property transactions
1,100 homes bought per day on average
One in five homes sold to foreign nationals
36,000 transactions less than 2010 record
Everybody is buying more property
According to the latest data published by the Ministry of Development, there were 9.8% more transactions in 2015 than 2014, marking a record high since 2010. In total, 401,281 homes were sold last year, which is the equivalent of 1,100 per day on average.
During the last three months of 2015, 114,598 homes were sold, representing a 2.4% increase on the same period in 2014. However, considering that nearly 36,000 more transactions were closed in Q4 2010 compared to Q4 2015, there is good reason to believe that the market will continue to grow and improve.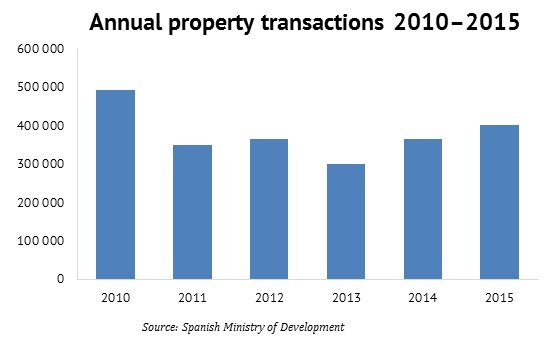 Intriguing foreign buyer patterns emerge
Foreign nationals purchased approximately one in every six homes (17.0%), or 19,482 properties between October and December 2015, confirming that Spain has finally regained sufficient trust and that the global economic situation has improved since the crisis. Their activity has been increasing for 18 consecutive quarters (year-on-year) after reaching a memorable low in 2011.
There is a stark difference between resident and non-resident buyer activity however. While both categories recorded excellent growth annual results in 2015, 9.9% and 10.3% respectively, non-residents only closed 1.3% of all transactions for that quarter (1,453 sales).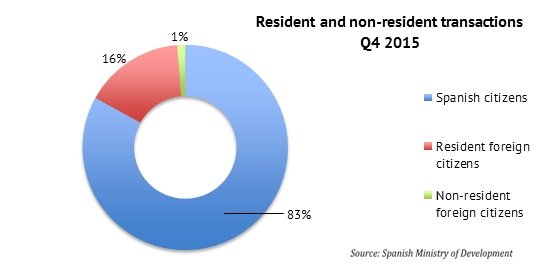 According to Spain's Colegio de Registradores (Association of Registrars), UK citizens bought one in five houses sold to foreigners in 2015, which is approximately 9,346 homes — well above the number of non-resident transactions.
-> Tourism, terrorism and British buyers: Spain's property market in 2016
So if the British are by far the most active nationality on the Spanish market, it would indeed seem more natural for there to be more non-resident buyers than vice versa. On the one hand, the Ministry's recent findings reflect the extent of foreign expatriation to the Iberian Peninsula, but mainly they highlight the complexity of the Spanish tax system and perhaps also the popularity of its golden visa programme.
Tax residency in Spain
Foreign citizens are considered tax residents if they meet one of the two following requirements:
more than 183 days residence in Spain per year
main centre of activity or economic interests in Spain
For instance, an airline pilot who is only in Spain for eighty days per year, but whose wife and children live there, is considered a tax resident.
However, living in Spain for a period exceeding 183 days doesn't necessarily mean that a person is a tax resident. Very often, like in the case of the UK, there are bilateral tax agreements that exempt UK homeowners in Spain from double taxation.
Spain's property hotspots
All of Spain's autonomous communities recorded increases in transactions in 2015 with the exception of Castilla-La-Mancha (–0.8%). The strongest performances were recorded in the Balearic Islands (+17.4%), Basque Country (+17.05), Cantabria (+16.6%), Murcia (+16.3%) and Aragon (+14.3%).
The Balearic Islands, which include Majorca, Ibiza and Menorca, as well as the Basque Country are bastions of high-end property thanks to their spectacular sea views and variety of entertainment options. At €1,721 per square metre, Cantabria is popular alternative to its neighbour, the Basque Country, where prices are much higher. For example, the average price per square metre in the Basque regions of Biscay (Bizkaia) and Gipuzkoa are €2,738 and €3,018 respectively according to fotocasa, a Spanish property portal.
-> The Basque Country Property Guide by Tranio
Foreign buyers have more specific preferences in terms of location, which are determined by many elements such as the proximity to transport routes, previous knowledge of the area (mainly enhanced by tourism) as well as expat contacts in local social circles. The main trend that can be distinguished over recent quarters is price preference and locations with property prices around the €250,000 mark have seen the most activity, like Alicante and Malaga for example.
Foreign buyer dynamics in top Spanish regions
Q4 2015
March 2016
Share of sales
in total foreign
transaction,
%
Foreign buyer
dynamics
Median property
price,
EUR
Alicante
20.06
▲
235,000
Malaga
12.20
▲
279,000
Barcelona
08.32
▼
675,000
Balearic Islands
07.31
▼
691,666
Madrid
07.21
▲
490,000
Source: Ministry for Development, kyero.com
Future trends and influencers
Spain's property market will be shaped by local and global economic events in 2015. On the one hand, secondary market property will continue to dominate residential transactions, mainly due to the near-complete drop off of construction activity after the crisis. The last months of 2015 recorded the highest share of existing property in total transactions (87.9%) since 2007. According to BMI Research, a Fitch consultancy, growth in the residential construction sphere will remain moderate in 2016.
The activity of foreign buyers on the market is, to no small extent, determined by foreign currency exchange rates. As long as the US dollar remains strong against the euro and the British pound resists fluctuations based on the Brexit risk, there will still be interest from these nations. Chinese investors are also likely to increase their activity, encouraged by Spain's friendly investor visa that applies to property purchases, as their homeland battles a sluggish economy.
The hopeful predictions of a real estate recovery for the world's favourite tourist destination have come true, which is excellent news for both sellers and prospective buyers who can still find property before the prices really start climbing.
Leigh Stewart, Tranio
Subscribe not to miss new articles
We will send you a content digest not more than once a week
Subscribe
Done!
Top 5 Articles of the Month