Property investment in Berlin
The population of Berlin is growing by about 50,000 people per year. This is one of the most heated rental markets in Germany: there are 33 tenants per apartment on average.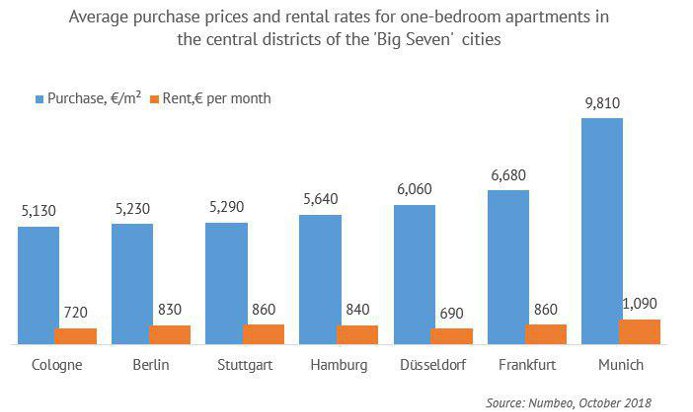 "Most are young, well-educated, skilled workers", says Boris Eliasson, Head of Tranio in Germany, who has lived in Berlin for many years himself. It is not surprising: there are over 40 universities in the German capital to which 20% of students have come from abroad (most of them from China, Russia and the US). Berlin ranked sixth among the QS Best Student Cities in 2017. Every seventh employee works in the digital industry, where the salary level exceeds the city's average. The unemployment rate in Berlin has been declining for over a decade, hitting a record low of 8.2% in August 2018.
A 'supercycle' in the real estate market
The absolute majority of Berlin residents rent residential property instead of buying it. According to Deutsche Bank, as little as 16% of the city's inhabitants own property against the national average of 46%. People come with money, wanting to rent and buy high-quality residential real estate. By doing so, they encourage the prices to grow more than an average Berliner does", Mr Eliasson says.
And the prices are truly rising. According to Deutsche Bank, in 2017 property prices and rental rates increased by about 10%, outpacing most other German cities. However, the price per square metre in Berlin is still lower than in the rest of the 'Big Seven' cities, except Cologne: Hamburg, Düsseldorf, Frankfurt am Main, Munich and Stuttgart.
Analysts expect further price growth: the demand significantly exceeds the supply in Berlin. According to JLL, the German capital needs about 70,000 apartments to be built every year, while, according to official statistics, in 2016, as little as 13,700 residential units were commissioned and just slightly over 25,000 construction permits were issued.
Experts from Deutsche Bank speak of a 'supercycle' in  Berlin's real estate market. They expect the Germany capital to become the nation's most expensive urban agglomeration, despite the city currently ranking only fifteenth in residential property prices. This makes Berlin property investment one of the most promising in Europe.
Value Added projects: a chance to earn more
Rental property yields in Berlin are falling due to growing prices. In search of higher profits, international investors are increasingly considering Value Added projects: the renovation of existing or the construction of new residential buildings.
There are two ways investors can participate in such projects: becoming an equity partner or a mezzanine investor. Under the first scenario, they participate in profit sharing, under the second one they act as mezzanine investors, providing loans to developers at a fixed interest rate, they will gain something, even if the project turns out to be less profitable than planned. An equity partner can expect a yield of 10-15% per annum, a mezzanine investor 5-10% per annum.
Typically, construction projects require the investment of large amounts of capital: from €1mn. However, in recent years clients with modest budgets have been given the opportunity to participate in such projects, with some of them forming an investment club where several investors can allocate their funds into the same project. The minimum contribution in such a club deal starts at €100,000.
Tranio's founder and managing partner George Kachmazov recommends investing in the suburbs of Berlin where the price per square metre is lower: 'The suburbs are developing quickly thanks to young families who relocate due to the increase of residential property prices, making housing unaffordable in the city centre".
Subscribe not to miss new articles
We will send you a content digest not more than once a week
Subscribe
Done!
Top 5 Articles of the Month