The five best countries to buy property in Europe this year
House prices grew by 3.8% on average in the EU last year and the construction volume increased by 0.8%. These positive figures show that European residential property is now truly on its way to recovery.
The recovery stage of the property market cycle is the most favourable time to buy a new home as prices have reached their lowest point and are just starting to grow again. This is also beneficial to people who are selling or looking to rent out their home because demand is increasing. For foreign investors, the most promising of them are Bulgaria, Hungary, Spain, Cyprus and Portugal.
-> Property market cycles: how to choose the best moment to buy property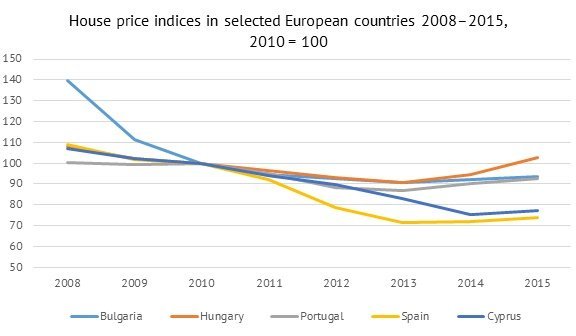 Bulgaria
| Apartments | Houses |
| --- | --- |
| 600–1,000 | 100–1,000 |
After seven years of recession, the Bulgarian property market has stabilised and finally, prices grew by 4% in Q4 2015 compared to the same period in 2014. The recovery is most noticeable in Burgas, Plovdiv, Varna and Sofia. At the same time, house prices in Bulgaria are still among the lowest in Europe, running at €600–1,000 per square metre for apartments and €100–1,000 for homes in 2015.
-> Bulgaria vs. Montenegro: where should you buy a holiday home?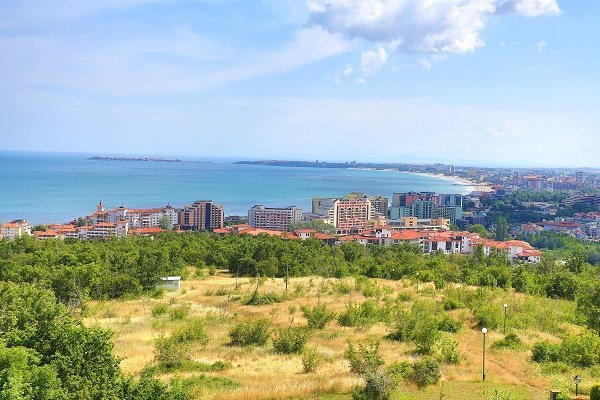 The construction market of Bulgaria also demonstrated spectacular results after building permit approvals jumped by 13% in 2015 compared to the previous year. Experts anticipate that GDP will grow by 1.5–2.0% in 2016 and 2017 and that unemployment rate will finally dip into single digits: 9.4% this year falling to 8.8% in 2017. These positive trends will finally consolidate house price growth after a long period of dismal results.
Hungary
Apartments
Houses
600–1,400
1,000−2,500
The property market in Hungary proved itself to be more resilient than some of its Mediterranean peers following the 2008 crisis and actually did better than Spain between 2009 and 2010. The local market entered recovery three years ago but this trend only recently consolidated itself. By Q4 2015, prices for homes had grown by 10.2% year-on-year and the most popular destinations were Budapest, Lake Balaton and the surrounding resort towns of Héviz and Keszthely. In 2015, apartments cost €600−1,400 per square metre on average and €1,000−2,500 for houses.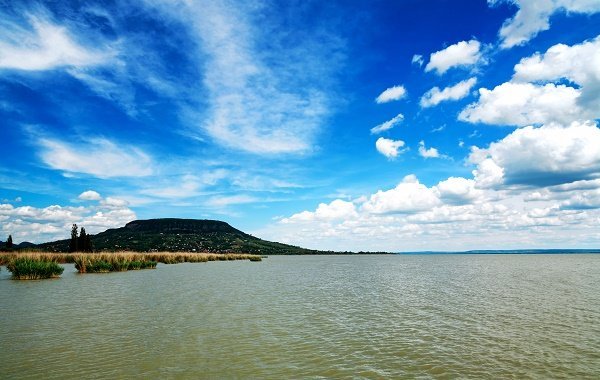 Approvals for construction permits increased by 30% in 2015 and, according to Eurostat forecasts, GDP will continue to grow at a rate of 2.5% up to 2017. The national unemployment rate is set to decline next year to just 5.2% from 6.7% in 2016. The result of this persistent economic growth and rising employment figures will be more demand for property and higher prices.
Spain
| Apartments | Houses |
| --- | --- |
| 1,000–3,000 | 1,200–3,000 |
Prior to 2007−2008, the Spanish property market was among the "hottest" in Europe, but the crisis brought dire results for house prices until just last year. However, the market finally regained its footing and prices rose by 4.3% in Q$ 2015 year-on-year according to Eurostat. The most promising regional markets are the autonomous communities of Andalusia, Valencia, Catalonia, Madrid and the Canary Islands (Las Islas Canarias). These regions also attracted 70% of all foreign buyers last year. The average price per square metre was €1,619 by December 2015 with flats ranging from €1,000 to €3,000 and houses selling for €1,200–3,000.
-> Prices and demand on the up and up for property in Barcelona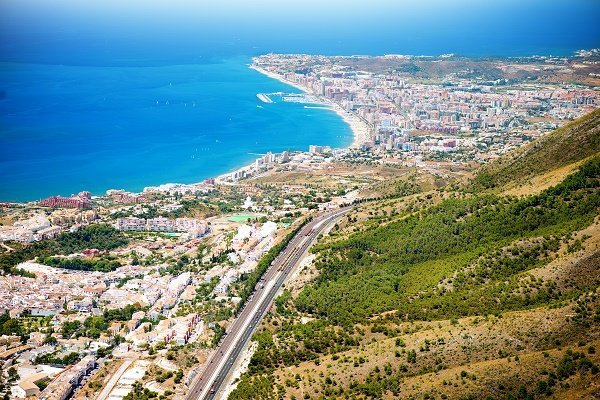 Data from the construction industry data shows that the time is ripe to buy property after building permit approvals skyrocketed by 50% last year compared to 2014. Nevertheless, Spain's unemployment serves as a constraint to the property market's development but Eurostat experts expect it to finally pass below 20% in 2017. Nevertheless, Spain's GDP growth is expected to chug along at 2.8% in 2016 and 2.5% in 2017, with strong demand from foreign home buyers.
Cyprus
| Apartments | Houses |
| --- | --- |
| 2,000–2,500 | 2,400–2,900 |
Price growth for residential property in Cyprus is still struggling to maintain momentum and dipped into negative waters (–0.2%) in Q4 2015 year-on-year. The most promising local destinations are Limassol, Paphos and Larnaca. Apartments on the island cost €2,000−2,500 per square metre and €2,400–2,900 for houses.
-> Property in Cyprus: what to know and where to buy in 2016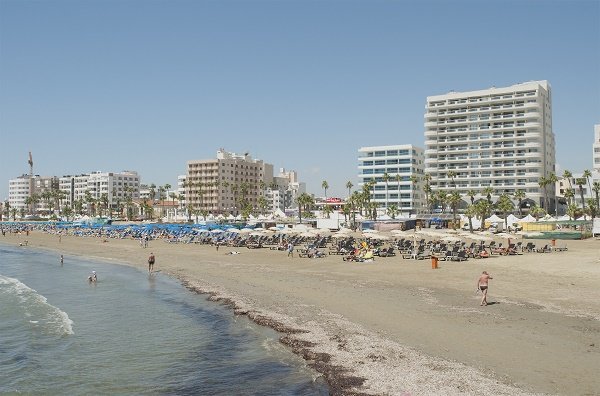 Cypriot authorities delivered a small 2% more building permits in 2015 but 6.8% more new homes were commissioned by September of the same year. High unemployment is the main issue for the country's property market as it holds back price growth but it has been falling recently. According to forecasts, it will edge slowly downwards from 15.5% this year to 13.2% by 2017, thus favouring real estate growth.
Portugal
| Apartments | Houses |
| --- | --- |
| 800–3,800 | 650–3,500 |
The Portuguese property market is entering the expansion stage and prices grew by 5% between Q4 2014 and Q4 2015. The most popular markets with investors are Lisbon and the Algarve, a southern holiday resort. The average price per square metre for apartments ranges from €800 to €3,800 and €650–3,500 for homes.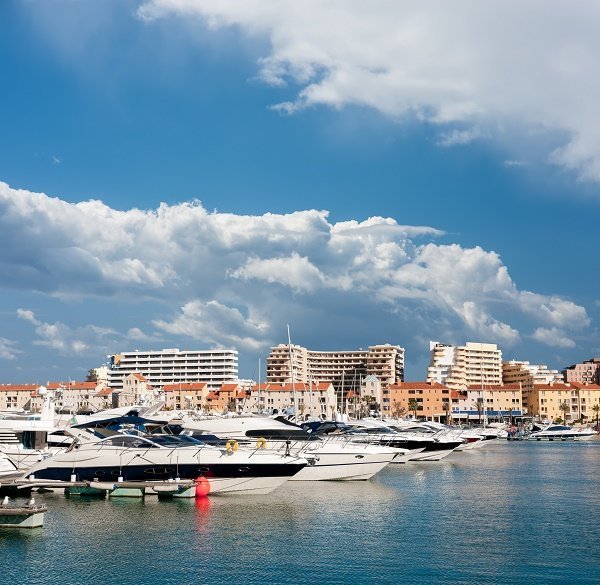 17% more construction permits were delivered last year compared to 2014 but commissioned buildings made up just 7% of the pre-crisis volume, proof that the road to recovery is long. The Portuguese GDP is not as strong as Spain's and it will only grow by 1.6% in 2016 and 1.8% in 2017. Nevertheless, unemployment is set to decline gradually from 12.2% in 2015 to 10.8% in 2017, a change that should positively influence the property market.
And other European countries?
If the above countries are leaning towards consolidation and growth, the situation is not as clear-cut on other property markets. In Belgium, the UK, Denmark and Sweden home prices have gone through the roof, exceeding pre-crisis levels already long ago. In fact, a study by the OECD shows that these locations are overvalued and economists in Sweden have been raising the alarm since last year over the extreme risk of an imminent collapse.
On the other hand, countries like Italy, Latvia, France and Croatia are still struggling to achieve nationwide growth and property transactions often just benefit a few regions. This means that residential property in these countries is either still too expensive or simply not very popular.
Country
Annual variation,
%
Quarterly variation,
%
Croatia
–2.1
+0.1
France
+0.1
–0.5
Italy
–0.9
–0.2
Latvia
+2.3
+6.4
EU average
+3.8
+0.2
Our research at Tranio shows that it's better to hold off on buying property in these countries until prices stabilise and begin to show reliable growth. What happens in Greece, an exception among the European property markets, will largely depend on how the government handles the geopolitical situation and economic growth over the next year.
Ivan Chepizhko, Tranio
Subscribe not to miss new articles
We will send you a content digest not more than once a week
Subscribe
Top 5 Articles of the Month