Tranio launches Chinese version of the website
International real estate platform Tranio has launched its Chinese language website: https://tranio.cn/ in addition to the already established Russian, English, German, Spanish and Persian versions that have proved very successful in recent years.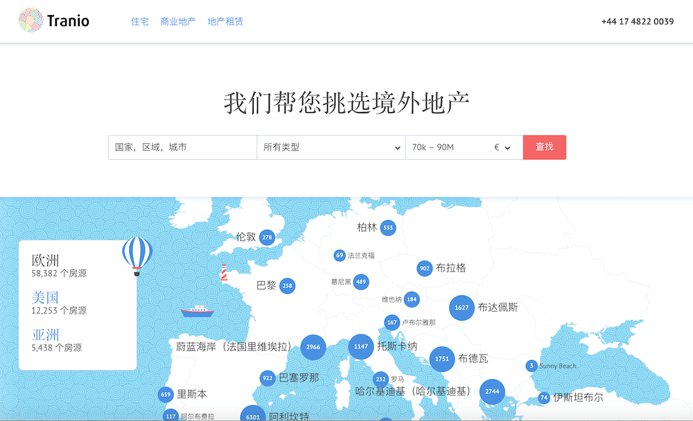 Visitors to the Chinese website can scroll through thousands of listings from Tranio's global online catalogue and stay up-to-date with the latest offerings from an expansive network of leading international real estate agencies and partners. The website will also feature the company's development projects in key countries such as Germany, Spain and Greece.
Tranio.cn will have a section of research and insight about investment strategies, property evaluations, due diligence, tax structuring, mortgage financing, residency permits, citizenship programmes and other issues of concern to Chinese buyers looking to invest in foreign real estate.
George Kachmazov, Tranio's managing partner, says that the focus on the Chinese market and launch of the Chinese website comes after a reported increased demand and number of enquiries received: 'There is still a great number of Chinese investors looking to buy property and we have noticed a growth in demand everywhere. We predict that the number of deals closed through our international online platform with customers from China will see a five-fold increase next year.'
As Tranio's client database is expanding and diversifying, the company is also looking at launching a cross-border real estate crowdfunding platform that will allow international buyers to invest in development projects from anywhere in the world. This will be particularly appealing to buyers from China, as they will be able to participate with capital and diversify their investment portfolio globally.
China accounted for more than 7500 unique visits on the international platform in the last two years, which resulted in more than 180 enquiries (out of which more than 45% were registered in 2018 alone) for property in Europe with Germany and Greece topping the list, followed by Thailand and Vietnam.
Subscribe not to miss new articles
We will send you a content digest not more than once a week
Subscribe
Done!