Visas, residence permits and citizenship in Cyprus
Cyprus is a member of the EU but is not a part of the Schengen area. It remains a popular destination for foreign buyers thanks to its favourable financial and immigration policies, which give wealthy investors access to residence and citizenship. Documents must be translated in Greek or English.
Visas
General information
Visitors can use Schengen visas to enter Cyprus, however it is not possible to enter the Schengen area on a Cyprus visa. For tourism, citizens of many countries do not need a visa for stays up to 90 days. The list of nationalities is available on the Cyprus Ministry of Foreign Affairs website.
Types of visas in Cyprus:
Visa Type
Use
Conditions
Airport Transit – ATV
(A)
For certain nationals transiting through Cyprus international airport terminals in order to reach their final destination.
Travellers are not permitted to exit the terminal.
Tourist
(C)
Short-term visa with single or multiple entries valid for stays of up to 90 days during a 180-day period for tourism, private visits, business, medical purposes or studies. Type C visas are delivered for up to five years.
Employment and other income generating activities are prohibited under this visa type.
Residence permits
Temporary residence
Temporary Resident Visas (TRV) are delivered to three categories of applicant: guest, worker and student. Also called a "Pink Slip", this document is required for non-EU citizens.
Temporary Residence Visas
Guest
With Student Visa
With Work Visa
Valid for up to one year and do not give the holder the right to work.
Processing takes one month. Citizens of non-EU countries are not allowed to work during their studies.
Non-EU applicants must have a work contract in certain specific sectors of the Cyprus economy (science, agriculture, etc.).
Different nationalities have to fulfil different criteria to obtain a TRV. Certified translations into Greek or English are required for official documents.
Required documents
complete application (M.61B form)
passport and copy
title deed proving property ownership or rental agreement
bank statements from Cyprus or foreign bank proving sufficient funds for applicant and every dependent (at least €15,000 per person)
bank guarantee valid at least 24 months from the application date
health insurance
marriage, divorce or birth certificates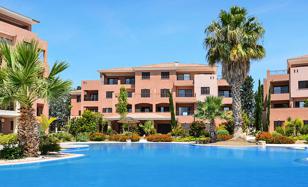 470,000 €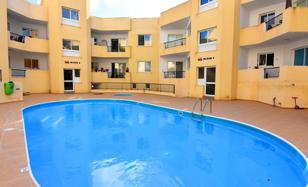 120,000 €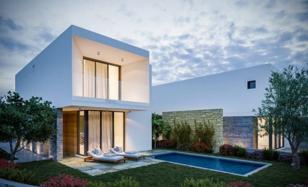 425,000 €
Permanent residence
General information
Permanent residence in Cyprus can be obtained upon purchase of property worth more than €300,000. Documents must be translated into Greek or English. The application is made to Civil Registry and Migration Department of Cyprus in person or by a representative. The application fee is €500 and takes about two months to process. After getting a permanent residence, the holder must visit Cyprus at least twice a year. Permanent residence is granted indefinitely and gives the holder right to remain in Cyprus and enter the country without a visa.
There are three types of permanent residence in Cyprus:
permanent residence in the EU (Long Term Residence Permit or LTRP) on the grounds of EU Directive 2003/109/EC. The main requirement is five years of legal residence in EU countries. The holder of this permit has the unlimited right to live and travel in EU countries
permanent residence for EU citizens and family members, also known as "Yellow Slip". The main requirement is five years of legal residence in Cyprus
immigration permit for non-EU citizens for applicants with sufficient funds to support themselves without employment or self-employed people in certain sectors of the economy and more commonly retirees with sufficient pension funds
Required documents
completed application (M.67 post)
copy of valid Cyprus residence permit (Pink Slip) or Alien Book (Alien Registration Certificate, ARC) obtained by registering with the Immigration branch of the Police
statement from a financial institution confirming at least €30,000 transferred from abroad on applicant's account
proof of income: annual income* of €30,000 for applicant and spouse plus additional €5,000 per year for each dependent
title deed or real estate sale contract executed in the name of the applicant or spouse
criminal record check from country of origin
proof applicant and spouse have not been employed in Cyprus (excluding ownership of a company)
marriage and birth certificates
health insurance
*types of income: salary, pension, dividends, property rental income, etc.
Accepted property for residence permits
Residential or commercial property.
Market value exceeds €300,000 (excluding VAT).
Applicant must have personally funded two thirds of this sum (e.g. €200,000 out of €300,000 minimum).
Purchases in the company's name are accepted if the company is incorporated by the applicant or applicant's spouse and they are sole shareholders.
Property must be new.
There can only be one seller for more than one property purchase.
How to become a citizen of Cyprus
Cypriot citizenship is only granted to individuals who have resided legally in the country for a period of seven years.
However, there is faster way to obtain a Cypriot passport:
Invest at least €2 million in real estate in Cyprus;
Invest at least €1.5 million in real estate, and a maximum of €500,000 in government bonds.
Three years after citizenship has been granted, the investor may sell the property; however, the investor still must own a residential property above €500,000.
The passport is issued to the investor and his/her spouse and children under 28 years old who are full-time students. The investor's parents may qualify for Cypriot citizenship if they buy property above €500,000.
It takes six months for a Cyprus citizenship application to be processed. The application is subject to stamp duty of €2,000 for each minor and €5,000 for each adult when approved.
While the application for a Cyprus passport is being processed, the investor is granted a Category F residence permit (permanent residence).
The investor is not required to live in Cyprus before or after obtaining citizenship. Proficiency in Greek is not necessary for investors. Cyprus allows dual citizenship.
To apply for Cypriot citizenship, the following documents are required:
letter with investment profile and reasons for applying (for those who are eligible for the citizenship-for-investment programme);
detailed biography of the applicant;
completed application form (Form М.127);
form with stamps of all departures and entries to Cyprus and the number of days of stay in Cyprus;
certificate confirming the applicant has no criminal record;
passport-sized photograph;
certificate of marriage and certificate of birth;
passports and copies of passports with all entry and departure stamps;
the most recent Cyprus residence permit and a copy of the residence permit (for example, Pink Slip);
the Alien Book and a copy of the Alien Book.
Investors are also required to submit:
property purchase agreement;
certificate confirming that the purchase agreement has been submitted to the land registry office;
receipt confirming payment for the property;
confirmation that payment has been transferred from abroad to a local bank and credited to the seller.
All documents must be translated into English or Greek. Cypriot laws allow dual citizenship.
Holders of Cypriot passports can travel visa-free to 158 countries around the world and are allowed to live, study and work in the European Union.
Residence permit («Golden Visa») in other countries:
Subscribe not to miss new articles
We will send you a content digest not more than once a week
Subscribe
Done!
Property buying guide for Cyprus
Article 4 of 7
Top 5 Articles of the Month