How to obtain a residence permit in Cyprus in 2021

Residence permit in Cyprus. Permanent residence permit in exchange for real estate investments.
Immigration to Cyprus is in great demand, as permanent residence permits are available there when buying a newly-built property for at least €300,000 (+VAT).
Visas
Cyprus has been an EU member state since 2004, but it is not yet a part of the Schengen area. In September 2019, the country applied to join the Schengen area and is awaiting a response from the European Union on this issue.
Cyprus visa holders cannot enter the Schengen Area, but the third-country nationals holding valid (double or multi-entry) type C Schengen visas who have already entered the Schengen Area as well as the holders of Bulgarian, Croatian or Romanian visas are entitled to enter and stay in the Republic of Cyprus without a national visa for a period equal to the remaining period of validity of the visa issued but not exceeding the period of its validity.
Types of national visas in Cyprus:
transit airport visa (ATV);
Short-term multi-entry (type C) visa for a single or multiple entries to Cyprus no more than 90 out of 180 days. Multiple-entry visas can be issued for up to three years and in exceptional cases — for up to five years;
Visa applications must be submitted to a Consulate or Consular Department of the Embassy of the Republic of Cyprus in the applicant's home country.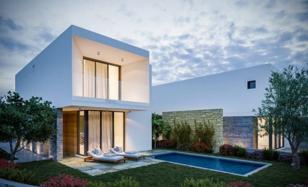 425,000 €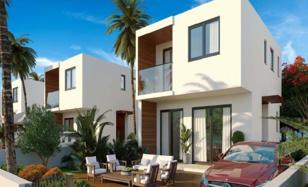 369,000 €

135,000 €
How to obtain a residence permit in Cyprus
Temporary residence permit in Cyprus
To obtain residency in Cyprus, non-EU nationals can get a temporary residence permit, or a Pink Slip, which comes in several types: a visitor's Pink Slip, an employment Pink Slip and a student Pink Slip. The Visitor's Pink Slips allow holders to reside in Cyprus for no more than a year without the right to work.
In order to obtain a temporary residence permit, it is enough to purchase a property of any value. A temporary residence permit takes six months to be issued. At the same time, it is necessary to reside in Cyprus for 180 days per annum in a row. Residence permits must also be extended every year.
The criteria for issuing Pink Slips to the citizens of different countries differ, but the basic documents required are the following:
completed M.61B application form;
passport and passport copy (including the copy of the first page of the passport and the page with the most recent entry stamp) and four photos;
 title deed or rental agreement;
account statement from Cypriot and foreign banks (at least €15,000 per adult family member and at least €10,000 per minor);
bank guarantee for 24 months since the application date;
medical insurance;
marriage or divorce certificate, children's birth certificates (must be translated into English, apostilled or certified by the Ministry of Foreign Affairs of the issuing country and the Embassy of the Republic of Cyprus in this country).
Upon the Pink Slip issuance, the applicant also obtains an Alien Book or Alien Registration Certificate (ARC) – a document for the foreign national to further use as an identity card in Cyprus.
Permanent residence permit in Cyprus
Three types of permanent residence permits exist in Cyprus:
Long Term Residence Permit (LTRP) based on the European Directive 2003/109/EC. In order to receive it one must legally reside in the country for over five years. The status holder can live in any country of the EU and travel freely across the region.
Permanent Residence Permit based on the Directive 2004/38/EC. The status can only be obtained by EU nationals and their family members. This permanent residence type is also known as the Yellow Slip. The main condition of receiving it is having legally resided in the country for five years.
Category F Immigration Permit for non-EU nationals. Let's consider this type of permanent residence permit in more detail.
Non-EU nationals can obtain a fast-track permanent residency in Cyprus through investment in the island's real estate. In order to participate in the programme, it is necessary to purchase one or two newly-built properties of at least €300,000 (+ VAT) in total market value and officially prove having paid at least €200,000 (+ VAT) of this amount regardless of the property commission date. It is implied that the rest of the property price must be paid using a bank account with a Cypriot lending institution. The permanent residence permit takes two months to be issued. Being granted permanent residency entitles its holder to enter and leave Cyprus without restriction. The permanent residence permit does not need to be renewed.
The immigration permit covers the applicant, his/her spouse and children below the age of 18 years. The applicant's children aged between 18 and 25 who are single and able to prove that they will study at a foreign university for at least six months since the date of the application submission and are dependent from the applicant, can file separate applications for immigration permits. In this case their father (mother) or both parents must provide a proof of extra income in the amount of €5,000 p.a. per dependent child. Such permit is valid till the individual in question reaches the age of 25. 
The applicant's parents and parents-in-law can apply for permanent residency in their own names on the condition that the applicant provides a proof of income in the amount of €8,000 for them.
The documents required to receive a permanent residence permit are:
completed M.67 application form;
title deed for a newly-built property valued at no less than €300,000, registered at the Department of Lands and Surveys and proof of payment of at least €200,000, regardless of the property commission date, or rental agreement; 
proof of a stable income from abroad (at least €30,000 p.a. per adult family member, at least €5,000 per child and at least €8,000 per applicant's dependent parent or parent-in-law) *;
proof of availability of a fixed deposit account with a Cypriot bank for three years of at least €30,000, with the funds coming from abroad;
medical insurance;
police clearance certificate (issued by the country of residence, submitted along with its official and certified translation);
proof of no intention to pursue employment in Cyprus (with the applicant and/or his/her spouse being able to become shareholders of a company registered in Cyprus and draw a dividend income from it);
marriage certificate and children's birth certificate (submitted along with their official and certified translations);
Salary, dividends on shares, fixed deposit account interest, rent, etc. may serve as a source of income from abroad.

All the documents enclosed with the application for permanent residency must be translated into Greek or English and duly certified.
Applications are submitted directly to the Cyprus' Civil Registry and Migration Department either in person or via a representative. A €500 fee is charged when filing an application. The application is usually reviewed for no more than two months with the applicant or his/her representative further being notified of the decision made. Permanent residents must visit Cyprus at least once in two years and abide entirely by the relevant legislation. Permanent residence permits are issued for life and give the right to live in Cyprus continuously without an entry visa.
Obtaining Cyprus citizenship
Between 2013 and 2020, Cyprus had a citizenship-by-investment programme, granting citizenship to those investing at least €2M for a minimum of five years. Since November 1, 2020 this programme has been closed by the decision of the government.
Today, the citizenship of Cyprus can be obtained on the following grounds:
 by marriage to a national of Cyprus (for at least three years prior to the application for citizenship, for at least two years of which the spouse of the Cypriot national must have lived in the country). If the Cypriot national lives abroad, the applicant must have been married to him /her for at least three years and explain in written form the desire to obtain citizenship or have been married to him/her for at least five years and have a common child;
by descent (for the applicants over 18 years who were born after August 16, 1960 outside the Republic of Cyprus to a Cyprus national and the applicants born after June 11, 1999, to a Cypriot mother);
by birth to Cypriot families. The individuals born after August 16, 1960, whose parent is (was) a national of Cyprus obtain this citizenship automatically. The individuals born outside the Republic of Cyprus from August 16, 1960 to December 31, 1999 to a Cypriot mother have the right to become citizens of the country upon the age of 21.
Cyprus allows dual citizenship.
Residence permit («Golden Visa») in other countries:
Subscribe not to miss new articles
We will send you a content digest not more than once a week
Subscribe
Done!
Property buying guide for Cyprus
Article 4 of 7
Top 5 Articles of the Month