Citizenship in Portugal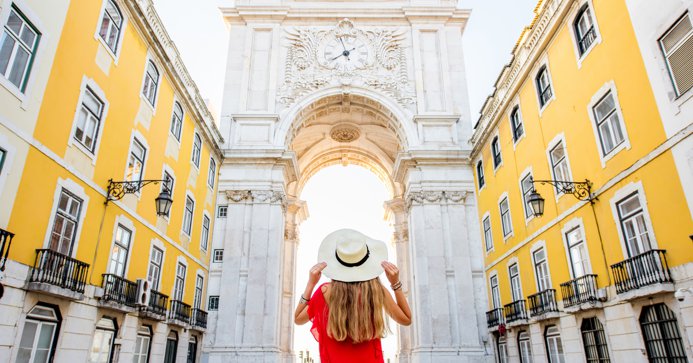 A foreigner residing for five years in Portugal may make an application to obtain a Portuguese passport. Portugal offers one of the fastest tracks to naturalisation in the EU.
Portuguese citizenship entitles a new citizen to live, work and study in all the member states of the European Union. Unlike a permanent resident, a citizen acquires political rights and thus may vote and be elected. Alongside, a citizen enjoys all the education, healthcare and social benefits available to the Portuguese. A Portuguese passport allows its holders to travel to 186 countries without a visa or with a visa on arrival. 
Typical path of immigrant to Portugal: 
To obtain a C-type Schengen visa, 
To obtain a D-type national visa for six months,
To obtain a residence permit in Portugal for one year,
To extend a residence permit for two years,
To extend a residence permit for another two years,
To obtain permanent residence after living in Portugal for five years provided one spends 183 days a year or more in the country,
To submit documents to Portuguese citizenship after obtaining permanent residence, i.e., after living for five years in the country,
To wait for a Portuguese passport for about one year.
Grounds for citizenship
There are various ways to obtain citizenship in Portugal that are almost all rather time-consuming. However, the time in wait is shorter than in the other EU states. The documents for a passport may be submitted as fast as in five years of living in Portugal. As a comparison, it takes seven years to naturalise in Greece and ten years to do the same in Italy and Spain.
Grounds for Portuguese citizenship:
Golden visa,

Purchase of property in Portugal,
Investments into the economy of the country,

Naturalisation,
Marriage to a Portuguese citizen,
Birthright citizenship,
Citizenship through adoption.
No matter what path to Portuguese citizenship is chosen, an immigrant will acquire the same rights and obligations as a citizen. All the adult applicants must first obtain residence permits, then permanent residence, and only then may they finally apply for citizenship.
Golden visa
The Portuguese government launched a residence by investment programme in 2012. This programme is often dubbed a 'golden visa' scheme, which is not quite accurate as what an immigrant gets is a residence permit paving the way for actual immigration to Portugal and not a visa. The name 'golden visa' stuck to this type of residence permit as, unlike the usual naturalisation procedure, it gives certain benefits the main of which is a fast and guaranteed residence permit if all the conditions of the programme are observed.
The investor and their family become Portugal residents obtaining residence permits in as little as 2 to 6 months. A foreigner applying for a residence by investment permit does not need to prove that they have knowledge of the Portuguese language whereas an applicant going through the usual path must prove it. However, further on a holder of a residence by investment permit applying for citizenship will have to take a language test, though the required proficiency level is A2 that might be described as basic. 
Foreign investors willing to move to Portugal and become tax residents enjoy the beneficial status of a non-habitual resident for the first ten years after immigration. A non-habitual resident is subject to the income tax at a fixed rate of 20% rather than the progressive income tax rate that might go up to 48% and is exempt from taxes on the income generated outside of Portugal.
Another beneficial feature is that Portugal does not require a golden visa holder to live permanently in the country — a stay for just seven days a year and non-divestment are enough to retain the resident's status. The resident's status may then be extended permanently. However, note that a successful applicant for permanent residence and citizenship must have lived in Portugal for more than six months a year for five years in a row. After permanent residency is obtained, the investor may divest completing the programme without losing the status of a permanent resident. The investor that obtains permanent residence in Portugal may submit documents for citizenship right away.
The golden visa in Portugal is one of the most popular residence by investment programmes in Europe mostly as it offers a track to obtaining European citizenship in just five or six years (depending on how fast a particular application is processed).
How to get a golden visa?
Buy residential real estate in Portugal worth €500,000 or more,
Buy real estate for renovation in Portugal worth €280,000 or more,
Purchase shares in a Portuguese company or government bonds or open a bank account with a Portuguese bank channelling for any of these €1,000,000+, 
Donate €280,000+ to research and development in Portugal,
Donate €250,000+ to the preservation of the Portuguese cultural heritage,
Acquire a unit in an investment fund for €280,000 or more,
Start up a business and create at least ten job positions for citizens of Portugal.
Property purchase
Acquisition of real estate is the most popular way to obtain a residence by investment permit in Portugal. 93% of investors opted for property purchase in 2019 to obtain a golden visa in Portugal.
Portugal grants a residence permit for the purchase of real estate worth €500,000 and more. The amount may be lowered down to €280,000 if the acquisition target is the property for renovation more than 30 years older and located in a historic urban area. 
The programme allows participants to buy several properties rather than invest a lump sum compulsorily into one expensive home or apartment, but it is crucial that cumulative investments must exceed the minimum threshold. The purchased property may be rented out generating income in euros.
Note: Residence by real estate investment in Lisbon and Porto is available only until 1 January 2022! The Portuguese government will then issue golden visas for the purchase of real estate only in the landlocked areas, the Azores, or Madeira.
The investor unlocks the route to immigration by obtaining a residence permit for one year that may be further extended provided no divestment from real estate is made. However, the investor may sell real estate without losing the resident's status after living for as little as five years in Portugal and obtaining permanent residence. Documents for Portuguese citizenship may be submitted immediately after obtaining permanent residence, i.e., in five years. 
Residence permits are also granted to the investor's family comprising the spouse, children under 18 years of age, adult children up to 26 years of age that are financially dependent on the investor, and dependent parents of 65 years of age and older.
Naturalisation
Any foreigner that has legally lived in Portugal — under a residence permit or permanent residence — for five years may obtain citizenship by naturalisation. There are several ways to move to Portugal and obtain a residence permit.
Ways to obtain a residence permit in Portugal:
Home purchase,
Education,
Employment,
Starting up a business,
Family reunification,
Refugee immigration.
An applicant must not leave Portugal for more than 183 days a year, which is a crucial prerequisite for citizenship by naturalisation. It is also required to prove knowledge of Portuguese at the basic A2 level and financial independence.  
After the documents are submitted, the applicant will have to wait for the decision of the Portuguese authorities for about a year or more sometimes. If the application is rejected, the documents will have to be submitted once again. 
Eligibility criteria for citizenship by naturalisation in Portugal:
Be over 18 years of age,
Permanently and legally live in Portugal for at least five years,
Not leave Portugal for more than 183 days a year,
Have an A2 level of Portuguese language proficiency,
Have sufficient funds for self-sustaining life in Portugal,
Not be convicted of a crime punishable under Portuguese law by imprisonment for three years or more,
Have actual connections with the local community in Portugal.
Documents for naturalisation:
Citizenship application,
Birth certificate, in the original and a copy, 
A copy of a residence permit in Portugal, 
Documentary proof of at least 5-year legal life in Portugal issued by the Portuguese Immigration and Borders Service (SEF),
An A2 level certificate that proves Portuguese language proficiency,
Proof of connections with the Portuguese community, such as real estate purchase documents, a birth certificate of a child, copies of family members' residence permits, etc.
Police clearance certificate issued by the Portuguese authorities and valid for three months,
Police clearance certificate issued by the authorities in the country of origin, valid for three months and certified by the Portuguese consulate, 
Proof of sufficient funds for self-sustaining life in Portugal, such as a bank statement, employee monthly salary certificate, tax return for the previous year,
Proof of social security registration,
Proof of completed obligatory military service in the country of origin or exemption from conscription,
Copies of the passports used for the last five years,
Medical certificate proving non-detection of dangerous diseases.
The documents are to be translated into Portuguese, notarised and apostilled and submitted to the Immigration and Borders Service (SEF). 
Marriage
A spouse of a Portuguese citizen may obtain a passport after three years of married life and does have to live permanently in Portugal during this time. However, the spouses must live together and be able to provide evidence of their marriage authenticity, 
An applicant seeking a Portuguese passport by family reunification must prove an A2 level of Portuguese language proficiency, connections with a local community in Portugal, no criminal record with crimes that would be punishable by imprisonment for three years or more under Portuguese law. A spouse of a Portuguese citizen must not be a civil servant to a foreign state when the documents for citizenship are submitted.
Documents to apply for citizenship by marriage:
Marriage certificate,
Birth certificates of both spouses,
Certificate of foreign citizenship,
Police clearance certificate,
Proof of actual connections with the local community in Portugal.
The documents for citizenship by marriage are to be submitted to the Civil Registry Office (Conservatória dos Registos Centrais) in Lisbon, Portugal.
Birthright citizenship
The Portuguese nationality law of 1981 is based on the principle of the right of blood or the right to citizenship acquired by the nationality of one or both parents (jus sanguinis), while the previous nationality law of 1959 was based on the right of soil or citizenship by the right of birth in a particular territory (jus soli). This legal development impeded naturalisation for many years not only for first generation migrants but also for their children and grandchildren. The legal framework improved slightly in 2006 still retaining focus on jus sanguinis. 
The nationality law was amended in 2018 to reduce from six to five years the minimum term of living in Portugal for foreigners submitting documents for a Portuguese passport. This term may be decreased to three years for foreigners coming from the countries where Portuguese is the official language (for example Brazil). 2020 saw yet another legal development that simplified the acquisition of citizenship by children born to foreigners in Portugal. 
However, Portuguese citizenship is granted primarily based on the right of blood (jus sanguinis). A child shall automatically acquire Portuguese citizenship if at least one parent is a Portuguese citizen and has the right to citizenship even if a least one grandparent is a Portuguese citizen, no matter whether a child is born in Portugal or abroad. The only requirement for a child born in a foreign state is to apply for Portuguese citizenship.
Underage children born to foreigners that acquire citizenship by naturalisation are also entitled to become Portuguese citizens. Adult children will have to go through the naturalisation procedure on their own proving legal life in Portugal over the last five years and knowledge of the Portuguese language. 
Children born in Portugal to foreigners holding valid residence permits and living for over one year in the country also get citizenship, in accordance with the latest legal development in the spirit of jus soli through imposing a requirement of living in the country for the minimum time.
Adoption of child
An underage child adopted by Portuguese parents shall automatically acquire citizenship in Portugal. It is sufficient that at least one step-parent must be a Portuguese citizen
Dual citizenship
Portugal is one of the few member states of the European Union that recognises dual citizenship, so a successful applicant will not have to renounce their passport, whereas Spain, France, and Germany require a citizen to hold only one passport and give up their previous citizenship. 
Time and costs
A state duty levied for Portuguese citizenship application processing is €450 and is not imposed on the applicants that get their passport for special merits, refugees, and underage children.
The time to obtain citizenship depends on the grounds for it and is usually one year or sometimes more. A foreigner getting a passport must pledge allegiance to Portugal.
Citizenship refusal: main reasons
The applicant provides false information or an incomplete set of documents,
The income is not sufficient for a self-sustaining life in Portugal,
There is no proof of substantial connections with the Portuguese community, 
There is a recorded conviction of a crime punishable by imprisonment for three years or more under Portuguese law,
Civil service or voluntary military service to a foreign state.
Citizenship-by-investment programmes of other countries:
Subscribe not to miss new articles
We will send you a content digest not more than once a week
Subscribe
Property buying guide for Portugal
Article 5 of 7
Citizenship (getting passport)
Top 5 Articles of the Month