Visas, residence permits and citizenship in Portugal

Until the end of 2021, there is still time to obtain a residence permit for Portugal by making investments into real estate in Lisbon or Porto. From 2022 the authorities suspend the issue of a residence permit by investments into Great Lisbon, Porto, and other coastal areas of Portugal. Foreign investors will be able to obtain a residence permit only by purchasing property in the landlocked regions of Portugal, the Azores Islands or Madeira.
Apply while the programme is active.

Contact managers at Tranio
€280,000
minimum real estate investment
2–6 months
time to obtain a residence permit
5 years
need to live in Portugal before applying for citizenship
The "Golden Visa" programme for Portugal has been in place since October 2012 and was launched to attract foreign investments into the country. Citizens of non-EU countries may use this programme to obtain residency by investment for Portugal.
In 2020 Henley & Partners placed the Portuguese golden visa second in the residency by investment programmes ranking after Austrian. 
Advantages of the programme
Clear and straightforward procedure of applying for a golden visa;
Time to obtain a residence permit ranges from 2 to 6 months depending on the number of people in one application;
Possibility to obtain Portugal citizenship through naturalisation in five years (as compared to a seven-year term in Greece and ten-year term in Italy and Spain);
Repayable investments: investments may be returned in five years;
The purchased property may be rented out and earn a rental yield of 3–5 % per annum;
Tax benefits to non-residents and new residents,
No requirement to pass the Portuguese language and history tests,
An investor has the right to reunite with family — a spouse, under-age children, financially dependent children of up to age 26 that are not married and are enrolled in a university as full-time students, and parents aged 55+ sustained by the investor;
Minimum requirements for a stay in Portugal before an application is seven days during the first year and 14 days every two following years;
Visa-free travel to Schengen and EU countries;
Right to work in Portugal for the investor and family;
Education in European schools and universities without obtaining student visas for children;
The right to use medical services.
Investment options for a residence permit in Portugal
To buy real estate in Portugal worth €500,000 or more. The compulsory holding period is five years, and then the purchased property may be sold;
To buy real estate for renovation in Portugal worth €280,000 or more. The property must be built 30+ years ago and located in a historic or cultural district. The investor undertakes to reconstruct the property;
To purchase shares of a Portuguese company or open a bank account channelling for either of these €1,000,000+;
To purchase shares in an investment or venture fund worth €500,000+. The units must be payable in at least five years after investment. The fund must direct at least 60% investments into the companies registered in Portugal;
To register a business and create at least ten jobs for citizens of Portugal. The investor gets a residence permit as an owner of a company. 
Residence permit by real estate investment in Portugal
Acquisition of real estate is the most popular way to obtain a residency for investment permit in Portugal. Over 93% of investors chose this option in 2019. 
The investor obtains a residence permit in Portugal after purchasing real estate worth €500,000+ or a renovation property worth €280,000+. The minimum investment threshold may be reduced by 20% down to €400,000 and €280,000 respectively if the real estate is purchased in a sparsely-populate area (with fewer than 100 people per sq km) or an area with a low GDP (lower than 75% of the national average).
The price of housing fixed in the programme is to be paid without raising borrowed funds. However, a loan may be obtained to finance the amount exceeding the minimum requirements of the programme.
Real estate in Portugal is cheaper than the European average, meaning you might buy property of better quality and a bigger space for the same money.
An investor may purchase one or more properties in the new or existing housing markets. Real estate may be rented out and produce a potential yield of 3–5% per annum.
The investments are repayable and can be returned in full. The compulsory holding period for real estate is five years. Upon expiry of mandatory holding, the real property may be sold.

From 280,000 €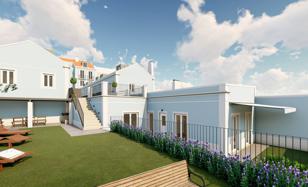 From 350,000 €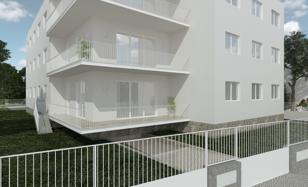 From 450,000 €
Residence by investment permit: advantages and application procedure
A residency by investment permit is a special type of a work permit also known as a golden visa and grants certain advantages as compared to a general residence permit in the country. 
A residency by investment permit opens up an opportunity to apply for the Portuguese citizenship as quickly as in five years with fast application processing and minimum refusals, whereas it might take years to process an application for a residence permit in the standard procedure. 
The minimum time of stay in Portugal on a golden visa is just seven days a year, whereas a general residence permit requires its holder to live in the country for at least 183 days in a year. However, an investor planning to obtain permanent residency or citizenship in the future has to live permanently in the country. 
The residency by investment programme does not require passing a Portuguese language test that is mandatory to obtain a general residence permit. A golden visa also grants an opportunity to enjoy tax benefits, and there are fewer visa refusals under this programme.
A residence permit holder in Portugal acquires the same rights as the other residents, except for the right to take part in elections.
A residency by investment is issued first for one year, and is then extended every two years. After living in the country for five years, a foreigner may obtain permanent residency and then citizenship.
The state duty levied for a residence permit is €5,173 for each family member. The extension fee for a residence permit is 50% of the initial state duty — €2,586. The fee levied for application processing and extension is €520 for the main applicant and €80 for a family member.
Special tax treatment 
Foreigners planning to become tax residents of Portugal may apply for a special tax status of non-habitual residents. An eligible applicant must live in Portugal for more than 183 days in a year or purchase real estate in the country for purposes of permanent residence, and must not have been a tax resident in Portugal for the previous five years.
This special tax status is valid for ten years and entitles its holder to a reduced tax rate of 20% on income from employment or independent work. The tax treatment as a non-habitual resident was introduced to attract highly-qualified professionals and investors to the country and is available to professionals in certain lines, such as investors and senior executives, IT professionals, engineers, architects, geologists, artists, actors, musicians, doctors and teachers.
The tax benefits granted comprise tax exemption on income generated outside Portugal, including but not limited to employment income, pensions, interest, dividend, royalties in accordance with a double tax treaty. 
There are no inheritance, gift, or property taxes.  Non-habitual residents may transfer funds to Portugal and abroad without any commission fees.  
Note that tax residents of Portugal are generally subject to a 48% tax on income generated in Portugal or abroad. The standard corporate income tax rate is 25%. Tax non-residents are subject to a 25% tax on income from professional activities in Portugal. The capital gains tax, rental income tax, and taxes on other investment income are levied at a rate of 28%.
Obtaining residency by investment in Portugal online
An investor may select real estate online, close a transaction and apply for a residence permit remotely; it does not require personal presence in Portugal. An applicant would have to come to Portugal only once in two or four months after making the application to do the biometric screening. A residence permit card may be delivered by mail.

Buying property remotely
Steps of obtaining residency by investment permit in Portugal
Select a property in Portugal (may be done remotely).
Open an account with a Portuguese bank for money transfers and obtain a tax identification number for a foreigner (may be done remotely).
Collect documents and close a transaction (may be done remotely).
Make an application on the Foreigners and Borders Service website (Serviço de Estrangeiros e Fronteiras or SEF) and schedule an appointment. 
Schedule a date for biometric screening (available dates for appointments are proposed in two or four months).
File documents with a residence permit application in person and/or through a representative.
Come to Portugal to do the biometric screening.
Obtain a residence permit card (may be done through a representative).
Documents to obtain a residence permit by real estate purchase
Ownership certificate and deed of purchase; 
Renovation design approved by the government (for acquisition of real estate worth €280,000+);
Passport or copies of passports of all applicants;
Proof of legal entry and stay in Portugal;
Medical insurance certificate;
Application for criminal record check in Portugal;
Penal clearance certificate from country of residence;
Statement of no liability issued by the tax service and social security authorities;
Certificates of marriage and child birth;
Proof of employment;
Certificate from the academic establishment where children of 18+ years old are enrolled;
Taxpayer identification number.
The documents must be translated into Portuguese, notarised, and apostilled.
Extension of residence permit
A residence permit is extended in one year after obtaining and then every two years before permanent residency is granted. If an investor does not intend to obtain permanent residency, then a residence permit is extended for another ordinary term. 
Pre-requisites for extension of residence permit:
Live in Portugal for at least seven days a year;
Retain investments for five years before obtaining permanent residency. The investor that sells real estate before the qualifying period will be deprived of a residence permit. 
Permanent residency
Permanent residency in Portugal may be obtained on general grounds after permanently living in the country for five years. 
The investor that obtains permanent residency is no longer obliged to retain the investments and may sell real estate without losing the status of a permanent resident.
Citizenship
In 2018, the government of Portugal amended the law on Portuguese citizenship reducing the required period of stay in the country from six to five years. Thus, upon expiration of five years of stay in Portugal on permanent residency or a residence permit, an investor may apply for citizenship. 
A Portuguese passport allows visa-free travel to 172 countries of the world. Portugal allows dual citizenship.
Eligibility criteria for an investor applying for citizenship:
Be over 18 years of age;
Have the resident status for five years;
Stay in Portugal at least 183 days a year over all the five years;
Pass a Portuguese language test at the A2 level;
Have stable connections with the local community;
Not be convicted of a crime punishable with a 3+ years of imprisonment;
Not be involved in illegal activities or be on a sanction list.
An investor may file an application that covers also their under-age children if they have been residents of Portugal for the past five years too.
Residence permit in other countries:
Subscribe not to miss new articles
We will send you a content digest not more than once a week
Subscribe
Property buying guide for Portugal
Article 4 of 7
Top 5 Articles of the Month