Berlin districts: real estate to suit all tastes and budgets
According to the Statistical Office for Berlin-Brandenburg, almost 50,000 people move to Berlin every year. No other German city has such demand for real estate. The number of citizens is growing and the city has to expand, so new housing construction is going on at a rapid pace. But only 17.5% of the city's 3.8 million inhabitants live in their own flat or house.
Over recent years, property prices in Berlin have risen significantly. In 2011, the average price per square metre on the secondary market was €1,680. As of April 2021, the average price has risen to €5,100 per m² for buildings built before 2015. The price of a new-build flat has risen from €3,080 per m² to €7,000 per m² in the last 10 years.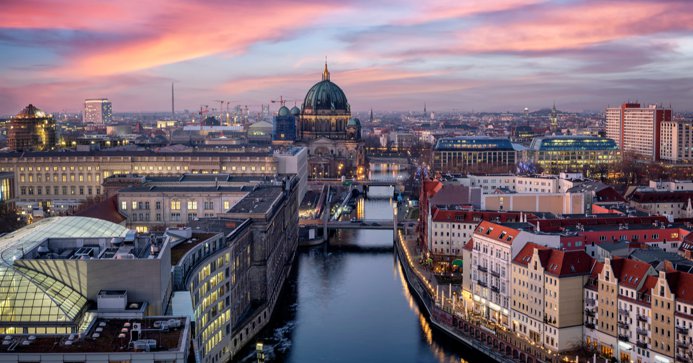 According to preliminary projections by the Berlin authorities, 250,000 people will move to the German capital by 2030. Experts are concerned that the authorities are still cold to these figures and are not developing big projects.
German company ImmobilienScout24 reports rapid price increase caused by a shortage of new residential properties and a high demand that is exceeding supply. Given the annual rise in property prices, it is becoming increasingly difficult to buy a flat or house, both on the secondary market and in new properties.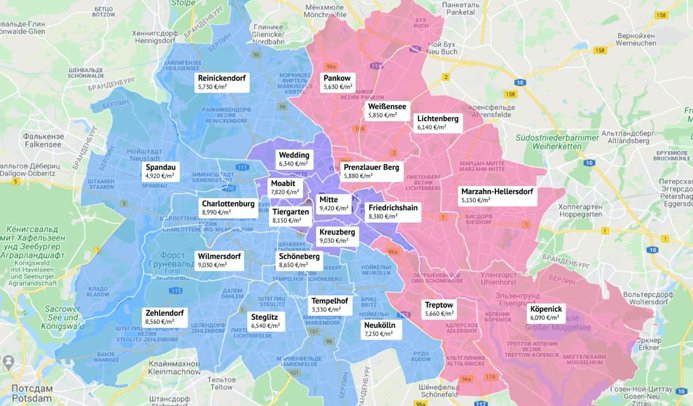 Boroughs

Quarters

Median price for new buildings, €/m²

Median price for existing buildings, €/m²

Buy

Rent (per month)

Buy

Rent (per month)

Mitte

9,810

21.15

7,050

20

Wedding




6,300

19.1

4,170

10.75

Moabit




8,020

18.45

4,580

16.85

Tiergarten




8,710

21.05

7,000

19.05

Friedrichshain

8,220

19.85

5,170

17.65

Kreuzberg

8,510

22.3

6,500

17.9

Prenzlauer Berg

6,020

22

6,180

15

Pankow

5,740

17.4

4,490

10.45




Weißensee

5,980

17.6

5,620

11.15

Charlottenburg

8,820

19.7

5,450

14.3

Wilmersdorf

8,990

20.35

5,980

15.1

Zehlendorf

8,550

18

5,420

12.3

Steglitz

6,490

15

4,700

10.75

Tegel

5,950

14.95

3,670

9.25

Tempelhof

5,480

14.95

4,050

9.25

Schöneberg

8,830

21.45

4,980

13.05

Treptow

5,710

12.25

3,900

14.6

Köpenick

6,180

16.1

4,310

11.05

Lichtenberg

6,200

16.15

4,350

8.55

Neukölln

7,490

20.35

4,540

9.55

Spandau

5,280

13.7

3,660

8.7

Marzahn

5,320

12

3,171

8.55
Borough of Mitte
Mitte: The new heart of the capital
Since the reunification of the two parts of the city, the central district of Mitte has developed dynamically. Mitte is home to the Bundestag, Bundesrat, foreign embassies and the headquarters of international and German companies. It is the cultural and commercial heart of the capital, with the tourist attractions of Alexanderplatz, Potsdamer Platz and the famous Unter den Linden boulevard located there. The shopping street Friedrichstraße runs through the centre of Berlin, connecting the boroughs of Mitte and Friedrichshain-Kreuzberg.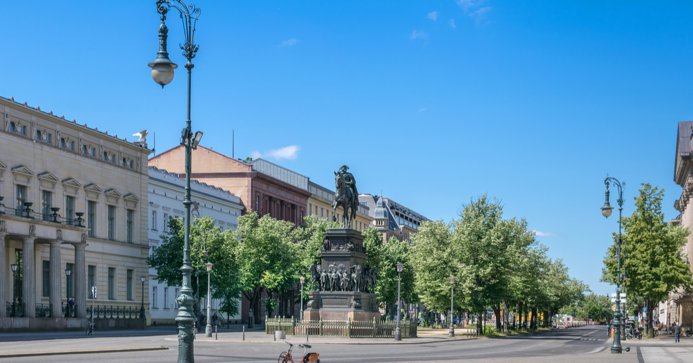 The area around Friedrichstraße is known as the prestigious business centre of the capital. A square metre in a high-end 6-storey building, for example, costs from €7,000 to €9,000.
The area's infrastructure is as developed as possible: it has cafés, shopping centres, educational and medical institutions, sports clubs and swimming pools. The new apartment complexes with a high level of comfort and service are in great demand. Secondary housing units are quite expensive at around €7,050 per m². The advantage of buying a flat in a new development is that it comes with a 5-year construction warranty. A flat in Leipziger Straße can be rented for €15 per m² per month, while a luxury apartment in the neighbouring Niederwall Straße costs €25 per m².

From 3,150,000 €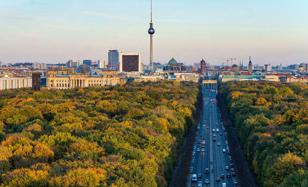 213,000 €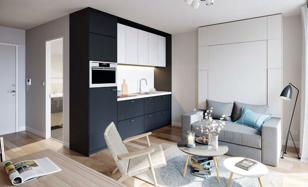 337,000 €
Borough of Friedrichshain-Kreuzberg
Friedrichshain: a prime example of gentrification in Berlin
Friedrichshain was an industrial district before World War II, after which most of the factories closed down and the main street of the Frankfurter Allee had to be completely rebuilt after the bombing. Buildings from the late 19th century were reconstructed as a part of the urban restoration programme. This process has been called gentrification since the 1960s.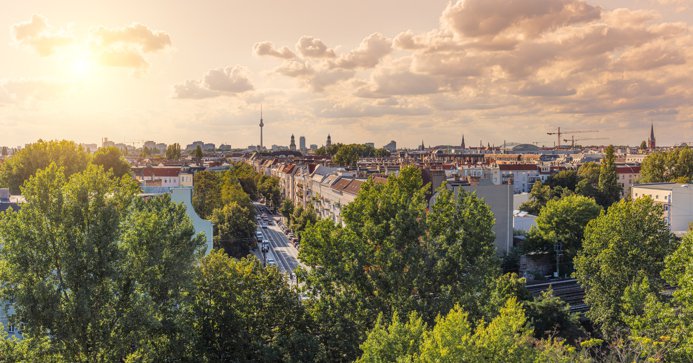 The Volkspark Friedrichshain, decorated with a fairy tale fountain, is a popular recreational attraction for the citizens. Other places of interest include the Oberbaumbrücke bridge which connects Friedrichshain with the Kreuzberg district.
Friedrichshain housing prices are at a high level. For example, a flat next to the East Side Gallery, an open-air gallery on the section of the Berlin Wall, costs up to €6,500 per m². Three kilometres away is the peninsula at Rummelsburg. Flats in the top floors of houses in this area cost up to €6,000 per m². Flats in Friedrichshain can be rented for an average of €18 per m² per month.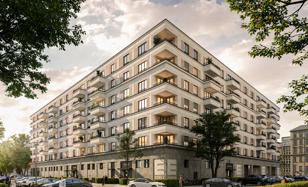 From 544,000 €

1,175,000 €

1,699,000 €
Kreuzberg: international district is rapidly gaining in popularity
Kreuzberg is located near the Mitte district. Kreuzberg is now one of Berlin's trendiest districts, with prices skyrocketing. It wasn't always like this. Until the fall of the Berlin Wall, Kreuzberg was considered a place with relatively cheap real estate whose population consisted of migrants, blue-collar workers, poor musicians and artists. In recent years, Kreuzberg has been attracting the young and the creative class with its large number of nightclubs, parties and contemporary art galleries. The demand for property in Kreuzberg far exceeds the supply and the population density is high. Additionally, Kreuzberg is home to a large part of the Turkish diaspora in Germany.
Kreuzberg is divided into western and eastern parts. They are sometimes referred to by the old postal codes Kreuzberg 61 and Kreuzberg 36. Properties in the western part are considered more upmarket, but properties in both districts are liquid and are profitable investments. The average price in the area is between €6,500 and €8,500 per m².

6,950,000 €

1,793,000 €

749,000 €
Borough of Pankow
Prenzlauer Berg: a centre of culture and commerce
Prenzlauer Berg is Berlin's largest district in terms of population and the fastest growing one. Most of the buildings have survived the war and over 300 of them are now listed as cultural monuments. Around 80% of the houses were built before the mid-twentieth century. The whole area was renovated and the buildings were reconstructed.
Prenzlauer Berg has long been known as a working-class neighbourhood: it was famous for its breweries, butcheries, tobacco shops and textiles. Today Prenzlauer Berg is considered a centre of bohemian life. The district has a modern infrastructure with over 600 cafés, restaurants and bars, theatres, museums, educational institutions, sports centres and a cycle track complex. All of the above attract affluent young families. The only companies that are active in the locality are the construction companies.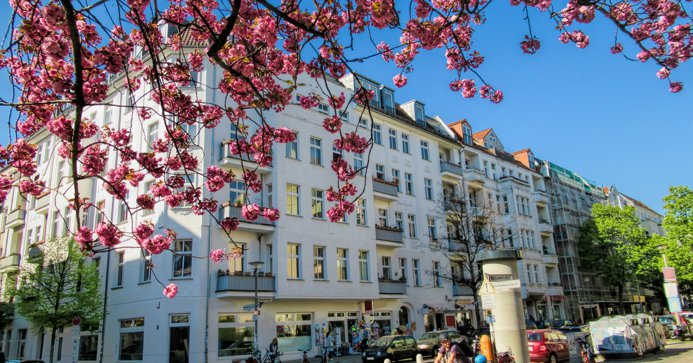 The demand for real estate has at least doubled in the past decade and more and more successful people are moving here. The average cost per square meter ranges from €5,000 to €6,200 euros. Flats can be rented for €15–20 per m² per month.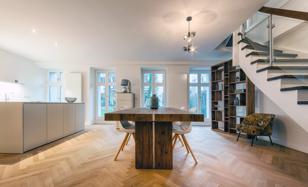 1,278,000 €

795,000 €

295,000 €
Pankow: a respectable and peaceful life
Pankow is quite densely populated: with almost 400,000 inhabitants, it is comparable to cities such as Bochum or Wuppertal. Pankow attracts property buyers with its many green areas, tranquillity and prestige. The neighbourhoods are lined with spacious squares, parks and recreational areas. The infrastructure includes all necessary shopping, social and recreational facilities, transport connections are at a high level.
Flat prices here are lower than in Mitte and Prenzlauer Berg but are still high. A flat in Pankow in an area with a lot of green space can be purchased for €4,400 per m². Near lake Wilhelmsruher, the quietest part of the district, 26 new flats have been built with an average price of €5,000 per m². Properties here are mainly aimed at young families and the elderly.
Prices for secondary housing in renovated buildings are slightly lower starting at €4,000 per  m². Flats in new buildings start at €16 per m² per month; in older buildings, the rent is around €11 per m².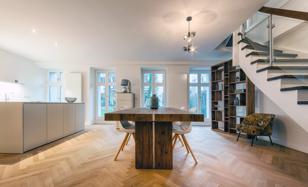 1,278,000 €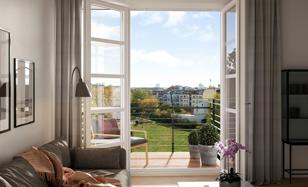 780,000 €

795,000 €
Weißense: a green district by the lake
Before 2001, Weißense was a separate borough, and after the administrative reform, it became a part of Pankow. The main natural attraction of the district is Lake Weißense after which the district got its name which literally translates as 'White Lake'. Weißensee is a green and tranquil area with many historic buildings.
There is also a large golf course in the district. An S-Bahn commuter train line connects the neighbourhood to the centre of Weißensee. The average price for a secondary market flat is €5,620 per m², while the average price for a new-build flat is €5,980 per m².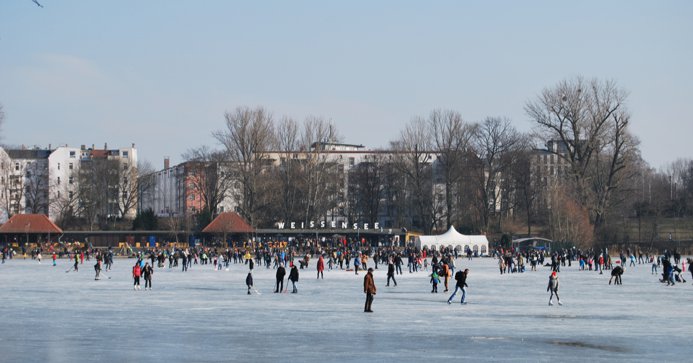 Borough of Charlottenburg-Wilmersdorf
Charlottenburg: prestige above all
Charlottenburg is one of the most expensive districts in the city. The Berlin Stock Exchange, the Neues Kranzler Eck business centre, large company headquarters, and shopping malls are all located here. The area's main street is the lively and famous Kurfürstendamm boulevard with buildings from the Kaiser era.
Also located in Charlottenburg, the Europa-Center and the Kaiser Wilhelm Memorial Church are historical symbols of Berlin. Although flats in the centres of most German cities are small, Berlin and the Charlottenburg district, in particular, are exceptions. The average size of the flats on the boulevard is 101 m², which together with the high price per square meter affects the overall price of the flats.
The population of Charlottenburg is mostly between the ages of 40 and 65. Foreigners here account for around 30%. The demand for housing in the high price segment outstrips the supply. The average cost per square meter in a flat ranges from €5,450 to €8,820. It is possible to rent a flat for €14 per m² per month.

From 1,488,000 €

From 692,000 €

From 1,700,000 €
Wilmersdorf: the old town attracts affluent seniors
The districts of Charlottenburg and Wilmersdorf form the 'old centre' around Kurfürstendamm, the longest street in Berlin. With many shops, cafés and restaurants, life here is measured and peaceful, unlike in Mitte, which is why wealthy families and retirees choose this area as their place to live. Wilmersdorf has always been home to politicians and cultural figures.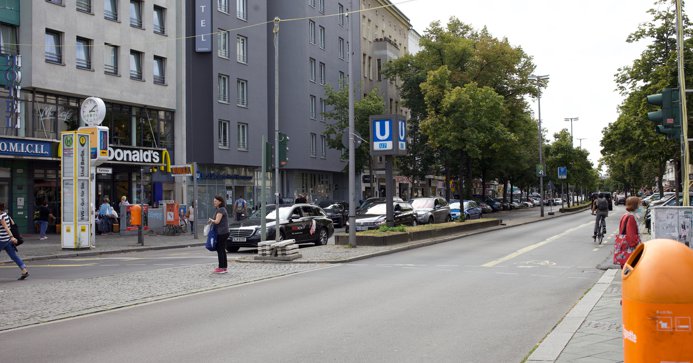 Apart from the prestige, wealthy Germans are attracted by the atmosphere of the old town: renovated houses from the end of the 19th and the beginning of the 20th century are very popular. There are not many newly built buildings in the area. When renovating, only the supporting walls are left standing and the rest is rebuilt with a 5-year warranty on the new elements.
Property prices in Wilmersdorf are high, approximately €5,980 per m² for a flat in an old building and €8,990 per m² for a new one, but on the market, one can find offers for €2,900 per m² to buy or €9.5 per m² per month to rent.

520,000 €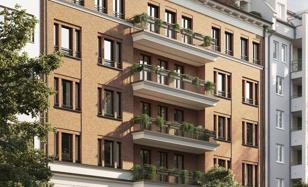 From 856,000 €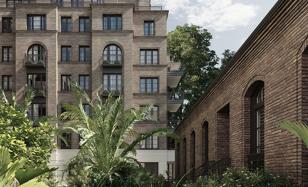 From 1,070,000 €
Grunewald: a respectable green district
The most prestigious district of the borough is Grunewald. It owes its name to the forested area which together with its lakes covers a large part of the district. On the banks of Havel, one can find luxury villas. Rich Germans enjoy peace and quiet, fresh air and beautiful landscapes.
The area is well-developed with recreational facilities, shopping centres and social amenities. Property prices for buying and renting here are among the highest in Berlin. You can buy a house for an average of €5,100 per m², and rent a flat for more than €14 per m² per month.

1,096,000 €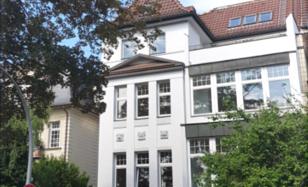 1,805,000 €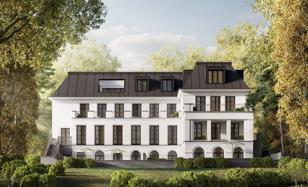 5,200,000 €
Borough of Steglitz-Zehlendorf
Dahlem: a centre of scientific research
Dahlem is one of the richest districts in the city and also a centre of scientific research. Several Nobel laureates in atomic physics have lived and worked here. Dahlem is famous for its Museum Centre which houses several collections of rare artefacts from Berlin's state museums. Dalem is also home to one of Germany's leading institutions of higher education, the Freier Universität Berlin.
As a result, the area is full of students and is buzzing with life on weekdays. The Dalem has a well-developed infrastructure for young people: bars, clubs and entertainment venues. Secondary property prices in Dalem are among the highest in the area at an average of €7,250 per m².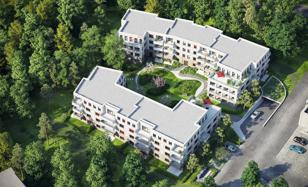 887,000 €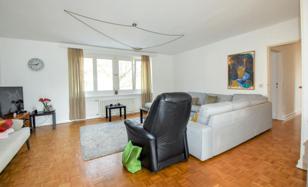 604,000 €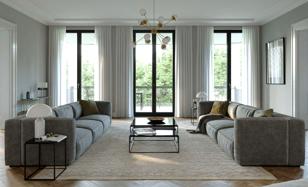 5,750,000 €
Steglitz: a promising district with a great location
Steglitz attracts people with its beautiful nature, forests and water areas, its well-developed infrastructure and its quiet, peaceful lifestyle. The area offers a wide range of amenities such as Das Schloss shopping mall, cafés, parks, educational facilities, sports clubs, leisure centres and cinemas.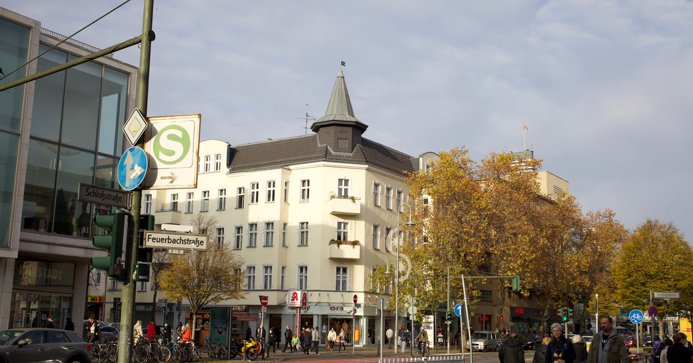 Properties in Steglitz are popular. The area is conveniently located as you can reach the centre of Berlin from Steglitz by car in 30 minutes and by public transport in under an hour. Average prices for an apartment in Steglitz range from €4,700 to €6,490 per m².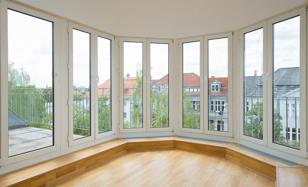 682,000 €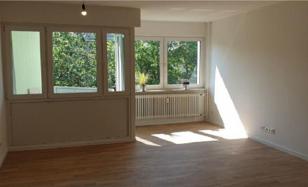 439,000 €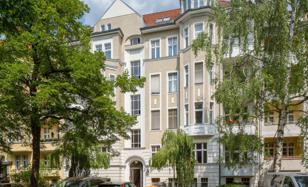 950,000 €
Zehlendorf: nature and wealthy mansions
Zehlendorf attracts buyers with its plenty of green areas, lakes, and peaceful and quiet natural surroundings which many Germans appreciate. What makes Zehlendorf unique is the combination of luxurious mansions and villas with parks, forests and ponds. The biggest natural beach in Europe, the Strandbad on Lake Wannsee, is popular among yacht owners.
The infrastructure of the area is greatly developed: there are large shopping centres, educational institutions, medical facilities, restaurants. Usually, only wealthy people can afford property in the area. The average cost per square metre when buying a flat ranges from €5,400 to €8,550 per m².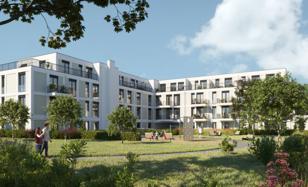 404,000 €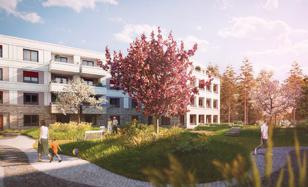 835,000 €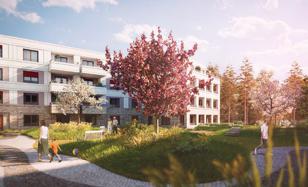 1,555,000 €
Borough of Reinickendorf
Tegel: the Tegel Airport and a beautiful lake
Tegel is located in the northern part of Berlin. The area is famous for its beautiful lake, palace and a large airport of the same name. The former industrial port has been transformed into the cultural centre of Tegel Port. The area's popularity may increase soon due to the closure of Berlin Tegel Airport. It closed in November 2020, following the opening of the new Berlin-Brandenburg airport.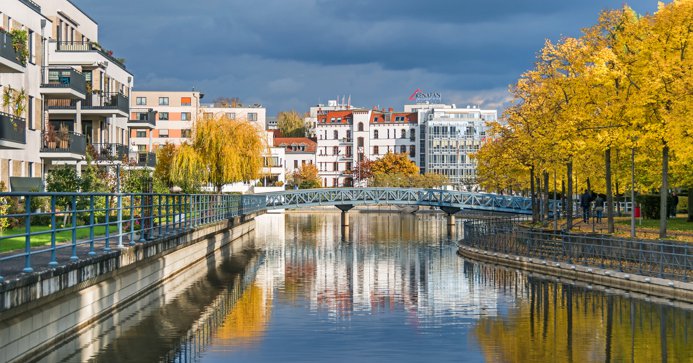 It is possible to buy a flat in Tegel at a bargain price starting at €2,900 per m². The average rent is €10–15 per m².

From 996,000 €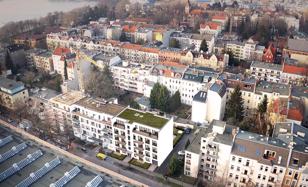 467,000 €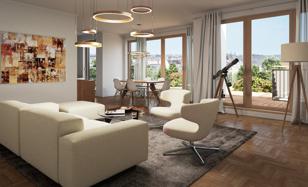 269,000 €
Borough of Tempelhof-Schöneberg
Tempelhof: a promising area for investment
The name Tempelhof means the trading place of the Templars, which helped this modest residential area to become a large district of Berlin. In 2008, Tempelhof, the capital's largest airport of the same name, ceased operating. At the time, the building was among the largest in the world.
The residential buildings in the area are constantly being renovated and the areas are being landscaped. Buying a property in Tempelhof is considered prestigious. Because of its infrastructure and proximity to the centre of Berlin, housing in the area is becoming more and more expensive. Now the price per square meter when buying a flat is around €4,000–5,000. The cost of renting a flat here is €9–15 per m² per month.

Schöneberg: inexpensive housing in the city centre
The district of Schöneberg is densely populated and close to Berlin's central administrative districts. Schöneberg is popular with foreigners and young Germans. The district is experiencing a shortage of supply on the real estate market and therefore the purchase of a flat there is a good investment opportunity.
Schöneberg has a well-developed infrastructure that includes shopping centres, hotels, restaurants, clubs and bars. The area is also a thriving tourist destination. During World War II, most of the buildings here were demolished and new houses, typical of the architecture of the 1950s, were erected in their place.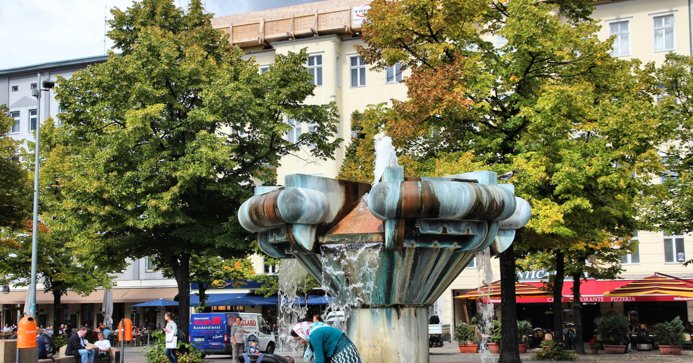 Most houses in Schöneberg were built in the 1950s and 1960s. Among these buildings, there are few tall buildings, most have 5–7 storeys. The area is relatively inexpensive when you consider its proximity to the centre: the average purchase price of a flat on the secondary market is €4,980 per m². The average price for a new-build flat is €8,830 per m².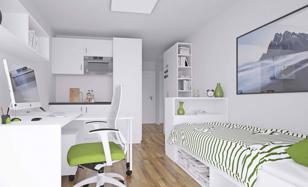 From 278,000 €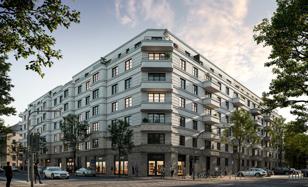 From 363,000 €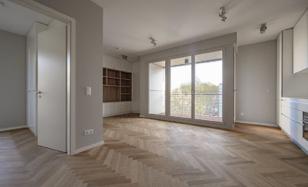 544,000 €
Borough of Treptow-Köpenick
Köpenick: Grunewald of the east
Köpenick is the largest district in Berlin, but it has the lowest population density. It is full of parks, forests and lakes. Berliners love their holidays in Köpenick and consider it a resort area, thanks to its sandy beaches and the surfing, diving and other water sports opportunities it offers. Köpenick is also known for villas with shared boat stations. A flat here costs on average between €4,310 and €6,180 per m².
Treptow: the symbol of neighbourhood integration
Treptow, like the neighbouring Köpenick, lies in an area with plenty of woodland, parks and reservoirs. One of Berlin's largest lakes can be found here, stretching for almost 4.5 km. The district's main attraction is the monument erected in the river: figures of people of enormous size walking towards each other. The monument symbolises the unification of the Treptow, Kreuzberg and Friedrichshain districts.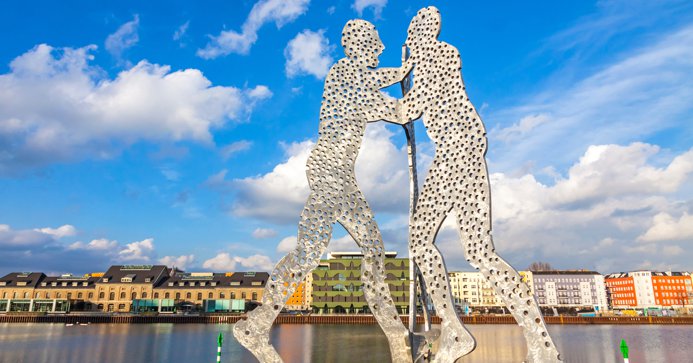 Residential areas in Treptow have their special features: in the south-western part, there is a fishing village with small houses, while in the other part of the neighbourhood there is the Adlershof, which boasts modern high-rises, universities and a well-developed infrastructure. Treptow is an up-and-coming area for the middle class, where housing prices will continue to rise for a long time to come. A square metre in Treptow costs on average between €3,900 and €5,710 per m².
According to Anna Kurianovich, sales manager at Tranio, Treptow-Köpenick is one of the most promising areas. "Experts predict high price growth in the local real estate market in 5–7 years. The reasons for this forecast are the active development of businesses and research centres, as well as the attractiveness of the beautiful nature with lakes, green parks and forests".
Borough of Lichtenberg
Lichtenberg: new buildings and a Zoo
The district of Lichtenberg lies in the administrative district of the same name and is sometimes referred to as Alt-Lichtenberg. Over the past few years, there has been a lot of construction going on in Lichtenberg. Between 2013 and 2017, for example, 2,550 new units were built in the district and 1,700 buildings were renovated. Demand has not yet exceeded supply in the Lichtenberg property market, so it is possible to rent a flat in the area more quickly than usual in Berlin.
Lichtenberg's economy is made up of small and medium-sized businesses engaged in commerce and services. Lichtenberg is also home to the large Berlin-Friedrichsfelde Zoo. The average price for new properties in the district is €6,180 per m², the average price for secondary market properties is €4,360 per m².

From 606,000 €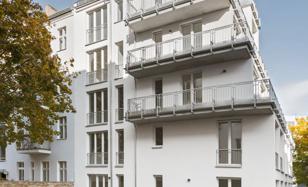 369,000 €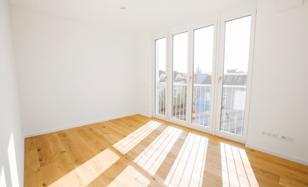 337,000 €
Borough of Neukölln
Neukölln: dynamic and multicultural
Neukölln is a large district in the administrative district of the same name. As of December 2020, it has a population of almost 165,000. It is bordered by Kreuzberg and Tempelhof. Neukölln is Berlin's most multicultural district: historically, it is home to many immigrants from Turkey, but also from Poland, Romania, Bulgaria and Syria. Neukölln is also an up-and-coming business district, with 5,500 companies and 60,000 employees. The area is currently experiencing dynamic growth.
Neukölln is within easy reach of Berlin-Brandenburg Airport via the A113 motorway, and Germany's largest hotel, the Estrel Berlin, is located in the area, all of which suggests that property prices in Neukölln will continue to rise. The German real estate agency Guthmann estimates that prices per square metre will quadruple in the next 10 years. At present, the average price for a secondary market flat is €4,540 per m², and for a new-build flat, it is €7,490 per m².

Borough of Spandau
Spandau: Old town and the future centre of technology
The district of Spandau is one of the largest in terms of area but has a modest population of 245,000. Spandau is situated on the banks of the river Havel, where it flows into the Spree. It is renowned for its nature as there are numerous nature reserves and lakes in the area. Within the Spandau area, you will find the Spandau Citadel, a Renaissance fortress and the Old Town, with its historical buildings.
Spandau is a part of Berlin's urban development plan StEP Wohnen 2030. By 2030 there are to be 11,000 residential units in Spandau. The new major technology centres Siemens Campus and the Urban Tech Republic promise new jobs and an influx of people. The average price for new property in Spandau is €5,280 per m² and on the secondary market, it is €3,660 per m².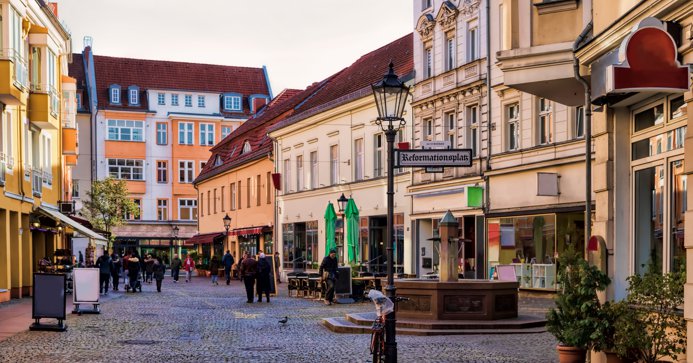 Borough of Marzahn-Hellersdorf
Marzahn: a residential area with a large park
Most of the real estate in Marzahn was built in the GDR and therefore consists of Plattenbauten or prefabricated buildings. Marzahn was once known as a rough area after the fall of the Berlin Wall, but this prejudice is no longer true. In recent years, the neighbourhood has been modernised: panel buildings have been rebuilt, public spaces, squares and cycle paths have been landscaped.
In 2017, the renovation of the Gärten der Welt, a large park with plants from Japan to the UK, was completed. 87.5% of the district's residents are German. Young families often move to Marzahn: the neighbourhood has plenty of playgrounds and greenery. They are also attracted by the low prices. The average price of a flat on the secondary market in this district is €3,170 per m².
Subscribe not to miss new articles
We will send you a content digest not more than once a week
Subscribe