Investment flows around the globe: cross-border property transactions in 2016
Last year witnessed impressive levels of foreign investment in several property markets. Investors are increasingly putting funds into overseas real estate to diversify their portfolios and protect their wealth from any risks at home. Tranio.com's experts analysed cross-border transactions around the world in 2016 and examined the preferences of major investor groups.
Real estate transactions around the world
Based on the major markets studied by Tranio.com's analysts, in 2016 the total volume of cross-border real estate transactions came to USD 426.8 bln; cross-border investments in commercial properties amounted to USD 188.4 bln, and USD 238.4 bln accrued to residential properties.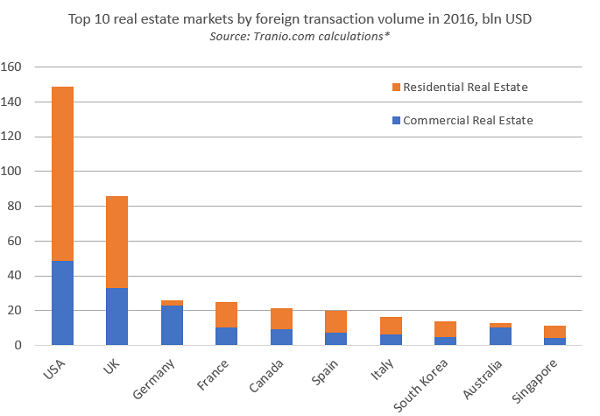 * Calculations are based on data from Knight Frank, Cushman & Wakefield, Savills, Colliers, CBRE, Real Capital Analytics and national statistical offices
Our method
Tranio.com's analysts calculated the sum of cross-border purchases in commercial and residential real estate markets by collating figures from Knight Frank, Cushman & Wakefield, Savills, Colliers, CBRE, Real Capital Analytics and national statistical offices. In cases where estimates were sparse or varied, we calculated foreign investment by finding the product of total investment and the share of foreign transaction volumes in total volumes (or appropriate proxies) and comparing this figure with corresponding estimates, in many cases calculating a weighted average. These calculations exclude minor markets and, in the case of most commercial property estimates, transactions under USD 10 mln; therefore, the true total lies above USD 426.8 bln.
The US market was the largest by volume of cross-border real estate transactions: foreign nationals spent a total of USD 149 bln – USD 48.5 bln on commercial and USD 100.5 bln on residential property – in 2016. In the US, buyers from abroad closed about 11% of transactions in the commercial property market, even less for residential property.
The UK came in second with USD 86.1 bln: of this total, USD 33.1 bln went to commercial properties and USD 53 bln went to residential properties. Foreigners comprise some 57% of the commercial real estate market in the UK.
Germany, where cross-border property purchases totaled just USD 25.8 bln, saw most of its incoming funds flow into commercial real estate (USD 22.7 bln) and comparatively little go towards residential objects (USD 3.075 bln). Foreign investment transactions constituted 40% of the commercial property segment in 2016. In Germany, just as in the US, local buyers dominate the market. Moreover, Germany has pushed ahead of the UK as the top national market in Europe, and Berlin, Hamburg, Frankfurt and Munich are all among the top local markets.
France (USD 25.1 bln), Canada (USD 21.4 bln), Spain (USD 20.2 bln), Italy (USD 16.3 bln), South Korea (USD 13.8 bln), Australia (USD 13.1 bln) and Singapore (USD 11.3 bln) also made our list of top countries by foreign real estate transaction volumes in 2016. Just behind Singapore is the Netherlands at USD 10.5 bln.
Foreign investors in the commercial property segment were relatively active in markets such as Ireland (72% of all transactions), the Czech Republic (70%), the Netherlands (62%), Italy (62%), Spain (60%) and the UK. We found that Singapore (25% of all transactions) and Spain (13%) had the greatest shares of foreign investors in the residential segment. The mean and median ratios of commercial to residential investment from abroad are 1.63 and 0.63, respectively, with the sole outliers being Germany and Australia, where commercial investment greatly outpaced residential investment.
Whence the property investment?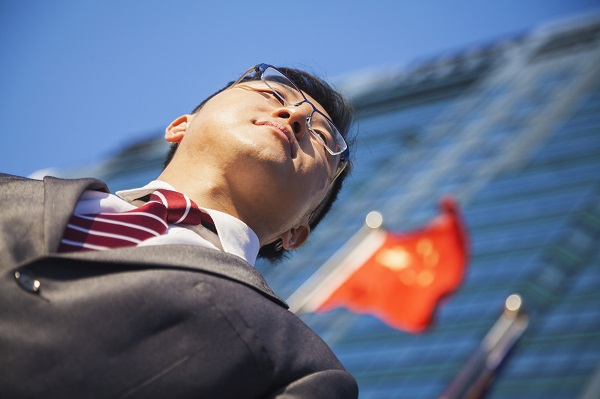 Citizens of Asian and Persian Gulf countries, the UK and the US are among the largest and most important investor groups in the global property market. Russian nationals are also noteworthy players in international property markets.
Asian buyers
The top-ranking investment source countries in Asia are China, Singapore, Hong Kong, South Korea and Japan. Around 85% of China's outgoing investment went to office and hotel properties, and Singapore's more diverse, USD 12 bln investment portfolio comprised more balanced shares of office, hotel, industrial, retail, residential and mixed-use properties. Hong Kong (USD 8.4 bln), South Korea (USD 7 bln) and Japan (USD 3 bln) fell just behind Singapore.
Chinese outbound property investments totaled as much as USD 33 bln, falling just 4% short of RCA's 2015 estimate of USD 34.4 bln and arguably revealing the impact of tighter capital controls enacted by Beijing. The top five destination markets of Chinese property investment were the US, Hong Kong, Malaysia, Australia and the UK. The US, where the Chinese are the largest group of foreign investors, welcomed USD 14.3 bln from China, according to JLL; the UK received 22% more in Chinese funds in 2016 than in 2015.
Chinese investors have traditionally sought out hotel, office and residential properties, but they have recently begun securing assets in industrial zones. Their bulging savings margins need to be secured in large investments which guarantee high yields. The US market is a choice candidate for investment based on such a criterion.
According to the National Association of Realtors, between April 2015 and March 2016 Chinese buyers (including those from Hong Kong and Taiwan) spent USD 27.3 bln on US residential property, comprising 13.7% of all the foreign purchases in the country during the period and 26.7% of all purchases made in the residential segment.
Chinese buyers tend to purchase homes worth around USD 900,000. Individual residential investors often seek out second homes and income properties, often in major metropolitan areas on the coasts; they have recently begun branching out to smaller, Middle-American markets. This investment is expected to grow to about USD 50 bln by 2025.
Chinese property investors are also keenly interested in the Canadian market. Chinese investors purchased CAD 1.3 bln in commercial real estate in H1 2016. The markets brimming most with Chinese funds are Toronto and Vancouver, but many other markets – especially those in Quebec and Ontario – are now receiving much greater inflows.
According to the National Bank of Canada, in Vancouver Chinese nationals comprise about a third of all buyers in the country. Thanks in large part to Chinese speculation, prices jumped 24% between 2015 and 2016 to an average of CAD 2 mln for a single-family home. To help the market simmer, in August 2016 the provincial authorities began requiring all foreign buyers, who by British Columbian law are now required to disclose their nationality, to pay a tax of 15% of the property value.
In Australia, the Chinese buy property mostly in Sydney (53%) and Melbourne, despite taxes (9% in Sydney and 14% in Melbourne) and other investment restraints. Chinese investors, while not the biggest spenders among foreigners, shelled out about AUD 1.06 mln for home purchases on average. In New South Wales, Chinese investors comprised 77% of all foreign buyers.
The main attraction to Australian property for Chinese buyers is the comparatively low median prices of homes and apartments (compare roughly AUD 500,000 in major Australian cities with almost AUD 900,000 in major Chinese cities) and relatively high gross rental yields (compare 4.5% with 1.5%, respectively).
In the United Kingdom, investors from China most often search for prime objects in London's central districts, where they purchased USD 3.75 bln in properties in 2016. In the commercial segment, the rise of Chinese investment in the UK was particularly pronounced because of the falling inflows from Europe and the US. The UK market's relatively high capitalisation rate of 4.5% is a key pull for Chinese buyers.
Persian Gulf buyers
In 2016, Cluttons and Yougov published the results of a survey involving 127 investors from Bahrain, Qatar, Kuwait, the UAE, Oman and Saudi Arabia, according to which London, New York and Singapore were found to be Arab buyers' markets of choice.
Four markets – Bengaluru, Mumbai, New Delhi and the state of Kerala – also made the top 10. The reason for this is that the Persian Gulf countries have large Indian communities. For instance, in the UAE Indian nationals account for 30% of the population.
The investors surveyed were ready to invest USD 1 mln on average in foreign property or had already done so. Over half (54%) of them preferred residential properties, while 22% targeted commercial ones and 23% preferred mixed-use properties. Surveyed investors also disclosed that just over half (55%) of their portfolios consisted in foreign property.
British buyers
The British are notably active overseas investors who most often acquire property in Europe and the US. According to Rightmove, British nationals constitute the largest group of buyers in Spain, Italy and France, with over half of them acquiring holiday homes and flats in these countries. Budgets for holiday homes reach up to USD 200,000 in Spain, USD 195,000 in Italy and USD 250,000 in France.
The Spanish markets most strikingly popular among UK citizens are Málaga, Alicante, Murcia and Almería. In Italy, the British mainly buy property in Tuscany, Abruzzo, Sicily, Lombardy and Liguria. In France, the regions of choice are Auvergne-Rhône-Alpes, New Aquitaine, Brittany and Provence-Alpes-Côte d'Azur.
According to the National Association of Realtors, UK citizens make the fifth largest group of foreign buyers in the US after those of China, Canada, Mexico and India. UK nationals in the market have a strong taste for suburban, detached, single-family homes in states like Florida (39%) and California (15%), where the average budget lies just over USD 680,000.
American buyers
American outbound investment has tended to dwarf investment from most other countries, moving from USD 10.3 bln in 2009 to about USD 60 bln in 2014.
According to the US National Association of Realtors, Americans have shown increased interest in purchasing overseas properties. They most often look for property in Mexico (13% of survey respondents), and Costa Rica, the Philippines, Colombia and Canada are equally popular among US residents (4% each). As for the European countries, only Spain (3%), Italy (3%) and France (2%) attract US nationals.
The majority (79%) of American investors buy residential property, and among them 53% prefer detached homes. Most investors (87%) are interested in holiday homes or income properties, with as little as 9% of them seeking a new primary residence.
According to AIG Private Client Group, American UHNWIs buy property in Mexico (14%), the Bahamas (13%), England (12%), France and the Caribbean (9% each).
Russian buyers
According to the Central Bank of the Russian Federation, in 2013 and 2014 Russian citizens annually invested just above USD 2 bln in foreign property. In 2015, investments shrank to USD 962 mln, and the final tally for 2016 amounted to USD 870 mln. The volume for Q1 2016, USD 199 mln, was the lowest Q1 total since 2009.
While overall overseas transactions fell by over 50%, commercial property purchases increased by 20%. In addition, Russians now seem to prefer budget residential properties, income properties with high yields and commercial properties to anything else, especially luxurious second homes.
Interestingly, according to Tranio.com data, the budgets of Russian nationals' purchases increased from USD 295,000 in 2015 to USD 415,000 in 2016 for residential properties and from USD 860,000 to USD 2.1 mln for commercial ones.
As demonstrated by Wordstat Yandex statistics, between January and November 2016, Russian citizens searched most for Spanish, Cypriot, Italian, American and German property. Other metrics show that Switzerland and the UK are also popular markets among Russian investors; interest in the Greek, Latvian and Montenegrin markets, however, is on the decline.
•
The past year turned out to be rather resilient, in terms of global investment flows, despite the uncertainty brought about by the Brexit referendum, the US elections and India's banknote demonitisation, among other things. Major developments in 2016, such as China's emergence as a major investment source and impressive rebounding in several US residential markets, may bode well for the near future of cross-border investment flows worldwide.
Subscribe not to miss new articles
We will send you a content digest not more than once a week
Subscribe
Done!
Top 5 Articles of the Month