What to expect from European commercial property in 2016
Prospects for European commercial property investments in 2016 are positive. Experts widely agree that they will maintain last year's momentum and grow or, at least, repeat the same investment volume figures. For example, real estate giant Savills forecasts 3–5% growth this year, compared to 2015, while JLL, a competitor, expects volumes to remain the same.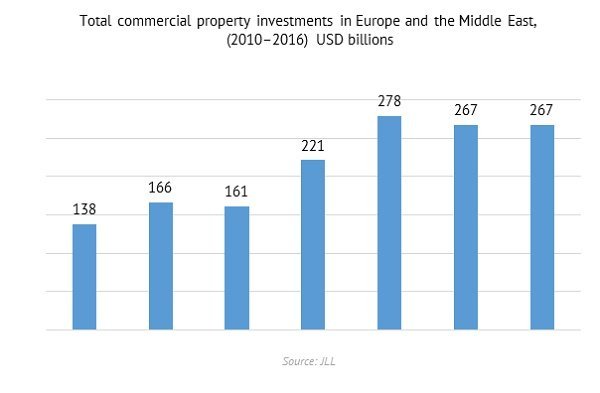 U.S. and Asian investors are expected to be the most active on the market. According to PwC, a global financial services company, nearly two-thirds (61%) of buyers are targeting mid-term investments (5–10 years), meaning that property bought this year will not be back on the market before 2021.
Segments to invest in
The office segment in Europe, a major services hub, should maintain its hegemony, but new consumer patterns are transforming the real estate landscape to the benefit of industrial property. Nevertheless, affordable travel is a major stimulant to high street retail property in the most frequented tourist hotspots. Growing property prices and ultra-dense urban development on the subcontinent are making development projects evermore appealing.
Office space: the average European vacancy rate is 8.4%, two-thirds of which are secondary market premises, according to Savills' estimates. Investors are expected to focus more on Value Added projects: buying run-down office properties, renovating them and selling them on.
Industrial and distribution property has become popular thanks to the growing demand for e-shopping services. Online retail sales rose by 22% in 2015 and are forecast to grow the same amount in 2016. Consequently, demand for warehouses will continue to benefit from this trend. A 2016 survey by Colliers, a property services company, expects industrial and distribution real estate to become the second most popular market segment with investors from the UK, Africa and the Middle East.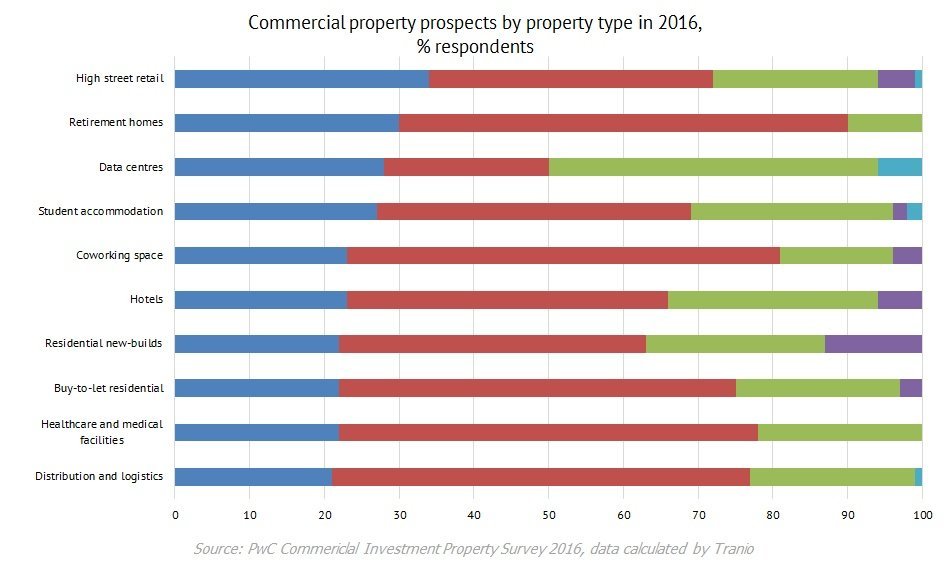 Retail property: shopping malls in central city districts will be the most popular because they are located near major pedestrian and tourist flows (e.g., London, Paris, Munich, Madrid, Berlin). According to Colliers, 41% of investors from continental Europe are interested in retail property.
Residential property like retirement homes, student accommodation and flats will be used to diversify property investment portfolios, especially in the UK, Germany and France. However, a PwC study shows that 60% of respondents consider buy-to-let property to be a solid basic investment rather than an alternative chosen to minimise portfolio risk.
-> High yields and growing demand for student property in the UK and Germany
Development land is an increasingly attractive substitute for investors due to ever-growing prices in prime locations. According to the PwC survey, 48% of respondents agree that prime locations are overpriced, while over half (52%) believe that buying development land is an affordable way to obtain property on expensive markets. It is also a good way to increase yields, which are generally suppressed, in high-end districts of big European cities.
Countries to invest in
Turkey is the frontrunner in terms of 2016 price growth forecasts (+12.7%) according to Trading Economics. Nevertheless, due to internal and regional power struggles, investors should exercise caution before injecting capital into this market. Other countries where prices could gain over 4.0% are the UK, Italy and Germany.
-> Strong growth predicted for Turkey's foreign housing market in 2016
Up to 2020, Turkey is also expected to see the strongest price growth (59.0%) followed by Italy (23.2%) and Germany (22.4%). Gains over 15.0% are predicted in Greece, France, the UK and Austria.
-> Property in France: what to know and where to buy in 2016
The weakest markets in Europe are likely to be Croatia, Bulgaria and Montenegro, all of which have been singled out for negative growth by Trading Economics forecasts. This is mainly due to the region's dull economic prospects and sluggish global growth that is pushing investors towards more stable markets like the UK and Germany.
Property price dynamics forecast, %
Source: Trading Economics, calculations by Tranio
Cities to invest in
Cities follow a different pattern to that observed on country markets. There are a number of major European cities that have entered the lowest part of their cycle, which gives them the greatest potential for price and rental rate growth, particularly in Madrid, Lisbon and Milan. At the same time, traditional investment destinations like Paris, London and Germany's top seven cities should attract the most capital once again this year.
Top 10 cities for real estate investments in 2016
| | |
| --- | --- |
| 1 | Berlin |
| 2 | Hamburg |
| 3 | Dublin |
| 4 | Madrid |
| 5 | Copenhagen |
| 6 | Birmingham |
| 7 | Lisbon |
| 8 | Milan |
| 9 | Amsterdam |
| 10 | Munich |
Source: PwC
The PwC investor survey showed that most respondents consider property in Berlin to be the most promising. This is not surprising considering it was the second most popular European city market in 2015 after Paris, which received investments in the amount of €10 billion last year.
-> Commercial property investments soar in Germany's «Big Seven» cities
The reasons behind the success of property in Berlin include the city's relatively low urban density, high potential for construction projects, all-time high rental demand for office space, a growing technology sector (start-ups becoming potential tenants) and the large influx of migrants.
Tranio recommendations for 2016 investments
Prioritiselow-risk investments to minimise exposure in case of market downturn.
Choose stable and historically reliable markets like Austria, the UK and Germany.
Target cap rate growth rather than high yields.
Stay away from Value Added projects like redevelopment if it's not your profession.
Selectlong-term rental contracts where tenants bear the most financial burden.
Focus onlong-term investments (10 years and more) for optimal capitalisation.
Yulia Kozhevnikova, Tranio
Subscribe not to miss new articles
We will send you a content digest not more than once a week
Subscribe
Top 5 Articles of the Month