Russian Investment in Overseas Property: Analytical Report by Tranio.com (2013)
In early 2014, Tranio.Ru – an online center for overseas property – conducted its third analytical study of Russian-speaking clients. We investigated and analyzed the interests and motivations of Russians who purchase property in the most popular countries.
As in our previous studies, we relied on the results of our in-depth online poll, which involved more than 400 agencies and private realtors.
1. Respondents
The study involved 432 respondents and includes both representatives of foreign property agencies and private realtors. The number of respondents taking part in this Tranio.Ru study is the highest ever, more than twice the number of respondents in the 2012 Study.
The respondents sell properties in 39 countries. Here are the most representative countries (the figures stand for the percentage of realtors from the country in question among all respondents):
| | |
| --- | --- |
| Spain | 35.4 |
| Italy | 22.0 |
| Bulgaria | 18.4 |
| Turkey | 13.8 |
| Latvia | 13.8 |

| | |
| --- | --- |
| Montenegro | 11.9 |
| Germany | 10.0 |
| USA | 09.8 |
| France | 09.2 |
| Greece | 08.4 |
Among other countries that came under the Tranio.Ru spotlight are the Czech Republic, the UK, Cyprus, Portugal, Croatia and Thailand. The largest shares in the poll come from the countries most popular among Russian overseas property customers and tenants in 2013.
The study involved 432 respondents from 39 countries.
In recent years, Russians have retained their interest in the key countries listed, and demand for property is growing in most of them. In Bulgaria, Spain and Turkey, Russians make up the bulk of the share of buyers. Certain changes and shifts have been observed in the dynamics of particular markets. For example, demand for property has significantly increased in Latvia after a law was enacted in 2010 which granted residence permits to property buyers. In 2013, Tranio.Ru's experts noticed a particular growth of interest in property for sale in Hungary and real estate for sale in Thailand. On the flip-side of the coin, after the 2011 revolution in Egypt, Russian-speaking clients practically lost interest in buying property in this country. Demand for property in Cyprus and Croatia has also significantly decreased. During the late 2000s, a decline in demand for Montenegro property was experienced, although this country is now attracting Russian buyers again; a similar trend has been noticed in Greece.
In the UK and France, Russians don't play much of a role in the mass market. However, their numbers are significant in the luxury property markets of French Riviera and in London.
2. Properties
2.1. Properties in Resorts and Big Cities
Around three-quarters of respondents are mostly engaged in selling resort properties, primarily in European spots near the sea. The remaining one-quarter of them specialize in selling properties in big cities, including London, Paris and Berlin.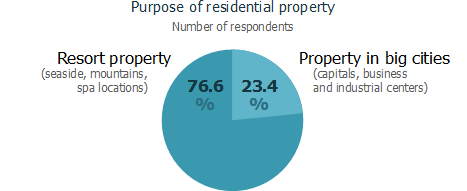 Resort property is prevalent in most of the countries studied (27 of 39). In Greece, Cyprus, Thailand, Portugal and Croatia, all respondents indicated that resort property is their top-priority target. There are also countries, where the city property market is not predominant, but enjoy a significant 30-percent respondent share: Turkey, Italy, Bulgaria and Spain.
Most respondents sell property in seaside resorts.
Conversely, in the UK, 100 percent of respondents indicated that city properties, mainly in London, were their only focus. City properties in the Czech Republic also garnered the main attention of 80.0 percent of respondents.
In some countries, a roughly equal number of realtors are focused on both urban and resort property. The US market is weighted towards resort property (mainly Miami and its vicinity), while in Latvia city properties predominate. In Germany, despite the obvious priority on city property, resort property also occupies a significant share. At the root of this is interest in the famous thermal springs of Baden-Baden.
Country
Number of respondents, %
Resort
property
Property
in big cities
USA
55.6
44.4
Austria
50.0
50.0
Latvia
44.0
56.0
Germany
37.5
62.5
Russian interest in Latvia is more or less distributed equally to two main locations: the capital, Riga, and the coastal resort of Jurmala.
2.2. Houses and Apartments
About two-thirds of respondents mostly sell apartments and suites in multiple-occupancy buildings, the remaining third trade in detached buildings (i.e. houses, villas, and cottages). Last year, the overall situation was similar (apartments – 68.2 percent, houses – 31.8 percent); although interest has now slightly shifted towards houses.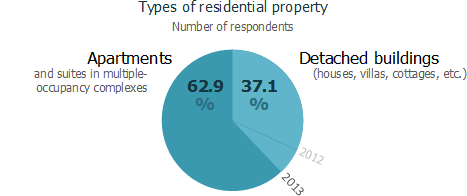 This dynamic corresponds with Yandex search statistics from late 2013. Apartments in foreign countries appeared in searches approximately twice as often as houses, and demand for both property types has increased continuously, although search dynamics for houses is growing slightly faster than for apartments. The number of searches relating to separate buildings conducted for the first 10 months of 2013 was on average 36.6 percent higher than in the same period of 2012. However, search dynamics for apartments increased by only 31.4 percent.
In most countries (28 of 39), respondents reported that Russian clients are more likely to purchase an apartment than a house. In the Turkish property market, offers for apartments and suites in apartment complexes are significantly higher than separate buildings. In fact, respondents noted that apartments accounted for 92.9 percent of sales. Moreover, prices for apartments and suites are much smaller. Apartments are priced at up to 50,000 euros, while the price for villas starts at 150,000 euros.
In most countries, Russians are more interested in buying apartments and suites than houses.
Marina Filichkina, head of sales department at Tranio.Ru, notes that apartments are also cheaper to keep and easier to lease than villas. As most clients purchase vacation property in Turkey and are only there periodically, they worry about the safety of their property when they are not in the country. According to Rachik Hanazaryan, founder and managing director at Anatolia Consulting & Construction Co., "A Russian client thinks that it is better to have an apartment in a complex; it is safer because the management company will look after it."
Apartments also dominant in Bulgaria (apartments – 84.6 percent, houses – 15.4 percent), the UK, Latvia and the Czech Republic.
Eric Rosenfeld, sales director at ETU Homes, emphasizes that "Bulgaria and then Turkey are countries with low property prices, so customers with a budget of 30–60 thousand euros tend to choose housing in these countries. With this money one can only buy an apartment."
However, the property market in some countries is dominated by detached buildings. This is particularly evident in Croatia (85.7 percent of respondents flagged up "houses"), where many more villas and houses are built compared to apartments and this trend is continuing. According to Eurostat, 70 percent of Croatians live in detached houses; this rate is one of the highest in Europe.
Marina Filichkina adds that "apartments are bought more often because they are safer. Houses are much more likely to be burglarized. In Croatia, the crime rate is very low, so there is no such problem."
Nevertheless, Yekaterina Kalender, consulting expert at Adria PRO, found in her experience that the opposite ratio of sales of apartments and houses was the case in Croatia. "I would say there are fewer villas sold compared to apartments. The main obstacle is that customers with an average budget of up to 400,000 euros want to buy a house which they want to be not only in excellent condition, but also newly-built, as well as being within walking distance from the sea. In Croatia's popular resorts, such properties usually cost much more."
In some countries (Croatia, Greece, France, Italy) customers favor buying houses instead of apartments.
Sales of houses are also more common in Greece, France and Italy. According to Yulia Kozhevnikova, real estate expert at Tranio.Ru, "In these countries, the market for luxury property is well developed, and wealthy people often target resorts and buy large and expensive houses with pools, rather than apartments in complexes."
The most balanced demand was in Hungary, where 50 percent of poll participants indicated the interest in houses and 50 percent in apartments. A similar situation was observed in Italy, although its market was somewhat dominated by detached buildings (57.8 percent). Conversely, a slight dominance of apartments was observed in Montenegro (54.2 percent), and this was also the case in Thailand, Cyprus and Germany.
Julia Svidritskaya, business development manager at Pafilia Moscow, clarifies that "In Cyprus, most of the properties sold are two-bedroom apartments."
According to Dilyara Maric, administration and sales executive at Foresight Montenegro, "In Montenegro, many people are trying to fulfill their dream of a house by the sea. However, the market offers and their budgets do not allow everyone to do this; as a result, many customers opt to buy an apartment. In addition, apartments are much more convenient to maintain than houses, which require a lot of attention, care and heating in winter."
Yulia Bojevic, director of Graf Montenegro, added that "at present, Montenegro has a sufficient number of interesting apartments but a lack of good new houses and villas."
2.3. Primary and Resale Property
When it comes to buying abroad, Russians are equally interested in primary and resale property. Both options were flagged by about 50 percent of respondents.
Last year, a similar situation was observed. However, the Tranio.Ru team found a slightly higher demand for primary property (55.1/44.9 percent), while this year's study showed the opposite.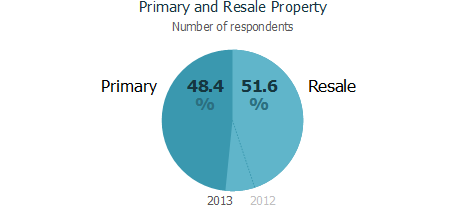 George Kachmazov, head of the Tranio.Ru project, comments: "In all of the countries, the construction peak was noticed in the pre-crisis period, while currently the tempo has decreased. In the market, unsold properties are resolving, and all in all the proportion of primary property is shrinking. This is especially true for Spain."
Yulia Kozhevnikova adds that "resale property is also associated with less risk; for example, there is no risk of long-delayed construction, which has disappointed many customers and investors in recent years."
However, according to Marina Filichkina, "In those countries, where demand is high and property is liquid (France, UK, Germany), people are not afraid to buy primary properties."
Russians show equal interest in primary and resale property.
The market situation naturally varies from country to country. In 18 countries, the majority of respondents noted that primary property is most popular; this is especially true for Thailand (100 percent), Finland (100 percent) and Montenegro (91.3 percent), as well as for Cyprus and Turkey.
Anton Shamarin, managing partner of Value.One property and investment consulting agency, says: "In Montenegro, the overwhelming amount of resale properties feature the local style, which is not consistent with Russians' taste in design. Newly built properties, as a rule, do consider the requirements of today's customers: spacious bedrooms, floor-to-ceiling windows, and functional planning. In addition, primary properties are more actively advertised, and have more credibility among customers, as they have more transparent price formation schemes. Moreover, new-build properties often have the desired infrastructure and are maintained by management companies."
Yulia Bojevic also notes that in Montenegro, customers do not pay a 3 percent tax for primary properties, which they have to pay when they purchase resale property.
"In Cyprus," says Julia Svidritskaya, "foreign customers have always been more interested in buying newly-built property."
As for Turkey, according to Eric Rosenfeld, "the key factor for many customers is the installment provided by the developer." Rachik Hanazaryan notes that "in the Turkish resale market, 90 percent of market offers are provided by Europeans who own property in Turkey, mostly the Irish and Dutch. The economies in their countries are experiencing certain difficulties, so they 'get rid' of Turkish apartments, sometimes selling property 30–35 percent cheaper than its market value."
In Spain, 72.5 percent of respondents indicated the predominance of primary property, although some experts doubt that this result reflects the real market conditions.
Anna Glinskaya, director of the One House Group, said, "Apartments bought by our customers are mainly resale ones, as there are few new construction sites in luxury areas of Barcelona."
Primary properties are more often bought in Thailand and Montenegro, while resale properties are more popular in the United States and France.
Resale property prevails in 17 countries, especially in the United States and France.In both countries, it was flagged by 83.3 percent of respondents. The resale market is also noticeably buoyant in Portugal and Estonia.
According to Vadim Cherdak, managing partner at Business Services International, "In the United States, especially in New York, new housing is currently seldom built, while demand exceeds supply, and prices are constantly rising. Therefore property owners who sell their property are earning substantial gains."
Olga Leberskaya, realtor at RE/MAX Albufeira Smart (Portugal), says, "Resale property often has an advantage of good location. For example, it's located in a good neighborhood with developed infrastructure, close to the ocean. Also, many resale properties are preferable for their architecture. For example, an apartment in a restored building in the heart of Lisbon, with high ceilings and huge windows is more attractive than a new apartment in the outskirts."
In the UK, half of the respondents flagged the primary market, while the other half favored the resale market. Roman Grigorjev, director of LonGrad, comments, "In London, customers' interest in primary and resale property is equal. Compared to last year, the volume of purchases in the newly-built property segment has significantly increased, especially off-plan property. It is primarily caused by the fact that the offer amount has increased, and developers have begun to implement more appropriate public relations and marketing campaigns. However, despite its growth, primary property will never overtake resale property concerning its sales volume. The reason is that there is much more resale property in London."
A similar balance between primary and resale property is observed in Croatia, although the resale market slightly dominates (57.1 percent) in this country. On the contrary, a slight predominance of primary properties is noticed in the Czech Republic (54.5 percent) and Greece (58.8 percent).
In the UK and Croatia, primary and resale property accounts for approximately the same number of purchases.
"In Croatia," says Yekaterina Kalender, "the key factors are the proximity of the property to the sea, along with its condition. While the choice between primary and resale property comes second. However, customers still show more interest in primary property when buying apartments. One of the reasons is that local vendors working in the resale property market often underestimate the importance of preparing the property for demonstration to potential customers. If the property is residential, the owners sometimes do not even care about basic cleaning. It is clear that this produces a negative impression."
Svetlana Yuvchenko, sales representative at Dionisiou Real Estate, said that "due to the crisis in Greece, there is almost no construction work. And those projects that are being constructed cannot compete on price with resale properties or properties built 3–5 years ago, because construction costs are higher now (i.e. taxes and the cost of obtaining permits). This is why resale property is almost always more interesting."
Natalia Kovalyova, CEO of Real Estate Services, adds that another reason for the growth of resale markets is because, "the tax policies have been tightened for residents in Greece, and therefore this led to more attractive properties for sale in the Greek resale market."
Vadim Dolmenidis, director of Greece Invest, believes that the equality between primary and resale property indicates the market's maturity. "If the resale market is small or absent, it's a bad sign for investors, because later on the property will be difficult to sell."
Natalia Tamilina, director of BWE Reality, comments on the situation in the Czech Republic: "Perhaps, the balance within the customers' demand is related to the fact that some people buying property in Prague prefer districts with old buildings or historic houses. Housing is liquid there, but these areas have a lack of primary property– except for restored houses or newly-built luxury properties. Nevertheless, new buildings are still in demand for both residential and investment purposes."
2.4. Cost of Property
Almost half the respondents (46.1 percent) indicated that the majority of sales account for the low price category (up to 150 thousand euros), while the middle category (from 150 to 500 thousand euros) is almost as significant; it was flagged by 41.1 percent of respondents. Finally, high-priced property (more than 500 thousand euros) is mentioned by 29.6 percent of respondents (please note, the sum is more than 100 percent because two price categories were allowed to be flagged).
In 2013, the proportion of expensive property in total sales had significantly increased compared to 2012, when it was flagged by only 13.6 percent of respondents. Conversely, the proportion of properties belonging to the low price category (though they continue to lead in overall sales) has decreased by 10 percent compared with 2012.
Average property cost
Price category,
euro
Number of
respondents, %
2012
2013
Up to 150,000
56.1
46.1
From 150,000 to 500,000
42.4
41.1
Over 500,000
13.6
29.6
From 500,000 to 1,000,000
No
data
18.2
Over 1,000,000
14.2
Tranio.Ru analysts believe that the growth in the share of expensive purchases is associated with a general increase in the prosperity of Russian citizens, and the rise of their motivation to invest in foreign assets. According to the Central Bank of Russia, funds transferred by individuals from Russia for the first three quarters of 2013 amounted to about $26 billion, which is 1.2 times more than was transferred in the same period of the previous year. Of these funds, investments in property for quarters I–III of 2013 reached $1.47 billion, which is 8.7 percent more than in 2012 and 1.4 times more than in quarters I–III of 2011. According to data provided by Knight Frank, within recent years Russian customers were included in the three most important categories of clients in the world luxury property market, especially in London (UK) and New York (USA).
Most sales account for the low price category (up to 150 thousand euros), though different countries show varying dominating prices.
•
The poll results display the distribution of countries according to the prevailing price categories:
Price
category
Average property
price, euro
Countries where the sales of property
within the category prevails
Low
040,000 – 100,000
Bulgaria, Thailand, Turkey
Low – Middle
100,000 – 250,000
Germany, Greece, Spain, Latvia, Finland, Montenegro, Czech Republic
Middle – High
250,000 – 500,000
Cyprus, Portugal, Croatia
High
500,000 – 1,500,000
UK, Italy, USA, France
2.4.1. Low Category (40–100 Thousand Euros): Bulgaria, Turkey, Thailand
In Bulgaria and Turkey, the vast majority of respondents (97.6 and 92.6 percent respectively) indicated the prevalence of property in the low price category (up to 150 thousand euros). In both countries, the market for expensive property is not historically defined, but unlike other popular countries there is a wide range of less expensive and acceptable quality property suitable for summer holidays. This attracts a large client base with moderate budgets.
In Turkey, Tranio.Ru clients are particularly interested in small apartments (1–2 bedrooms) in residential complexes, close to the sea, priced from 30 to 100 thousand euros.
Yulia Kozhevnikova stresses that "in Bulgaria customers even buy one-bedroom shell and core apartments far from the sea for as little as 10 thousand euros. However, there is a greater demand for small apartments in good condition in the 20–40 thousand euro price bracket."
Another situation developed in Thailand, where lower price category properties were flagged by 71.4 percent of respondents. Usually, Russians buy cheap property here (primarily within the 50–80 thousand euro range).However, there is also a substantial segment of sales within the luxury property category. For example, in the Karon Beach area (on the southwest coast of Phuket), premium villas can be priced at over 1 million euros.
2.4.2. Low-Middle Category (100–250 Thousand Euros): Montenegro, Latvia, Spain, Germany
Montenegro hovers on the lower boundary of this price range, and some realtors credit this to "low-price" countries. According to Marina Filichkina, Montenegro shows great demand for apartments priced up to 100 thousand euros.
In Latvia, the majority of respondents (77.8 percent) indicated price range between 150 and 500 thousand euros, but realtors claim that most purchases made there are closer to the lower boundary of this category. This is the amount which qualifies buyers to obtain a residence permit for purchasing property in Riga and other major cities.
Berlin, Munich and Baden-Baden are the most popular cities in Germany for Russian property buyers. In Berlin, apartments are relatively cheap, with many transactions in the 150–200 thousand euro range. The average property buying budget in the other two cities is 250–300 thousand euros, although occasionally it reaches 500 thousand euros and higher.
Prices prevailing in various regions of Spain are significantly different. In Torrevieja in the Costa Blanca one can buy a small apartment for 50–70 thousand euros, whereas in Marbella on the Costa del Sol the budget will be at least 200 thousand euros.
2.4.3. Middle-High Category (250–500 Thousand Euros): Portugal, Cyprus, Croatia
In 2013, according to data provided by Numbeo, Cyprus and Portugal enjoyed price parity. In both countries, a square meter in the center of large cities cost about 1,500 euros. However, Cyprus property located far from cities (especially in small towns at resort areas near the sea) are significantly more expensive – 1,600 euros per square meter as against 1,000 in Portugal.
Both countries offer a "golden visa", in other words a residence permit for buying property. In Cyprus it is enough to make a 300 thousand euros purchase, while in Portugal the minimum price to gain a residence permit is 500 thousand euros.
In Croatia, although the poll results indicate that the 150–500 thousand euro category is dominant (57.1 percent), a significant number of respondents (28.6 percent each) also said there was definite movement in the adjacent segments, "up to 150 thousand" and "over 500 thousand euros."
"When working with Russian clients, the main price segment is average," says Yekaterina Kalender, "As for apartments, it ranges from 100 to 350 thousand euros with a great number of transactions made in the 120–250 thousand euro range. Prices paid for houses and villas go from 300 to 700 thousand euros. There is only a very small demand for property in the expensive segment (from 800 thousand euros). As for cheap property, there are almost no transactions with the Russians in the low price category in Croatia (up to 80–90 thousand euros). Many people are interested in cheap property in Croatia, but for Russian buyers it involves the establishment of a legal entity and therefore additional costs for the registration of a company and its maintenance. Clients who are interested in cheap property are not willing to bear them."
George Kachmazov adds that the specific feature of the property market in Croatia is its diversity. "Cheaper in the North, more expensive in the South; there are some luxury locations (for example, the island of Hvar and Dubrovnik) with European yachting communities. Moreover, the authorities take good care of the construction market, with regulation policing the segment, so that it does not fail."
2.4.4. High Category (500 thousand – 1.5 million Euros): Britain, France, Italy, USA
The highest price category includes developed countries with strong economies, historically formed conservative property markets, a large domestic demand and a great number of high quality properties.
The United Kingdom is the most expensive country for Russians to buy property in. All respondents exclusively flagged sales within the high price segment of more than 500 thousand euros, and 77.8 percent indicated the highest price category of over 1 million euros.
Russian buyers are mostly interested in property located in London, where Russians were on the list of top ten investors in 2012. Prices in the UK capital are steadily increasing; during 2013, according to Knight Frank, the average cost of property went up by 6.9 percent.
The Russians buying property in France in different price categories (ranging from 250–300 thousand euros), and yet this country primarily attracts customers looking for property within the high price segment. These customers are interested in villas on the French Riviera, priced from 500 thousand euros, with transactions over 1 million euros being frequent as well. French resorts attract customers because of the country's status and its high quality of life.
The share of purchases in the high price category (over 500 thousand euros) has increased more than 2-fold compared with Tranio.Ru research of 2012.
In the U.S., 64.7 percent of respondents chose the high price segment (from 500 thousand to 1 million euros), but the adjacent category (150–500 thousand euros) is significant as well (35.3 percent). The United States is particularly noteworthy for the segment of people who are planning to move to a permanent residence – now or in the future. The quality of apartments and houses is important to them, and high-grade properties in the U.S. are more expensive than in most European countries.
Russian-speaking customers are primarily interested in apartments in New York, as well as in resort property on the coast of Florida (primarily in Miami). While you can find an apartment in Miami for 300–400 thousand dollars>, the prices in New York will be at least three to four times higher.
Italy occupies a special position in the price rankings. Almost half of Italian realtors (47.8 percent) indicated the price category of 150–500 thousand euros, and yet a considerable percentage of the poll's responses crop up in each of the other segments. In particular, the price category "from 500 thousand to 1 million euros" accounted for 30.4 percent.
The Italian market is quite diverse. The "rich" North is famous for numerous historical regions where there is an abundance of luxury property, including Tuscany, Liguria, and Lombardy. In Lombardy, the most popular area with Russian customers is around Lake Como, with demand prevailing for villas priced from upwards of 1 million euros. However, in Calabria and other Southern regions, the cheaper segments of the market are well developed. For example, in Scalea people buy apartments for 30–100 thousand euros.
3. Client Interest
3.1. Purpose of Purchase
The vast majority of respondents (70.8 percent) reported that Russians buy property abroad mainly in order to go there for holidays and leisure. Investment purposes are secondary and were flagged by 42.4 percent of respondents. Finally, 33.6 percent indicated that their priority is obtaining a residence permit. A small number of respondents specified other priorities, such as purchasing property for children to live in while studying at foreign universities, as well as accommodation for business and work (please note, the sum is more than 100 percent because 1−3 options were allowed to be flagged).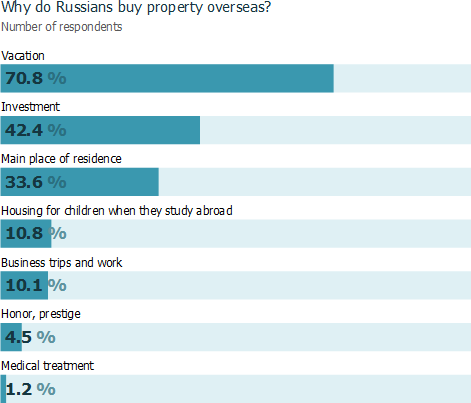 In 25 of 39 countries, the purpose of going on vacation is in the main priority. In Cyprus and Croatia it was flagged by 100 percent of respondents, in Montenegro by 90.9 percent, in Bulgaria by 90.5 percent, and in Greece by 90.0 percent. It's the same story in Italy, Spain, France, Turkey and Thailand.
In 13 countries, the most popular motive is investment. In Germany, it was indicated by 88.9 percent of realtors; in the Czech Republic and the United Kingdom by 66.7 percent; in the U.S. by 58.8 percent; and in Latvia by 56.0 percent. In some countries, investment motives don't appear to prevail, but they represent a significant proportion of the poll responses: in Thailand (57.1 percent), Turkey (55.2 percent), Greece and France.
"The investment component is especially pronounced in countries where the market is transparent, the rights for property are duly respected and the risks are minimal, "says George Kachmazov. "Germany has the largest economy in Europe, and the U.S. – in the world; the UK has the most liquid property, and Latvia has a lot of banks and a liberal financial climate, while Turkey has a promising economy. However, in my experience, even if people buy property for recreation, they still hope that it will also yield a good return on investment, regardless of whether these hopes are justified."
Most often Russians buy property abroad for recreational purposes. Other reasons include investment and moving for permanent residence.
Eric Rosenfeld notes that if people buy property for investment purposes they "choose countries with stable economies and the prospect of an increase in property prices." In the UK, according to Roman Grigorjev, the main priority for investors from the CIS countries is capital saving. Oksana Salfarlie, managing director of the London Relocation Consultancy adds, "Purchasing property in the UK is interesting because capital gains remain one of the highest in the world, especially in London, as demand exceeds supply here. Over 75 percent of London's luxury properties (over £10 million) were purchased by foreigners."
"In the U.S.," comments Vadim Cherdak, "investment safety laws protecting private property and the prospect for re-selling property in the future for a profit are the most important factors to investors."
Rachik Hanazaryan observes, "The truth is that property always saves you from inflation."
In Germany, the second priority (after investment) was for business and work. It was flagged by one third of the respondents. In the UK, the second priority is for children's education, and this factor is almost as important as investment (55.6 percent).
Oksana Salfarlie notes that, "Britain will always be the first country, where wealthy Russians buy property, as well as the country where they send their children to be educated, and where, consequently, they buy property for them."
In other countries, the factor of education was flagged too. For example, Victoria Kryssova, realtor at SanDiegoDom, highlights, "Education has always been of great importance to all of us. Historically, Russian-speaking immigrants in the United States tend to settle in places with good schools, even if it means buying a smaller apartment."
In five countries, the main priority was obtaining a residence permit. In particular, this motive was the highest in Israel (66.7 percent of respondents), and Hungary (50.0 percent). It is also noticeable in Bulgaria (66.7 percent), the U.S. (41.2 percent) and Latvia (40.0 percent).
In some countries where the main purpose is recreation, investment and immigration also play a significant role. Both of these targets were flagged by an equal number of respondents in Croatia (33.3 percent each) and Cyprus (22.2 percent each). In Italy and Spain, investment slightly prevails over permanent residence (all of these purposes were flagged by 30–35 percent of respondents), while in Montenegro, on the contrary, there is a slight preponderance of immigration (45.5 percent) over investment(36.4 percent).
3.2. Reason for Purchase
We asked realtors what motivates Russian clients to buy property in certain countries. Most of the respondents (71.9 percent) said that the main reason revolves around a favorable climate and weather. This factor is the predominant consideration in 15 countries; in particular, in Cyprus, Turkey, Italy and Spain it was flagged by over 90 percent of respondents).
The second reason is attractive property prices, which was flagged by 47.1 percent of respondents. This factor is an overriding consideration in 8 countries, including Bulgaria, Hungary and the Czech Republic.
In Bulgaria, both reasons play a key role: attractive pricing was flagged by 90.2 percent of the realtors, climate and weather by 80.5 percent. A similar situation developed in Thailand, although the factor of climate is somewhat more pronounced (85.7/71.4 percent).
Why do Russians buy property in certain countries?
Reason for Purchase
Number
of respondents,
%
Countries where this reason is particularly pronounced
Climate, weather, ecology
71.9
Bulgaria, Greece, Israel, Spain, Italy, Cyprus, Thailand, Turkey, France, Croatia, Montenegro
Attractive price
47.1
Bulgaria, Hungary, Spain, the USA, Thailand, Turkey, the Czech Republic
Obtaining a residence permit
33.1
Great Britain, Hungary, Germany, Spain, Latvia, Turkey
Safety, low crime rate
26.0
Israel, the Czech Republic, Cyprus, Thailand, Croatia, Montenegro
Close culture and language, good attitude to Russian people
25.7
Bulgaria, Greece, Italy, Croatia, Montenegro
Relatives and friends who have previously bought property in this country
19.8
Israel, Italy, Thailand
Political and economic stability
17.4
UK, Germany, USA, France
Well-developed infrastructure
08.8
—
Transportation accessibility
05.5
—
The third most important factor is the ability to obtain a residence permit in a particular country; this reason was cited by 33.1 percent of respondents. It is no surprise that it is the leading consideration in Latvia (88.5 percent of respondents), which offers the most convenient residence permit program for the purchase of property by Russians. A substantial proportion of the respondents flagged immigration as the key factor in such countries as Hungary (66.7 percent), Germany (50.0 percent), Turkey (48.3 percent), the UK (37.5 percent), and Spain (35.2 percent). Not all of these countries grant a residence permit for the purchase of property. However, in Hungary you can get a residence permit for buying 250 thousand euros' worth of government bonds; and in the UK for investing £1 million in the country's economy. In Germany, a residence permit can be obtained by investing (usually a sum equal to, or more than, 1 million euros) in developing regions.
In some countries, the prospect of receiving a residence permit has recently started to play an important role. According to Natalia Kovalyova, "it is currently one of the most important factors leading to the purchase of property in Greece, after the adoption of a new law in May 2013 on granting a 5-year residence permit when investing 250,000 euros or more in property. This factor played a significant role in the revival of Russian interest in buying property in Greece."
The main reasons for choosing one country or another to buy property is favorable climate and weather, attractive prices for property, and the possibility to obtain a residence permit.
The secondary leading factors include safety (26.0 percent) and close culture (25.7 percent). Safety and low crime rate especially attract clients in Israel (66.7 percent) and the Czech Republic (46.7 percent). Security in Cyprus is as important as the price; both motives were chosen by 44.4 percent of respondents.
"The purposes and the reasons for buying property are extremely interrelated," says Marina Filichkina. "Those who purchase property for recreation take weather conditions into account. Also safety, an attractive price and transport development are important issues. Investors pay close attention to political and economic stability as well as the possibility of obtaining a residence permit."
The factors of close culture, language and good attitude to Russian people were flagged primarily by respondents in Montenegro (63.6 percent), Bulgaria (63.4 percent) and Croatia (57.1 percent). These countries are also notable for a significant amount of respondents who chose security as a motivation for buying property.
Political and economic stability is a key factor in Germany and the UK, where these issues were mentioned by 83.3 and 75. 0percent of respondents respectively. Stability stands in second place after climate in the U.S. and France, although in the U.S. this factor is given the same attention as price (52.9 percent of respondents), while the price of property in France is not a sensitive issue.
Relatives and friends who had previously bought property in one country or another are the main incentive for property purchases for clients in Israel (100.0 percent), and to a lesser extent in Thailand (42.9 percent) and Italy (27.9 percent).
According to George Kachmazov, in Italy "it is probably due to the fact that Italian agencies invest much less capital in marketing to the Russian market than agencies from other countries. That's why a greater role goes to word of mouth."
3.3. Compatriot-Neighbors: Good or Bad?
There is a belief that Russian-speaking clients of overseas property purchases tend to settle away from other Russian-speaking people. However, the statistics fail to confirm this. More than two-thirds of respondents (68.8 percent) indicated that the majority of their clients do not pay any attention to whether or not there are any other Russian people in the neighborhood.

Although the majority of respondents in each country chose the second option ("The number of Russian-speaking neighbors has no influence on the purchase"), some countries revealed a noticeable prevalence of the first or the third option over the others.
Many Russian buyers prefer to live closer to their compatriots, especially in Cyprus (this option was chosen by 44.4 percent of the agents), Israel (33.3 percent), the U.S. (29.4 percent) and Thailand (28.6 percent).
On the other hand, in some countries there is a more noticeable (though not predominant) share of customers, avoiding the society of other Russians. These countries include Germany (the option was flagged by 44.4 percent of respondents), Italy (28.6 percent) and Spain (24.6 percent).
Most Russians do not pay attention to the presence or absence of other Russian-speaking people in the neighborhood.
Julia Dobrolyubova, marketing and sales coordinator at Hvidsten Group, notes that "there are several types of Russian clients in Thailand. Many of them, especially those who do not speak a foreign language, tend to settle in neighborhoods where their compatriots live –areas with Russian shops, restaurants and Russian-speaking staff in the service sector. Other customers who feel confident in foreign environments and speak a foreign language often try to choose property with no Russian-speaking people in the neighborhood."
Sergey Nesterenko, CEO at Vista del Mar Phuket, believes that "rich customers prefer to settle away from their compatriots. Our clients include just 15–20 percent of Russian people; on the whole, Russian speaking customers on Phuket range from 30 to 50 percent."
As for Greece, Svetlana Yuvchenko notes that "clients often advise their friends to buy property close to theirs."
In the UK, Roman Grigorjev says, "a small percentage of clients tend to live away from their compatriots, but most of them buy property in the same locations as other Russians." However, according to the observations of Oksana Salfarlie, "Russian clients want to send their children to schools with no other Russian-speaking students."
Davide Turrini, manager at Luxury Villa Italy, is more categorical: "Russian clients wish to buy property with almost no other Russians around. But ultimately they do in fact buy property in locations where other Russians have already bought."
4. Second-time Property Purchase
The amount of Russians and other ex-USSR citizens who purchase more than one property abroad is increasing. Almost two-thirds of people who took part in the poll (61.4 percent) noted that second-time clients make up a noticeable part of the whole group (no less than 10–20 percent).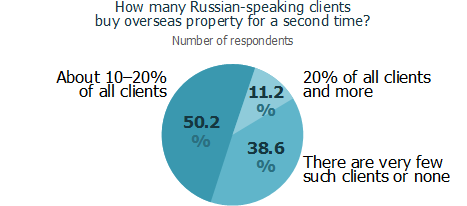 The smallest amount of second-time clients is noted in Greece, where none of the respondents chose the last option.
Svetlana Yuvchenko notes that "in Greece people mostly buy property for summer holidays, and one house is enough for that." Natalia Kovalyova elaborates that "second-time purchases are only observed when the client decides to move to Greece permanently." Finally, according to Vadim Dolmenidis, "an important factor is the fact that Greece is a rather young market for Russians, and as a rule, people buy additional property after they have lived in the country for some time."
In Italy, 55.0 percent of the respondents said second-time clients are rare, while in Montenegro this question scored 47.8 percent.
Most respondents noted that at least 10–20% of ex-USSR citizens buy property abroad a second time.
In some countries Russians opt for more second-time purchases in comparison to the average level. Mainly, this is in UK, where none of the estate agents replied with "there are very few such clients or none." According to Oksana Salfarlie, "second-time purchases are due to the government's credibility, stable capital gains, customers' planning of children's futures and their own secure retirement in a country far from Russia".
In Cyprus, Thailand and the Czech Republic, a noticeable amount of second-time clients were indicated by more than 85 percent of respondents. "In Cyprus every fifth customer buys two or more assets," states Julia Svidritskaya.
4.1. Time Interval between the First and Second Purchase
Over two-thirds of respondents (67.3 percent) noted that most second-time clients buy their second property two to three years after buying the first one.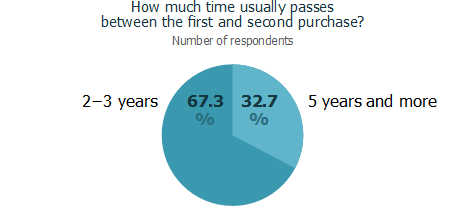 In some countries, the option "2–3 years" was chosen by an especially large number of respondents: UK (100 percent), Turkey (85.2), Thailand (83.3), Germany (82.4), and Bulgaria (80.6 percent).
However, in the USA and Italy the most common answer is "5 years or more", although with insignificant advantage as the results were 53.3 and 52.9 percent respectively.
4.2. Purchase Location of First and Second Properties
The second property is usually bought in the same country or region as the first one, a fact corroborated by 64.6 percent of respondents. This is very characteristic of the USA and the Czech Republic, where this option was selected by 93.3 percent and 92.3 percent of respondents respectively.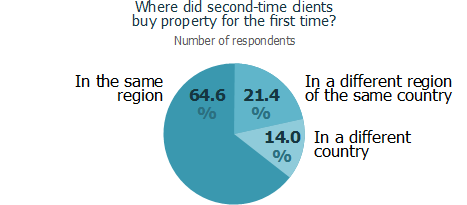 In most countries, despite the prevalent answer being "In the same region", a noticeable number of respondents also pointed to purchases in different regions of the same country. Such a situation is observed in Turkey, Greece, Germany and UK. In Bulgaria and Italy, almost as many respondents chose the answer "In a different region of the same country", as "In the same region" (in Bulgaria the correlation is 59.5/40.5 percent, in Italy – 41.7/36.1 percent). However, in Italy a sizeable portion of respondents (22.2 percent) stated that the first purchase was made in another country, while in Bulgaria this option was chosen by no respondents.
Most second-time property buyers purchase the second asset in the same country and region as the first one.
In Spain, the option "In the same region" was also chosen by the majority of respondents (70.5 percent), while the options "In another region" and "In another country" were chosen equally (14.75 percent).
In Cyprus and France, all the options received a relatively similar amount of answers, notably the same amount of respondents chose purchases in the same region, or in a different region of the same country:
Places of previous purchase
Country of
second time
purchase
Number of respondents, %
Same
region
Different
region
Different
country
Cyprus
33.3
33.3
33.3
France
38.5
38.5
23.0
Unlike most countries, Croatia has a significant number of property agents (40.0 percent) who noted that most second-time clients bought their first property in a different country – for example, in Montenegro, Germany and the Czech Republic. The situation was similar in Montenegro and Thailand, where this variant was chosen by 27.8 and 20.0 percent respectively.
As Yulia Kozhevnikova comments, "the markets in Croatia and Montenegro have a lot in common. Many people buy their first property in Montenegro, and then the second one in Croatia, and vice versa."
"In Thailand, low-budget (under 200,000 dollars) purchases are most likely to be the first ones," says Sergey Nesterenko, "while expensive properties (over 1 million dollars) are second and third ones. At first, people bought property in Europe, and then they decided to get a house in an all-year-round resort in a tropical paradise."
4.3. Client Loyalty towards Property Sellers
According to the poll results, in all countries where clients decided to make another purchase, they come to the same seller they worked with during their first purchase. That option was chosen by 66.0 percent of respondents. This is especially the case in Turkey (88.5 percent), Greece and the USA (81.3 percent for both), and Thailand (80.0 percent).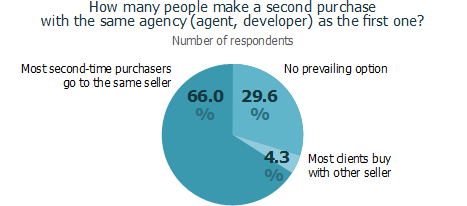 In some countries, more clients (though not the majority) seek to make a second purchase with another vendor. This happens primarily in Croatia and Latvia, where respectively 80.0 percent and 52.4 percent of respondents chose "No prevailing option". Montenegro is also similar in this regard.
Anna Glinskaya notes that, "Clients use the services of other agencies if they buy a second property in another region – for example, property for sale in Barcelona, Spain, after they bought property in Costa-Brava."
4.4. Does the Second Property Resemble the First One?
40.0 percent of respondents indicate that the second purchase is usually significantly different from the first one.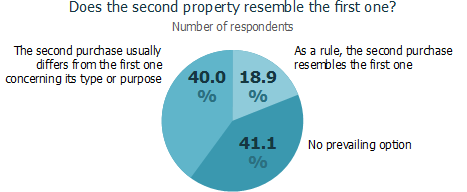 In Thailand, 100 percent of respondents said that the second asset is of a different type and/or purpose. This option is also highlighted in Cyprus (66.7 percent) and Portugal (57.1 percent).
Conversely, in the UK, there is an especially noticeable proportion of respondents (42.9 percent) who indicated that the second purchase usually has the same specifications as the first one. "It is quite logical," agrees Roman Grigorjev. "If the first purchase was successful, why take a risk and chose a completely different sector?" he added.
Many realtors from Spain indicate that some clients buy houses for themselves, and over time they buy another one for lease purposes.
In the experience of Yulia Bojevic, the second purchase most often falls into one of these three categories, "It is either for investment, or housing for parents, or purchase of property for another recreational purpose (e.g., skiing)."
The second property purchase often differs from the first one in property type and/or purpose.
Beata Pontaka, independent realtor in Jurmala and Riga, shares her observations on the Latvian property market, "First, customers buy apartments or houses in the center of Riga or Jurmala for at least 143 thousand euros to obtain a residence permit. Then, if they want to work here or do business, they start looking for something more expensive. Basically, they buy ready businesses. For example, restaurants, bars and shops are very popular, then there are shopping malls, hotels, factories and gas stations. Recently, a privately-run sawmill was sold. That is a very attractive business. Sometimes it's vice versa: first they buy a business, then a property to live in, and finally they purchase a second property at a lower price."
Oleg Kazankov, director at RUSKY SK (Slovakia), notes that "The first property purchase is usually made with no experience and insight of the country; people just do not want to live in Russia. By the time they make their second purchase, they already have some knowledge of what they need, which region they are interested in, and the amount of money they are willing to spend."
4.5. Cost of Second Property
Almost half the respondents (47.7 percent) indicated that the second purchase is most often made in the same price category as the first one. However, almost as many respondents (41.8 percent) said that the second purchase is usually more expensive.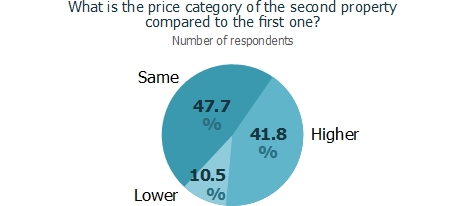 Higher costs for the second purchase were especially noted in the UK and the USA (66.7 percent of respondents), Greece (62.5 percent), and Thailand (60.0 percent).
Ilja Bitkov, realtor at Coldwell Banker (USA), maintained, "The second purchase is often an investment and thus involves properties of a completely different price range and purpose. Such investments are most commonly found in higher price ranges than properties purchased for the first time."
The second purchase usually involves properties in the same price category as the first one, but can include more expensive properties.
A cheaper second purchase is a rare phenomenon. None of the countries reveal the predominance of this case. However, in Montenegro it comes second after the option "The same price category," as it was flagged by 31.3 percent of respondents. "The reason for this is the cyclical character of the market," said Anton Shamarin. "Buyers that purchase their second property today, as a rule, made their first purchase when the cost per square meter was at its peak from 2006 to 2008. Nowadays, one can buy a comparable new property at a cheaper price and that affects the statistics of the subsequent purchase."Dilyara Marich highlighted the same factor and added that "often we see the opposite case when people buy a small vacation apartment first, and then, after they have a closer look at the country, they start searching for more other options; for example, a larger apartment or a house. Naturally, this increases the required budget."
Second purchases in a lower price category are also noticeable (though not predominant) in Spain (14.0 percent) and Bulgaria (13.9 percent). According to Irina Aleksandrova, manager at RK Real (Bulgaria), "The cost of the second property is usually higher if the first purchase was an apartment, and the second one is a house or business premises. However, if the second purchase is made in another area (e.g. the first purchase is a property by the sea, and the second one is in the mountains), the price may stay the same or be lower."
5. Overseas Property of Russian Officials
According to the study conducted by Tranio.Ru in 2012, 26.5 percent of respondents indicated that a significant proportion of buyers were Russian officials and employees of various administrations. In our new study, we looked at whether the position of this category of buyers had changed due to the recently adopted law No. 79 dated May 7, 2013, prohibiting civil servants to have accounts abroad.
5.1. Percentage of Officials among Property Buyers
About half the respondents (51.0 percent) indicated that there are few or no officials among Russian customers; this is the most popular response in 23 out of 39 countries. In Croatia, this option was selected by 83.3 percent of respondents – the highest result.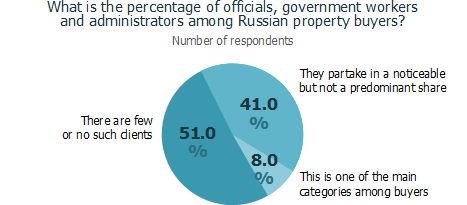 However, in some countries, the majority of realtors note a significant or even predominant role of Russian civil servants in the property market. These countries include Thailand, where 83.3 percent of respondents chose the second or the third option, the United Kingdom (80.0 percent), and Montenegro (70.0 percent).
George Kachmazov notes several advantages of Montenegro for Russian officials."Like Bulgaria, the country is close to Russia, but property is more attractive and relatively inexpensive there. Furthermore, purchasing property in Montenegro attracts less attention than buying in high-status places. For example, it stands in stark opposition to purchasing property for sale in Cote d'Azur." Yulia Bojevic adds that Montenegro "has an easy purchase procedure, there is no strict tax and other control."
According to Yulia Kozhevnikova, the United Kingdom stands out because of its political and economic stability. "For well-off customers this is a good 'spare wheel' in case of changes in the Russian government", says Ms. Kozhevnikova.
5.2. Dynamics of Officials' Activity
The vast majority of respondents (89.0 percent) indicated that they did not notice any changes in the market after the law was adopted. However, some countries show a certain dynamic: in particular, realtors in the UK and Greece (16.7 percent each) reported that Russian officials had begun to buy more property than before.
Conversely, a decrease in demand from civil servants was noticed in Bulgaria (it was indicated by 13.9 percent of respondents) and Montenegro (13.6 percent). Using these statistics, we can suggest that although Montenegro is one of the most attractive countries for Russian officials to buy property in, its popularity among this category of clients has recently decreased.
In general, Russian officials' demand for overseas property has not changed since the adoption of the law prohibiting these groups of citizens to have accounts abroad.
Anton Shamarin comments, "The reason for this belief lies in our history, the fact that the peak of property sales in Montenegro happened in 2006–2008, when the Russians acquired most of their property in this country. After the crisis, interest moved to Spain. The behavior of Russian officials, in my opinion, is no different from the behavior of others: they also migrated to the next hot market, as most buyers did."
5.3. What Name Do the Officials Title their Properties in?
More than half the respondents (58.2 percent) noticed that most Russian officials do not title property in their own name, but prefer to put it in the name of a relative. However, other options are also significant:

Buying on behalf of a legal entity was particularly pronounced in Cyprus, where 100 percent of respondents flagged this option. In Bulgaria, this method shares first place with titling property in the name of relatives (both options were chosen by 75.0 percent of respondents).
5.4. Realtors' Caution
Questions about purchases made by Russian officials provide interesting information not only about Russian clients, but about realtors as well. We formulated the questions in a very generalized way so as to exclude any possibility of disclosure of any information concerning specific agencies, persons and property transactions. Confidentiality and protection of privacy are the key principles of Tranio.Ru's business ethics.
Nevertheless, some participants suspected an attempt by us to violate their privacy and filed complaints. In this respect, the larger numbers of respondents were from the United States, Italy, and the Baltic countries. Several realtors were scared away by the very mention of Russian officials in the poll.
The most cautious realtors are in the USA, Italy and the Baltic countries.
On the other hand, in some countries, the respondents shared common (non-confidential) information about purchases made by Russian civil servants quite willingly; these countries include Finland, Thailand, Cyprus and Greece.
Please, let us reiterate quite categorically here that Tranio.Ru – an online overseas property center – never discloses any confidential and proprietary information.
The article was prepared by the Tranio.Ru team:
Rostislav Chebykin, Editor in Chief
George Kachmazov, Tranio Managing Partner
Yulia Kozhevnikova, Real Estate Expert
Marina Filichkina, Head of Sales Department
Subscribe not to miss new articles
We will send you a content digest not more than once a week
Subscribe
Top 5 Articles of the Month